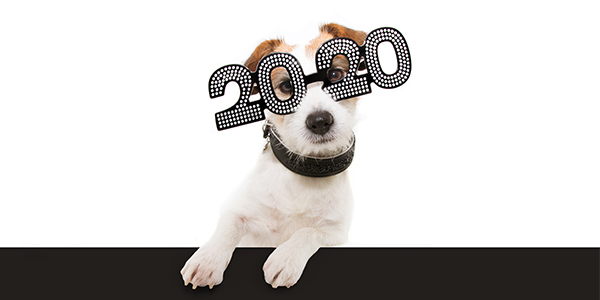 The new year is underway, and we've all heard by now 2020 referred to as the year of perfect vision. Wouldn't it be great if things were crystal clear for us in the commercial real estate industry—if all the unknowns in our business suddenly came into perfect clarity this year? If only it were that simple.
Having 20/20 vision does not necessarily mean you have perfect vision. 20/20 vision only indicates the sharpness or clarity of sight from a specific distance (20 feet). In our business, the real trick is not seeing what's right in front of you, but further down the road. Author Jonathan Swift (most famously known for his work of Gulliver's Travels) once said, "Vision is the art of seeing what's invisible to others."
It's not about having 20/20 vision; it's more about having insight, foresight, an intuitive understanding of what's yet to come. Perfect vision is seeing what's not there yet. And, that innate ability allows you to proactively adapt or change course before reality arrives.
That's been our strategy here at Stirling Properties over the past year and will continue to be going into the new year. Of course, we can't predict the future or foresee precisely what's going to happen, but we can continually adapt and move toward a shared vision that maybe others can't see yet.
For Stirling Properties, 2019 was another year of significant change and new ventures that we have never experienced before, including the expansion of our team, our portfolio, diversity of services and product offerings.
In 2019:
We celebrated another record year in commercial brokerage, with nearly half a billion dollars in commercial volume (30% increase from last year) and almost 800 transactions.
Earlier this year, we acquired the former SVN | Graham, Langlois & Legendre commercial real estate firm in Baton Rouge, Louisiana, and expanded our brokerage team in the Gulf South market by 30%. We subsequently merged and relocated our Baton Rouge offices to a new, larger space in United Plaza Office Park.
We made our first acquisition in the state of Florida with Santa Rosa Commons, a 138,850-square-foot Publix-anchored shopping center in Pace, Florida.
We completed the development of our first ground-up industrial project, Dana Inc. Service & Assembly Center, located in Fremaux Park in Slidell, Louisiana. We also celebrated tremendous growth of the surrounding Fremaux Town Center with the additions of Walk-On's Bistreaux & Bar, Old Navy, Springhill Suites by Marriott, Waypoint multifamily community and Home 2 Suites.
We demolished the former Sears and Rite Aid buildings at Hammond Square shopping center to make way for a new multi-tenant retail redevelopment project in Hammond, Louisiana. Michaels, HomeGoods, Five Below, PetSmart, Walk-On's Bistreaux & Bar and Five Guys will occupy the space and are expected to open this summer.
We celebrated the grand re-opening of Cornerview Plaza in Gonzales, Louisiana. Stirling Properties redeveloped and retenanted the 124,000-square-foot retail center, welcoming Marshalls, ULTA Beauty, Ross Dress for Less and Five Below to the tenant roster.
We were part of an impressive team selected for the high-profile redevelopment of Southtown, an 18-acre mixed-use project in Birmingham, Alabama. Stirling Properties will handle the retail component of the development.
We continued to grow our healthcare real estate services significantly. Last year, we partnered with Ochsner and LSU Health Shreveport on the renovation of St. Mary Medical Center, the former 860,000-square-foot former Christus Schumpert hospital in Shreveport, Louisiana, to include state-of-the-art patient care through multiple clinics, operating rooms, laboratory and diagnostic imaging services.
We celebrated many accomplishments in 2019—some things that were different from anything we have ever done before—but all these seeds were planted well before we could see them happening.
I would like to explicitly note the 'WE' starting each of those sentences. None of this would be possible without our remarkable, talented team. Our team is changing as well—last year, we added more than 40 people! Over half of our team has joined within the previous five years! This allows us a multitude of diversity, expert insight and adaptability.
Hindsight is 20/20, but foresight is best. Before we completely close the book on the past year, let's take a moment to reflect on where we've been and how far we've come. Our vision for the future is to see past what's right in front of us and focus our sights on what's yet to come.
So Happy New Year, and here's to hoping for semi-clear 2020 vision. May we have sight of what's invisible to others and clarity of what's around the corner, over the horizon, beyond the fog…you get the idea.