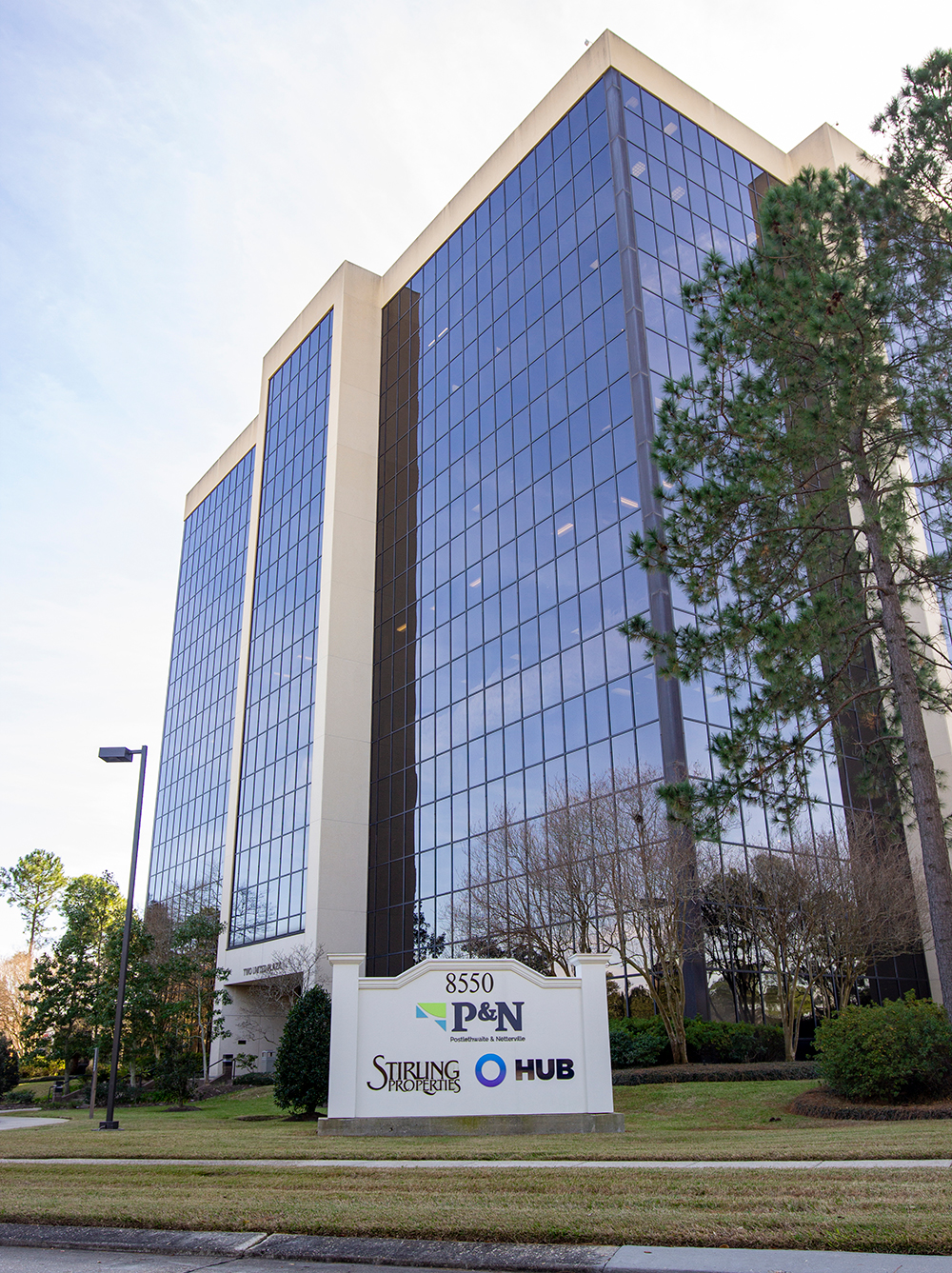 New, expanded office footprint will combine two existing Baton Rouge locations.
Stirling Properties is pleased to announce the merger and relocation of its Baton Rouge offices to United Plaza II located in United Plaza Office Park at 8550 United Plaza Boulevard, Suite 101, in Baton Rouge, Louisiana. The new, expanded office footprint will combine the company's two existing Baton Rouge locations into one central office.
The company has moved from its former locations at 8550 United Plaza Boulevard, Suite 303, and 6160 Perkins Road, Suite 200, to combined more than 30 employees, commercial brokers, and building management staff under one roof.
Stirling Properties now occupies more than 9,000 square feet of office space on the 1st floor of United Plaza II. The new office space features a collaborative, open floor concept with a mix of both private and shared office suites, as well as upgraded amenities. The company moved into the new office space in late November and will hold its official grand opening celebration on Thursday, December 5th.
Earlier this year, Stirling Properties and Baton Rouge-based SVN | Graham, Langlois & Legendre (SVN | GLL) announced a strategic merger to combine commercial real estate services in the Gulf South region and expand their presence in the burgeoning Greater Baton Rouge market. Joining forces enabled the companies to compete more efficiently and effectively in the local commercial real estate market and significantly increased market share through an expanded portfolio, service offering and team capacity.
"Stirling Properties is committed to the Baton Rouge area and business community, and we are expanding our presence and service offerings in the market and across the entire Gulf South region. Baton Rouge continues to be one of our most important areas for commercial real estate brokerage, management, development and investment sales," said Marty Mayer, President & CEO with Stirling Properties. "We are combining offices and expanding into a larger space that will enable us to leverage all the resources of Stirling Properties to help our clients achieve their real estate goals."
United Plaza Office Park is a 75-acre development encompassing twelve buildings that are home to a mix of national, regional and local companies. Stirling Properties owns, manages, and leases United Plaza I, United Plaza II, United Plaza VIII and United Plaza XII, totaling over 500,000 square feet of office space.
For commercial real estate needs and information in the Greater Baton Rouge area, contact Stirling Properties at (225) 926-4481.