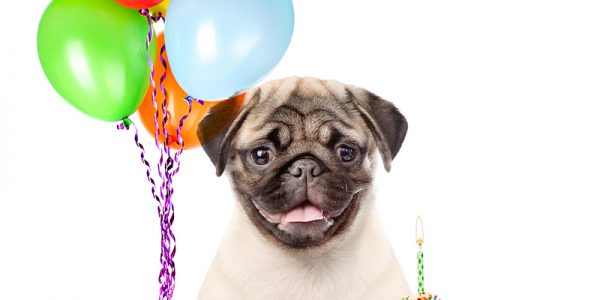 No, this is not the punchline for a corny joke. These two things have special significance in 2018. They are both symbolic of an exciting and momentous year to come for our company, our region, and our industry. Let me explain.
According to the Chinese Zodiac, 2018 is the Year of the Dog. The Chinese regard the dog as an auspicious animal, and even more encouraging is its characteristic word: Action! Being proactive is essential in keeping up with the change of today's fast-paced landscape.
As for the birthday, the City of New Orleans is celebrating its Tricentennial Anniversary this year. In typical New Orleans style, there are many festivities planned throughout the year. (More to come.) However, the 300th Anniversary is more than just a party. It's a celebration and reflection of the past, present, and future of New Orleans and our region as a whole. The Crescent City has quite a unique and colorful history and has undergone tremendous transformation to reestablish itself over the years. Recently, New Orleans has become one of the most remarkable comeback stories in our nation.
Stirling Properties is entering our 43rd year in business. (In dog years, that's 301 years.) Much like the City of New Orleans, we too have transformed dramatically from where we started to where we are today. The speed of change—mostly resulting from technological advancements—is tremendously affecting not only our business but our entire lives. To me, the pace seems to be moving in dog years. It's accelerating 7x over what we've witnessed in the past! We must learn to adapt to keep stride.
As evidence to our transformation and evolution as a company, last year, we celebrated many major achievements, including our expansion into the healthcare real estate sector, increasing our portfolio to more than 17.8 million square feet of property, and growing our footprint in the Gulf South region.
In 2017:
Stirling Properties acquired the shuttered Louisiana Heart Hospital in Lacombe, Louisiana, out of bankruptcy. We partnered with Ochsner, St. Tammany Parish Hospital, and Slidell Memorial Hospital to repurpose the 205,000-square-foot facility as a post-acute care hospital offering a variety of services including long-term acute care, skilled nursing, and inpatient & outpatient rehabilitation. Anticipated reopening date is in the 3rd quarter of 2018.
We are developing a new Ochsner medical facility at The Grove in Baton Rouge, Louisiana. The $105 million project includes a new 5-story, 206,510-square-foot medical office building and ambulatory surgery center. Stirling Properties is also overseeing a $15 million off-site infrastructure package as part of the project. The clinic will be located along the 1-10 Bluebonnet/Siegen corridor and is expected to open in early 2019.
Stirling Properties served as the landlord representative in the lease with DXC Technology for multiple floors of office space at the Freeport McMoRan Building in New Orleans, Louisiana. The company will initially occupy two floors of the building beginning in January, with future options to lease up to 10 floors representing a total of 178,000 square feet.
The Freeport McMoRan Building will be the permanent operations for DXC Technology's new Digital Transformation Center in New Orleans, where the company will eventually employ 2,000 professionals. This is the largest economic development deal in the history of Louisiana, and #2 "Deal of the Year" nationally by Business Facilities magazine. The project has been in the works for more than 18 months and was heavily competed for, but New Orleans emerged as the front-runner beating out great cities across the country.
We completed the first phase of the Offices at River Chase in Covington, Louisiana. Located at the southwest corner of Brewster Road and Stirling Boulevard, Phase I includes a Class-A, two-story, 45,000-square-foot office building positioned on 3.5 acres. We also welcomed our first tenants to the space, including Duplantis Design Group and Liberty Mutual.
Just a few weeks ago, in a joint venture with Ochsner Clinic Foundation, we closed on the acquisition of a new rehabilitation hospital in Jefferson, Louisiana. The five-story, 129,875-square-foot medical building will house long-term acute care, inpatient rehabilitation, and a skilled nursing facility.
All of these ventures represent new milestones for Stirling Properties, which we were able to achieve because we altered our strategies and adapted to meet the demands of our industry. This allowed us to take advantage of innovative opportunities that presented themselves. We managed to translate our more than four decades of experience, combined with our talented team, to be successful.
In the same vein, the commercial real estate industry is currently undergoing a radical transformation. The bulk of this change can also be attributed to the fast-paced advancements in technology and digital platforms. Undoubtedly, as we move forward, technological innovation will continue to play a huge role in reshaping our business. Again, we must adapt to survive. As they say, old dogs need to learn new tricks!
2018 is going to be an exciting year. We're eagerly anticipating the Tricentennial Celebration and the Year of Action (Dog). Stirling Properties is looking forward to new projects in the pipeline, and I'm confident that even more unforeseen prospects will arise that will require the same type of action and flexibility.
Happy New Year,