Last Thursday, June 8, Stirling Properties participated in the announcement of Ochsner Health System's new medical facility at The Grove in Baton Rouge, Louisiana.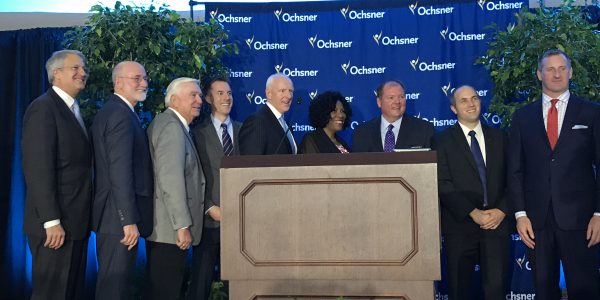 The project includes a new five-story, 155,000-square-foot medical office building, and a 30,000-square-foot ambulatory surgery center. The new clinic will be located along the I-10 Bluebonnet/Siegen corridor on approximately 25 acres of property as part of the High Grove development planned near the Mall of Louisiana and fronting Interstate 10. Anticipated completion is scheduled for early 2019.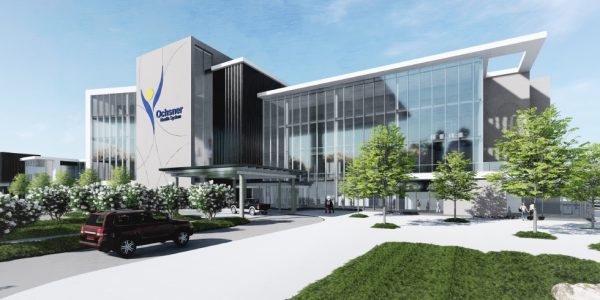 Stirling Properties will be responsible for over $15 million of infrastructure improvements, as well as the completion of the 11-mile BREC multi-use trail through the site. On behalf of Ochsner, Stirling has also handled pre-development efforts, including site selection, due diligence, economic feasibility, and state and local permitting coordination.
Scheduled infrastructure improvements include new roadways and a bridge across Wards Creek that will connect Grove Blvd. to the I-10 frontage road and ease traffic congestion. A new sewer lift station will be installed to serve the Ochsner facility, as well as replace an existing one that services several hundred homes in the neighboring Morning Glen and Audubon Terrace neighborhoods. A new underground drainage system will be built to accommodate water runoff from surrounding property in addition to the Ochsner site, which will result in improved drainage condition in future storm events.
During the construction phase, these new projects will bring nearly 1,630 construction jobs in addition to over 450 permanent jobs that will be relocated from the existing Summa clinic.
Additional project announcements are forthcoming.