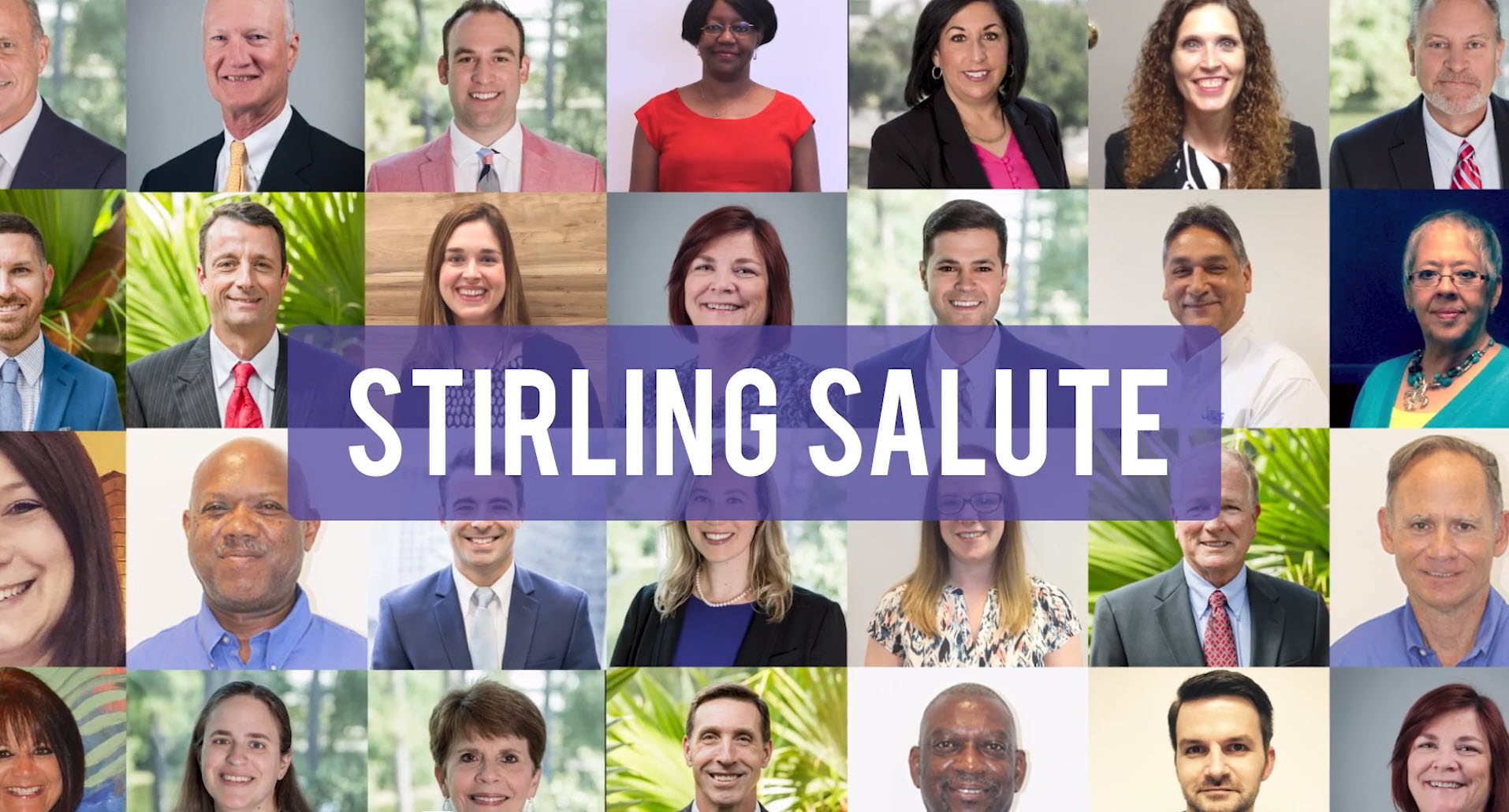 Stirling Properties celebrates success of Team Stirling & the company.
Stirling Properties hosted a virtual Stirling Salute last Friday to acknowledge and award the team and company's remarkable success over the past year.
Marty Mayer, Stirling Properties' President & CEO, kicked off the company-wide event recognizing the challenges of the past year and highlighting the team's extraordinary adaptability and response. "Like most businesses, in the wake of the COVID-19 pandemic, our commercial business slowed substantially. But we were able to pivot quickly, adapt to the challenges—which uniquely positioned us to take advantage of the resulting opportunities," said Mayer.
He noted the favorable position the company is in today is due to the groundwork that's been laid over the last ten years. "As a company, we took chances, made conscious decisions without having a clear view of the outcome but rather a vision of the future possibilities. That's the reason we were able to respond to this crisis and all the crises before that. Our accomplishments are due to the collective efforts of the entire team. You have heard me say, 'when opportunity comes, it's too late to prepare.' Conversely, 'when challenges come, it's too late to prepare.' That certainly was never truer than in 2020."
He and Stirling Properties' partners thanked Team Stirling for their hard work and dedication. Brokerage Division Award recipients received recognition for Bronze, Silver, Gold, Platinum, Diamond, Emerald and Ruby production levels based on individual adjusted gross commissions from 2020. Special acknowledgment was also given to Rhonda Sharkawy, Senior Retail Leasing and Development Advisor in New Orleans, for achieving the Top Commercial Producer Award —this is the 6th consecutive year she has earned this accolade.
Brokerage Awards
Ruby
Rhonda Sharkawy (Top Producer), New Orleans
Justin Langlois, Baton Rouge
Emerald

Lee de la Houssaye, Covington
Chad Rigby, Baton Rouge
Diamond
Charles Cornay, Lafayette
Nathan Handmacher, Mobile
Ryan Murphy, Covington
Jason Scott, Pensacola
Platinum
Jeff Barnes, Mobile
Steve Legendre, Baton Rouge
Ryan Pécot, Lafayette
Gold Award

Joe Gardner, New Orleans
Gaines Seaman, New Orleans
Silver Award

Thomas Bryan, New Orleans
Seth Citron, Lake Charles
Amanda Goldman, Mobile
Scott Macdonald, Baton Rouge
Bronze Award

Andrew Dickman, Mobile
Jim Dowling, Shreveport
Ben Graham, Baton Rouge
Griffin Lennox, New Orleans
Angie McArthur, Mobile
Karen McElroy, Shreveport
Stacy Odom, Shreveport
Tommy Parsons, Baton Rouge
Carly Plotkin, New Orleans
Saban Sellers, New Orleans
Dottie Tarleton, Baton Rouge
Also recognized were employees and agents who achieved special anniversaries with the company. Service Awards were given for 5, 10, 15, 20, 25, 30, 35, 40 and 45-year milestones.
Service Awards
45 Years of Service
Judy McKee – Covington
40 Years of Service
Michele Wallace – Covington
35 Years of Service
Marty Mayer – Covington
30 Years of Service
John Arthurs – New Orleans
25 Years of Service
Charles Cornay – Lafayette
20 Years of Service
Chris Abadie – Covington
Rhonda Creel – Covington
Beezie Landry – Covington
Patrick Malik – Covington
Ryan Pécot – Lafayette
Jeanne Taravella – Covington
15 Years of Service
Carri Creel – Covington
Lindsey Palmer – Covington
Dawn Plaisance – Covington
Tara Slater – Covington
Laura Wallace – Covington
10 Years of Service
Jason Babin – Lafayette
Carolyn Ciarrocchi – Lafayette
Gregory Gautreaux – New Orleans
Jimmy Gomez – New Orleans
Joseph Kimble – New Orleans
Solomon Lewis – New Orleans
Scott Macdonald – Baton Rouge
5 Years of Service
Jaime Burchfield – Covington
Bradley Cook – Covington
Jim Dowling – Shreveport
Amanda Goldman – Mobile
Jared Lauderdale – Covington
Carly Plotkin – New Orleans
Rebecca Pritchard – Lafayette
Lesia Richardson – New Orleans
Saban Sellers – New Orleans