Continuation of industrial expansion efforts in Fremaux mixed-use development
Amazon Logistics announced Thursday that it would build a delivery station at Fremaux Park in Slidell, Louisiana. Fremaux Park is the mixed-use property that includes Fremaux Town Center retail center, multiple multifamily developments, two hotels and the Dana Corporation Service center that will complement this project in the industrial park area.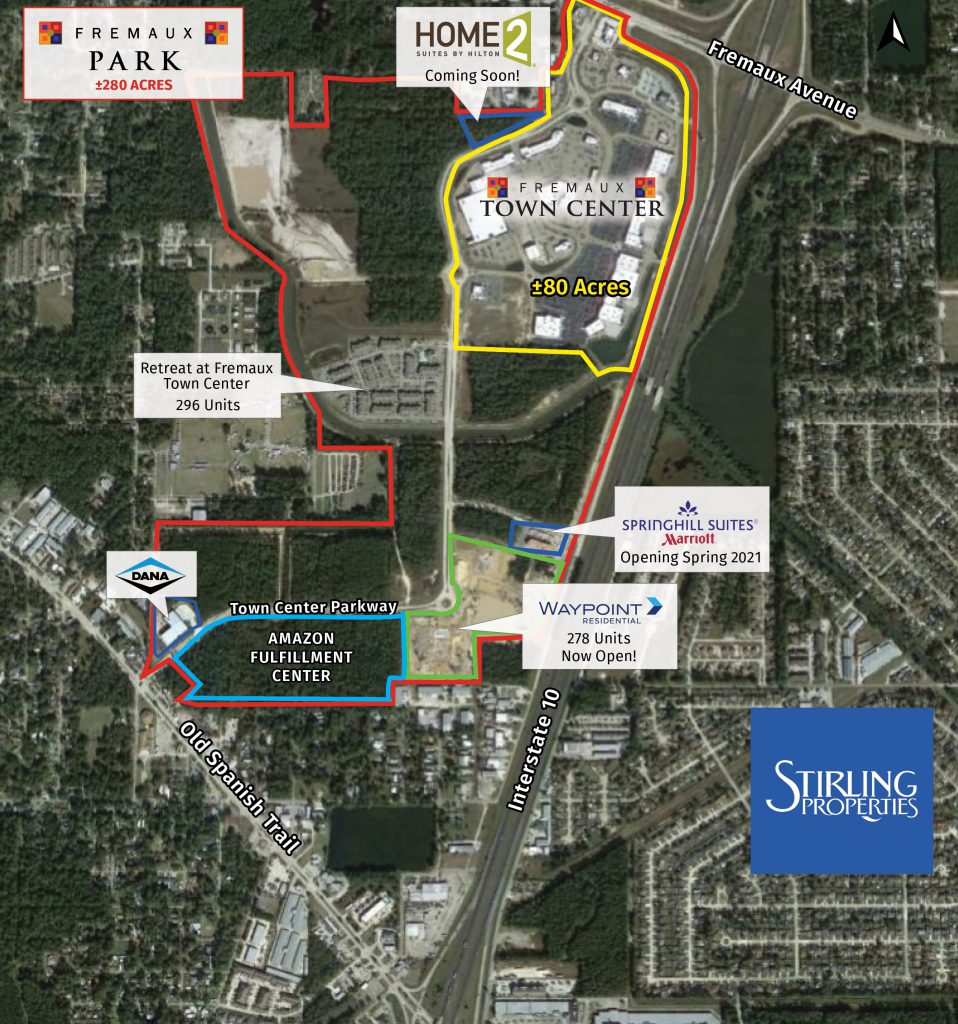 Stirling Properties recently closed on the sale of a 30-acre land parcel for the construction of the 141,000-square-foot Amazon facility located at 1914 Town Center Parkway near the intersection of Old Spanish Trail. Groundbreaking and construction timing will be announced soon. The facility is expected to be open in early 2022.
Ryan Pécot, Senior Retail Leasing and Development Advisor with Stirling Properties, represented the landlord in the transaction.
Packages are shipped to delivery stations from nearby fulfillment and sorting centers and loaded onto trucks for final delivery to customers. This marks the first Amazon delivery station in St. Tammany Parish and the third in Louisiana. It is expected to house roughly 950 Amazon Prime vans to serve St. Tammany Parish and surrounding communities. There are 150 similar Amazon delivery stations across the U.S. Amazon said the new station would create hundreds of full- and part-time jobs.
"Stirling Properties is excited to officially welcome Amazon to Fremaux Park and provide an ideal location here in Slidell to house this facility—the first of its kind in St. Tammany Parish. This new delivery station is a continuation of our industrial real estate expansion efforts. Logistics, fulfillment and last-mile distribution centers will only play a more critical role in the future of retail and commercial real estate. We hope to attract more industrial facilities to the area to further bolster and support the economic growth of Slidell and our surrounding region," said Townsend Underhill, President of Development for Stirling Properties.
Fremaux Park is part of the roughly 350-acre regional mixed-use development located at the southwest corner of Interstate 10 and Fremaux Avenue in Slidell, Louisiana. It includes Retreat at Fremaux Town Center luxury residential apartments, The Mason Fremaux Park apartment community (under construction), Springhill Suites by Marriott (under construction) and Dana Inc. Service & Assembly Center. The adjoining Fremaux Town Center, anchored by Dillard's, Dick's Sporting Goods, Kohl's and Best Buy, includes more than 660,000 square feet of retail and restaurant options. Additional phases are forthcoming with added residential, retail, industrial and office park. Fremaux Park is a Stirling Properties development.
For leasing or sales information, contact Ryan Pécot at 337.572.0246 / rpecot@stirlingprop.com or Bradley Cook at 985.246.3720 / bcook@stirlingprop.com.