Bradley Cook, MS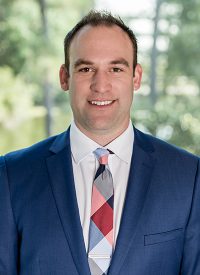 Advisor
(985) 246-3720
109 Northpark Boulevard, Suite 300 Covington, Louisiana 70433
Bradley Cook serves as an Advisor with Stirling Properties' commercial real estate team. Based in the Covington, LA, office, his primary focus includes land and industrial investment, divestment, and development. He works closely with local, state, and regional leaders to promote economic development opportunities. Cook is currently the President for the Realtor Land Institute Louisiana Chapter, was a Graduate of the 2019 New Orleans Regional Leadership Institute, the 2018 Nancy Marsiglia Institute of Justice Inaugural Class at Loyola University, and a 2018 Leadership St. Tammany Graduate.
Previously, Bradley worked as an Associate Advisor for RED Brokerage where he garnered knowledge and skills in all areas of real estate brokerage and development. In this role, he created urban core redevelopment opportunities and led the charge to promote an 8-million-square-foot ground-up industrial development in Parkville, Missouri.
Since joining Stirling Properties, Cook has focused his efforts in the area of Land and Industrial acquisition and development. He is the lead broker for the 6,000+ acre Bilten Park project, which is Louisiana's premier future industrial mega-site development, and led the effort for Stirling Properties' first build-to-suit industrial facility for Dana Inc. in Fremaux Park in Slidell.
He is a member of both the East and West St. Tammany Chambers of Commerce, the Louisiana CCIM Chapter, the Louisiana RLI Chapter, the Commercial Investment Division (CID) of the New Orleans Metropolitan Association of Realtors (NOMAR), and an active member with the National Association of Realtors (NAR). He serves on the New Orleans Metropolitan Political Action Team through NOMAR, the CID Forecast Committee, and the NAR Research Committee Commercial Task Force.
Born in New Orleans and a resident of the Northshore, Bradley earned his Bachelor's and Master of Science degrees from Louisiana Tech University. He is a strong local advocate for the special needs and foster care communities as the Program Director of the iCAN Sports League, Board Member for Special Olympics LA, James Samaritan, and the Youth Service Bureau. He also serves on multiple committees in the region through the Northshore Community Foundation and Habitat for Humanity.
Cook holds a commercial real estate license in Louisiana, is a CCIM, ALC and CLED candidate.