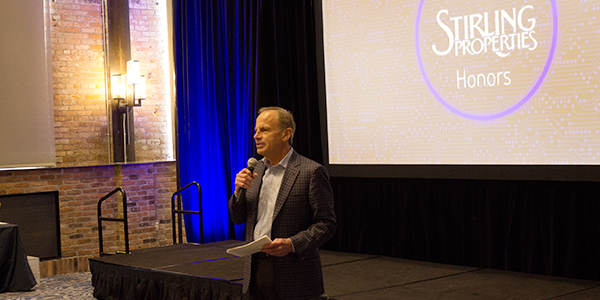 Stirling Properties celebrates 20th Annual Stirling Honors.
Stirling Properties celebrated its 20th Annual Stirling Honors last Friday at the beautiful NOPSI Hotel in New Orleans. The yearly event recognizes and distinguishes the successes of Team Stirling and the company over the past year. A Commercial Celebration was also held to honor the Commercial Brokerage Division and to grant Commercial Production Awards.
To kick off the morning, Dancing Grounds performed an outstanding tribute to New Orleans in honor of the city's 300th Anniversary with African drums and a second line rendition. The overarching theme of the day was EVOLUTION. Much like the City of New Orleans, Stirling Properties—and the entire commercial real estate industry—has evolved over the years to keep pace with the changing landscape.
Stirling Properties' President & CEO, Marty Mayer, served as the event emcee for the day and encouraged team members to think about how technology and industry advancements will continue to impact the company moving forward. "Our industry is changing, the way we communicate and position ourselves is changing, technology is changing… and as a result, the way we do business is evolving. It's imperative that we are proactive and adaptable," said Mayer.
He went on to say, "We don't know exactly what the future holds, but we can be certain it will hold significant transformation. I challenge each of you to be creative and explore new and innovative opportunities. We will need fundamental change to get from where we are now to where we need to be—and it will take all of us working together as a team to get there."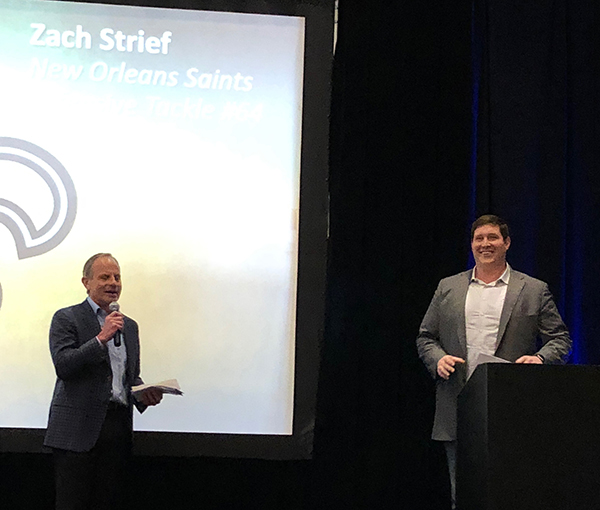 Former New Orleans Saint, Zach Strief, closed out the program with an inspirational message on the importance of supporting and giving back to our community. He shared his love for New Orleans and his passion for philanthropy through numerous local nonprofit organizations including Café Reconcile, Team Gleason, and Dream Big Foundation. At the end of his presentation, Stirling Properties presented Strief with a $5,000 donation in support of Team Gleason.
The Team Stirling awards ceremony was held in the afternoon. Jan Kinard, Roslyn Rogers, and Jeff Barnes were acknowledged as recipients of Stirling Properties' most prestigious honor, the Exceeding Excellence Award, presented for extraordinary employee actions that exemplify the values necessary to further the success of the company. Exceeding Excellence Award recipients are nominated and selected by their co-workers. Commercial Division Award recipients received recognition for Bronze, Silver, Platinum, Diamond, and Ruby production levels based on individual adjusted gross commissions from 2017. Special acknowledgment was also given to Rhonda Sharkawy, Senior Retail Leasing and Development Executive in New Orleans, for achieving the Top Commercial Producer Award—this is the 4th consecutive year she has earned this accolade.
Thank you to everyone who joined us for a great day of inspiration, company insight, delicious food, and camaraderie!
COMMERCIAL DIVISION AWARDS
Ruby Award
Diamond Award
Platinum Award
Gold Award
Silver Award
Bronze Award
Also recognized were employees and agents who achieved special anniversaries with the company. Service Awards were given for 5, 10, 15, 20, 25, and 35-year milestones.
SERVICE AWARDS
5 Years of Service: Mike Alexander – Lafayette, Karen Bachemin – Covington, Mac Bauer – New Orleans, Ryan Juneau – Baton Rouge, Samantha Marshall – Covington, Karen McElroy – Shreveport, Stacy Odom – Shreveport, Mel Sayler—Covington, Mike Seago – Gulfport, Denise Tatum – Baton Rouge, Kelly Vargas – Westpark, Kelly Wellmeyer – Covington, Robin Zemke – New Orleans
10 Years of Service: Seth Citron – Lafayette, Kayla Davis – Covington, Joe Gardner – New Orleans, Justin Landry – Covington, Reid Richardson – Covington, Gaines Seaman – New Orleans, Townsend Underhill – Covington
15 Years of Service: Will Barrois – Mobile, Mike McDougall – Covington, Cyndie Quave – Covington, Sonia Shoemaker – New Orleans, Ashlee White – Covington
20 Years of Service: Beth Cristina – New Orleans and Rhonda Sharkawy – New Orleans
25 Years of Service: Paul Mastio – Covington and Harold Staub – New Orleans
35 Years of Service: Grady Brame – Covington