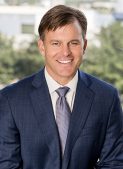 Stirling is pleased to announce Will Barrois' promotion to Vice President and Manager of the Commercial Advisory Division. Stirling's Advisory Division features specialists in all aspects of commercial real estate, including retail, office, industrial, healthcare, and investment sales. With offices throughout the Gulf South region, our team of over 50 Advisors is equipped with in-depth industry knowledge and sophisticated market research to identify opportunities for our clients.
"Will has been an integral part of the Stirling family since 2002 when he joined as an Advisor in our Covington Office," stated Marty Mayer, President and CEO of Stirling. "Over the years, he has displayed exemplary leadership and expertise, making him an ideal candidate to lead the division to new heights." In 2014, Will was pivotal in expanding Stirling's operations to the Eastern Region, serving as VP and Regional Manager for the Eastern Gulf South and qualifying broker for Mississippi, Alabama, and Florida.
Throughout his journey, Will has demonstrated his ability as an industry leader, holding multiple regional leadership positions in the International Council of Shopping Centers (ICSC), acting as a Trustee for the Alabama Center for Real Estate (ACRE), and graduating from the esteemed Leadership Alabama program, among numerous other accomplishments.
"I am incredibly honored and excited to take on the role of Vice President and Manager of the Commercial Advisory Division at Stirling," said Will Barrois. "Having been a part of Stirling for over two decades, I have witnessed firsthand the dedication and passion that drives our team. During this period, we have grown to 8 offices, over 50 Advisors, over $2 Billion in commercial sales volume, and over 530 million square feet of commercial properties and land for sale or lease. I am committed to fostering a culture of collaboration and innovation within the division and continuing Stirling's legacy of excellence in the commercial real estate industry."