With Stirling Properties' having an office in Pensacola for just over a year now, I can say it is exciting to experience first-hand the revitalization of downtown Pensacola and the economic energy happening along Florida's "western gate". 2015 was a vital year for economic development, job creation and community vitality in Pensacola, Florida.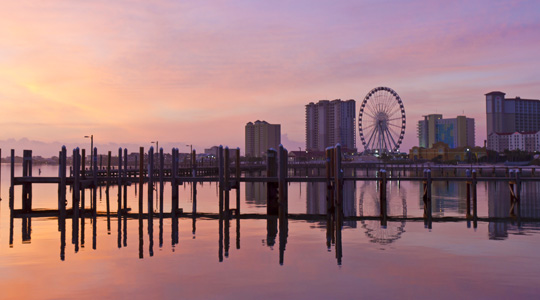 The most significant single event that is shaping the future of Pensacola's economy, by creating the most jobs and bringing in the largest investment, is Navy Federal Credit Union's $850 million two-phase expansion of its Pensacola Campus. Phase 1 of the expansion began in early 2015, and both buildings are expected to be ready for occupancy in June 2016. These buildings will house an additional 2,000 employees. Phase 2's ground breaking is expected to begin in November 2016 and will bring an additional 5,000 work stations. By 2020, the Pensacola campus will total 2 million square feet of space and $1 billion in capital investment; employing 10,000 people.
Downtown Pensacola saw several major projects that either began or were completed in 2015.
One Palafox Place is a complete renovation of historic Brent and Blount Buildings. The restoration and redevelopment will transform it into a new live, work play community.
The Pensacola News Journal building at 101 E. Romana Street was demolished and construction for a $51 million, 260-unit apartment and retail building will begin in early 2016.
Adjacent to the apartments is a new 52,000 square foot, $15 million YMCA that will be competed in late 2016.
The Florida Institute for Human and Machine Cognition's Alcaniz Street headquarters will be ready in March 2016. This expansion will take their office and workspace to 30,000 square feet.
One51 Main at the Community Maritime Park is complete and ready for occupancy. This 27,000 square foot, mixed-use development on Pensacola Bay will house office, retail and condominium space.
A 100-room Holiday Inn Express located on Main Street is under construction and will open in late 2016 or early 2017.
The Bluffs, an industrial park near Cantonment, Florida, will host up to 60 individual industrial sites and bring 5,000 new jobs.
A contract with VT Mobile Aerospace to build a $38 million aircraft maintenance and overhaul facility at Pensacola International Airport is setting Pensacola up as an aerospace hotspot. The large hanger facility will begin construction during the second half of 2016 and is expected to create 300 jobs.
Hosted by the University of West Florida's Center for Entrepreneurship, EntreCon, a two-day conference for entrepreneurs at the Rex Theater, was successfully launched in November 2015. Over 225 people attended and EntreCon 2016 is already scheduled for November.
2016 brings big economic growth opportunities in entrepreneurship, cybersecurity and aviation. I can't wait to see what else is in store for Pensacola in 2016.