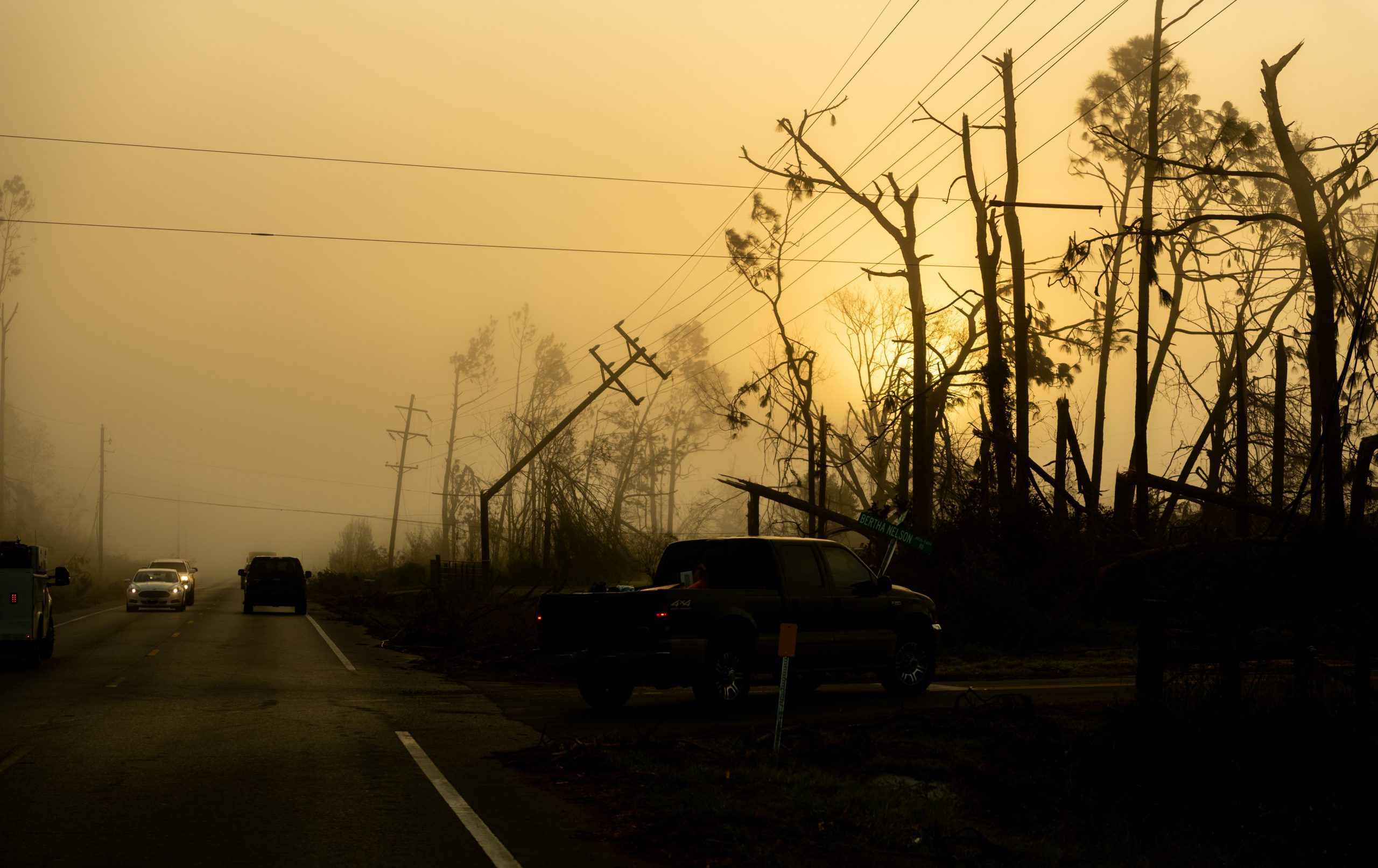 We're a little more than two weeks past the landfall of Hurricane Ida and slowly, slowly returning to some sense of normalcy. Yet, many are still struggling to recover. I want to thank everyone who called, texted, emailed and checked in on us over the last couple of weeks. Your outpouring of support and encouragement is very much appreciated. We extend our thoughts and prayers across the country to all those affected by this storm and the devastation it left behind.
Hurricane Ida is tied with Hurricane Laura (2020) as the strongest storm to ever hit Louisiana, with sustained winds over 150 mph, and it was the fifth-largest storm ever to hit the U.S. (in terms of category strength). Needless to say, our region sustained severe impacts from this storm—ironically, 16 years to the day after Hurricane Katrina devastated the Gulf South.
Hurricane Ida was primarily a wind event that downed power poles by epic proportions and destroyed entire electric grids, crippling our people and their recovery efforts. More than one million customers lost power. Over 30,000 power poles were downed—almost double that of Hurricane Katrina—and some electricity, internet and cellular outages will possibly continue through the end of September. To many, destruction to the power grid system, in this case, was equally as destructive as Hurricane Katrina's floodwaters, which further highlights the weaknesses that persist in our national disaster response efforts.
As always, I am tremendously proud of the responsiveness of our Stirling Properties team. Even amid their own challenges and losses, our team stepped up to take care of each other and our properties. We've witnessed this many times over the past year and a half. Our team members pitched in to help those affected by Hurricane Laura in Lake Charles last year, Hurricane Sally that hit Mobile/Pensacola, and now, they have volunteered, raised funds and brought much-needed supplies to our area.
We were able to secure fuel tanks and distribution points to provide much-needed gasoline for generators in areas where fuel was impossible to find.
We kept in constant contact with our folks in impacted areas and continue to update and monitor individual circumstances. In some cases, we helped line up vendors for mitigation efforts, tree/roof damage, and other needs.
In addition, we assisted our healthcare partners at Ochsner New Orleans, to secure toiletries and basic needs items for their frontline staff working through the storm and the ongoing COVID-19 surge.
We helped Xavier University line up temporary remote educational space in our conference center at the Pan-American Life Center in New Orleans.
Our Mobile/Pensacola team raised and delivered over $10,000 in cash, gift cards and donated supplies to residents of lower Jefferson and Lafourche Parishes, who were hit especially hard during the storm and still do not have power restored.
On the property side, our team was equally responsive in getting on-site quickly and working to mitigate damage to our impacted properties. Some team members were first to respond or even camped out at properties to ensure their safety and continuity. One of our most severely affected properties was Westpark Self Storage in Houma. The facility still has no power and received significant wind and water damage to the building and storage units. Our team has been on-site 24/7, working with customers who have lost their personal belongings. Ironically, another property that received storm damage was one we just acquired the week before, a Pepsi Distribution Center in Livingston, LA, that incurred significant roof damage and water intrusion. Our team worked diligently to install a temporary roof, minimize damage and get the facility back in operation. Many other properties sustained minor damage, but overall, we were very fortunate.
What lessons can we learn from this? What do we take away from this type of widespread destruction? First, our infrastructure failed; and it's not the first time. The infrastructure across our entire country is highly vulnerable to both natural and man-made disasters, like security threats. A weak infrastructure not only jeopardizes our economy and business continuity but our safety and security as a whole, as evidenced by events all over the country that are happening more and more frequently. Our businesses, financial markets, logistics systems, and even our lives rely on a solid infrastructure system. And when it fails, we all suffer.
In my opinion, it is past time to get serious and make significant investments in our infrastructure. We lag way behind other countries in this area. Our country's infrastructure needs 20 years ago were much different than today with the advancements of power grids, broadband, water and gas. Therefore, our infrastructure support system and response efforts need also to evolve to remain relevant. In juxtaposition, the COVID-19 pandemic forced the whole country to work remotely, and we were successful in business continuity—but other natural disasters that cripple our infrastructure hinder our progress and set us back even further.
Following Hurricane Katrina, a $14 billion infrastructure investment for flood protection was made in our region, and it worked. Now, power grids and support should be a priority—not just locally but nationally. Unfortunately, upgrades to our infrastructure have been kicked down the road for far too long. I understand the hesitancy in making such large-scale decisions and spending bills; however, the political football of infrastructure investments must end.
I support the bipartisan Infrastructure Investment and Jobs Act (H.R. 3684) cosponsored by Senator Bill Cassidy (Louisiana), making substantial investments in roads, bridges, ports, airports, electric grids, water systems, broadband and coastal resiliency. This $1.2 trillion bill will significantly aid Louisiana and our current recovery efforts and help prepare others across the country for future disasters. The Senate recently passed this infrastructure bill and now goes to the House. While I understand there is another larger proposed infrastructure bill, perhaps our elected officials can meet somewhere between…and quickly. But doing nothing is no longer an option. No more kicking the can; no more political football.
I encourage you all to contact, call or write your Representative in Congress to support this vital legislation that will literally pave the way for a better, brighter future for us all.
Learn more about the Infrastructure Investment and Jobs Act (H.R. 3684).