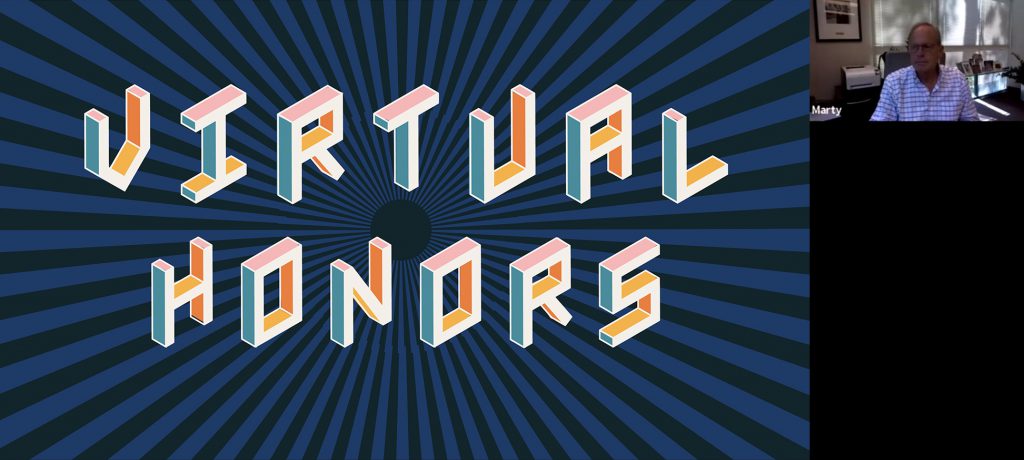 Stirling Properties celebrates first-ever virtual annual honors event!
Stirling Properties celebrated its 22nd Annual Stirling Honors last Friday in a first-ever company-wide virtual format. The event recognized and distinguished the successes of Team Stirling and the company over the past year, despite recent challenges stemming from the COVID-19 pandemic.
Stirling Properties' President & CEO, Marty Mayer, served as the emcee for the presentation and discussed how today's challenging landscape requires adaptability in our company and the commercial real estate industry. Mayer said, "Companies that can adapt and meet the changing environment will survive and find opportunities for success—this has always been one of our strong points. It's one of our core values, a characteristic of our company, See Beyond the Present: We adapt and evolve for long-term sustainable success."
He and Stirling Properties' partners thanked Team Stirling for their hard work and dedication. Lynn Blanchard and Krystal Atkins were acknowledged as recipients of Stirling Properties' most prestigious honor, the 2019 Exceeding Excellence Award, presented for extraordinary employee actions that exemplify the values necessary to further the success of the company. Brokerage Division Award recipients received recognition for Bronze, Silver, Platinum, Diamond, and Ruby production levels based on individual adjusted gross commissions from 2019. Special acknowledgment was also given to Rhonda Sharkawy, Senior Retail Leasing and Development Advisor in New Orleans, for achieving the Top Commercial Producer Award —this is the 5th consecutive year she has earned this accolade, producing over $1 million dollars in commissions.
BROKERAGE AWARDS
Ruby
Rhonda Sharkawy (Top Producer), New Orleans
Chad Rigby, Baton Rouge
Emerald
Ryan Pecot, Lafayette
Diamond
Ryan Murphy, Covington
Joe Gardner, New Orleans
Scott Macdonald, Baton Rouge
Jeff Barnes, Mobile
Jason Scott, Pensacola
Platinum
Saban Sellers, New Orleans
Nathan Handmacher, Mobile
Justin Langlois, Baton Rouge
Gold Award
Thomas Bryan, New Orleans
Bradley Cook, Covington
Angie McArthur, Mobile
Carly Plotkin, New Orleans
Seth Citron, Lake Charles
Steve Legendre, Baton Rouge
Silver Award
Charles Cornay, Baton Rouge
Melissa Warren, New Orleans
Lee de la Houssaye, Covington
Karen McElroy, Shreveport
Stacy Odom, Shreveport
Andrew Dickman, Mobile
Bronze Award
Dottie Tarleton, Baton Rouge
Beth Cristina, New Orleans
Gaines Seaman, New Orleans
Jill Meeks, Mobile
Ben Graham, Baton Rouge
Also recognized were employees and agents who achieved special anniversaries with the company. Service Awards were given for 5, 10, 15, 20, 25, 30 and 35-year milestones.
SERVICE AWARDS
35 Years of Service: Sharon Amacker – Covington, Donna Smith – Covington
30 Years of Service: Rick Skelding – New Orleans, Dottie Tarleton – Baton Rouge, Monica Milazzo – Covington
25 Years of Service: Lee de la Houssaye – Covington
20 Years of Service: Lynn Blanchard – Baton Rouge, Tina Crouchet – Covington
15 Years of Service: Mark Salvetti – Covington, Marcia McGarrity – Covington
10 Years of Service: Jim Short – Baton Rouge, Richard Frazier – Baton Rouge, Ryan Murphy – Covington
5 Years of Service: Lesley Huval – Southpark Storage, Sharon Horton – Westland Plaza, Angela McArthur – Mobile, Sean Montreuil – New Orleans, Andrew Dickman – Mobile, Joyce Ori – Mobile, Valda Butler – Covington, Griffin Lennox – New Orleans, Robin Hayles – Mobile, Helen Giang – Covington, Thomas Bryan – New Orleans, Mitch Gauthier – Covington, Patty Meyer – Covington, Rachel Jerkins – Mobile, Jason Franklin – Mobile, Rachel Fonseca – Covington, Sarah Schoonmaker – Covington