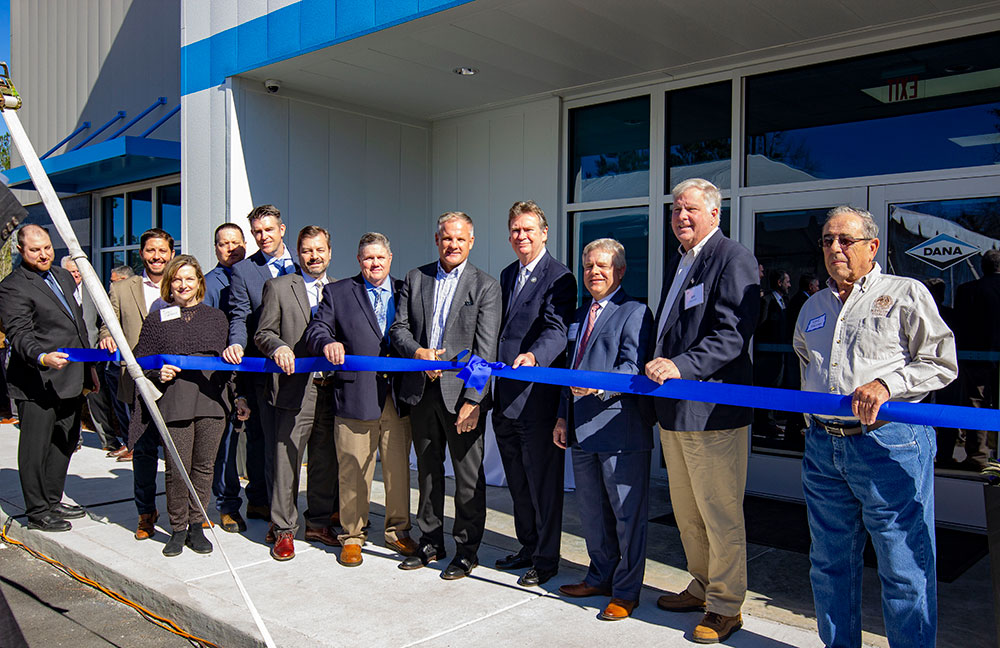 Marks another major milestone in the evolution of Stirling Properties' development portfolio.
Dana Incorporated (NYSE: DAN) announced that it has opened the doors to its nearly 32,000-square-foot industrial facility at Fremaux Park in Slidell, Louisiana, for the repair, service, and assembly of industrial gearboxes, including the ability to custom-make gears up to 6.5 feet (2 meters).
St. Tammany Parish President Mike Cooper, Slidell Mayor Greg Cromer, Stirling Properties and St. Tammany Parish community leaders joined in the celebration with an official ribbon-cutting ceremony, followed by guided tours of the new facility.
Located in the Fremaux mixed-use development, the new service and assembly center replaces Dana's current operations in Slidell, offering a larger footprint to meet the growing demand for industrial gearbox service, repair, and refurbishment. The company has also invested in gear grinding and hobbing equipment and skilled personnel to increase the ability to quickly turn-around gearboxes for customers.
"The additional square footage in this new facility combined with the increased ability to rapidly make gears gives Dana the capacity we need to further support our industrial gearbox customers who come to us for custom, highly engineered solutions," said Aziz Aghili, president of Dana's Off-Highway Drive and Motion Technologies. "Dana's service and assembly centers provide critical support for our global customers throughout the lifecycle of their machinery, whether they're building something completely new for a one-off application or maintaining current equipment to ensure maximum performance and uptime."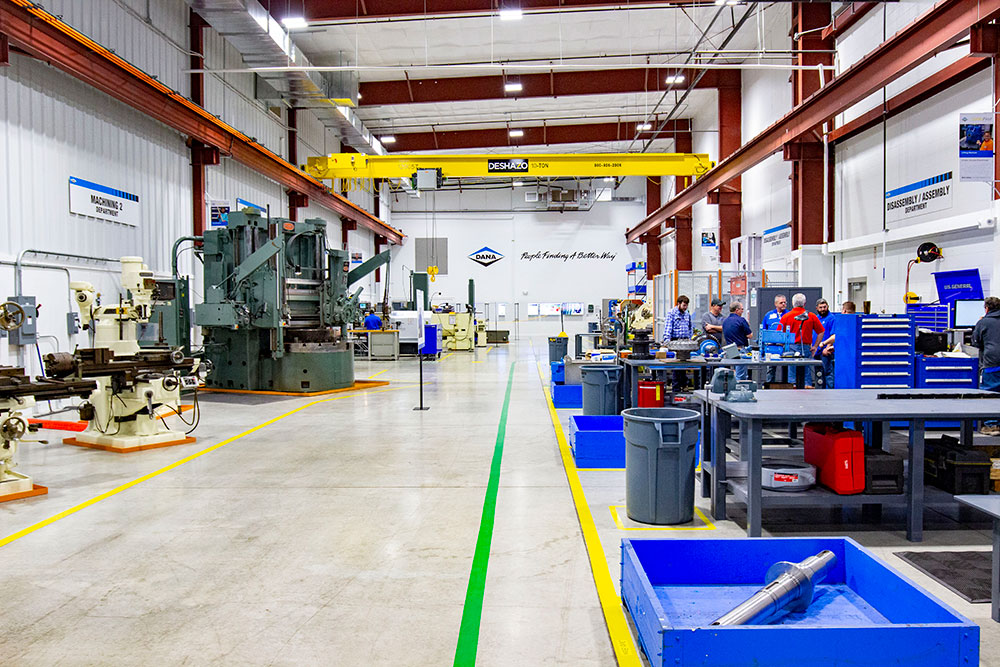 "Just over a year ago, we broke ground on this project. It's incredible that we've got a world-class manufacturing and assembly operation that has invested this amount of time, money and energy into the Slidell community. Dana has the capacity to double its workforce in the next year or so and double the size of this facility in the next 4-5 years! The world is their oyster, and we're opening our world to them—welcome. Thank you for choosing to be a part of Slidell, investing in our community and helping to make our city the best that it can be," said Slidell Mayor Cromer.
"On behalf of St. Tammany Parish, we welcome Dana to your new home here in Slidell. When you moved to our area, you may not have known you would grow so fast in such a short time. With an opportunity to move and expand, we're glad you chose to stay in Slidell," said Parish President Cooper. "I'd also like to thank the commitment of Stirling Properties and the Levis Family, for your vision of this development—Fremaux Park will help us attract not only companies like Dana but other corporate entities to our community."
Stirling Properties served as the developer of the new Slidell facility. This project marks the company's first ground-up industrial development, as well as the beginning of industrial expansion efforts for the Fremaux mixed-use property. Stirling Properties' commercial advisor, Bradley Cook, also worked with Dana to identify and secure the location at the corner of Town Center Parkway and Old Spanish Trail.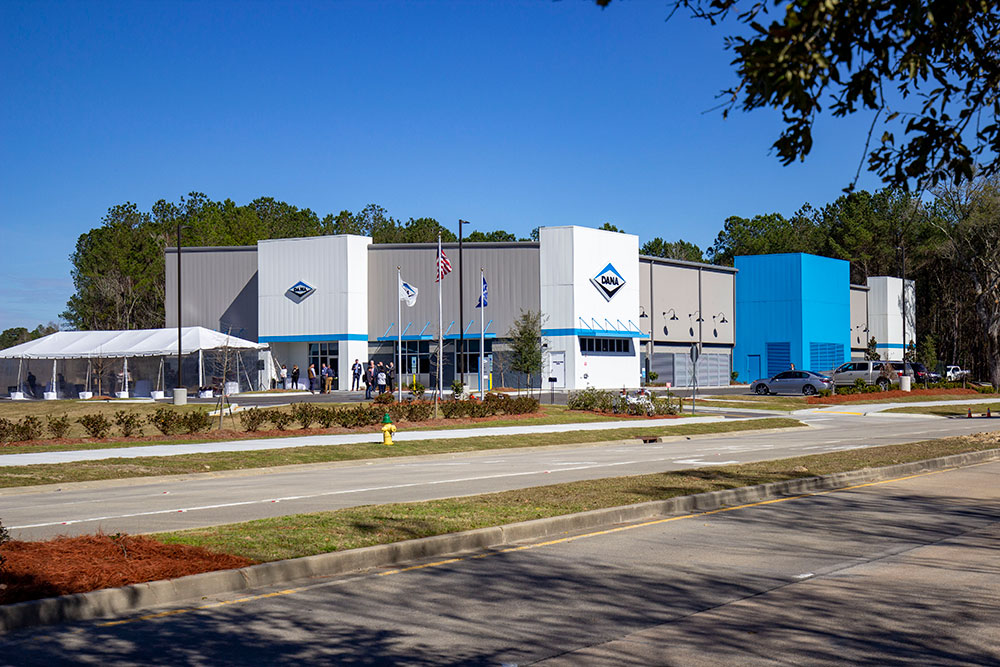 "Stirling Properties is thrilled to officially welcome Dana to Fremaux Park and celebrate the grand opening of this remarkable facility," said Townsend Underhill, President of Development with Stirling Properties. "This is a huge economic win for Slidell and the surrounding greater New Orleans region, and we are proud to have been a part of it. This new service and assembly center will be a unique operation nationally—and the property was laid out with ample opportunities to allow for future expansion. We look forward to working with Dana and having them as an anchor tenant in the Fremaux Park development."
In addition to the Slidell facility, Dana has 26 service and assembly centers around the world that provide custom solutions for gearboxes used in a variety of applications such as mining, steel and metal, pulp and paper, power generation, food processing, marine, cement, wind power, water treatment and much more. The company employs more than 36,000 people in 33 countries across six continents.
Fremaux Park is part of the roughly 350-acre regional mixed-use development located at the southwest corner of Interstate 10 and Fremaux Avenue in Slidell, Louisiana. It includes Retreat at Fremaux Town Center luxury residential apartments, Springhill Suites by Marriott (under construction), Waypoint apartment community (under construction), Saltgrass Steak House and Dana Inc. Service & Assembly Center. The adjoining Fremaux Town Center, anchored by Dillard's, Dick's Sporting Goods, Kohl's and Best Buy, includes more than 650,000 square feet of retail and restaurant options. Additional phases are forthcoming with added residential, retail, industrial and office park. Stirling Properties developed Fremaux Park and Fremaux Town Center and handles management and leasing of the property.
For leasing or sales information, contact Ryan Pécot at 337.572.0246 / rpecot@stirlingprop.com or Bradley Cook at 985.246.3720 / bcook@stirlingprop.com.