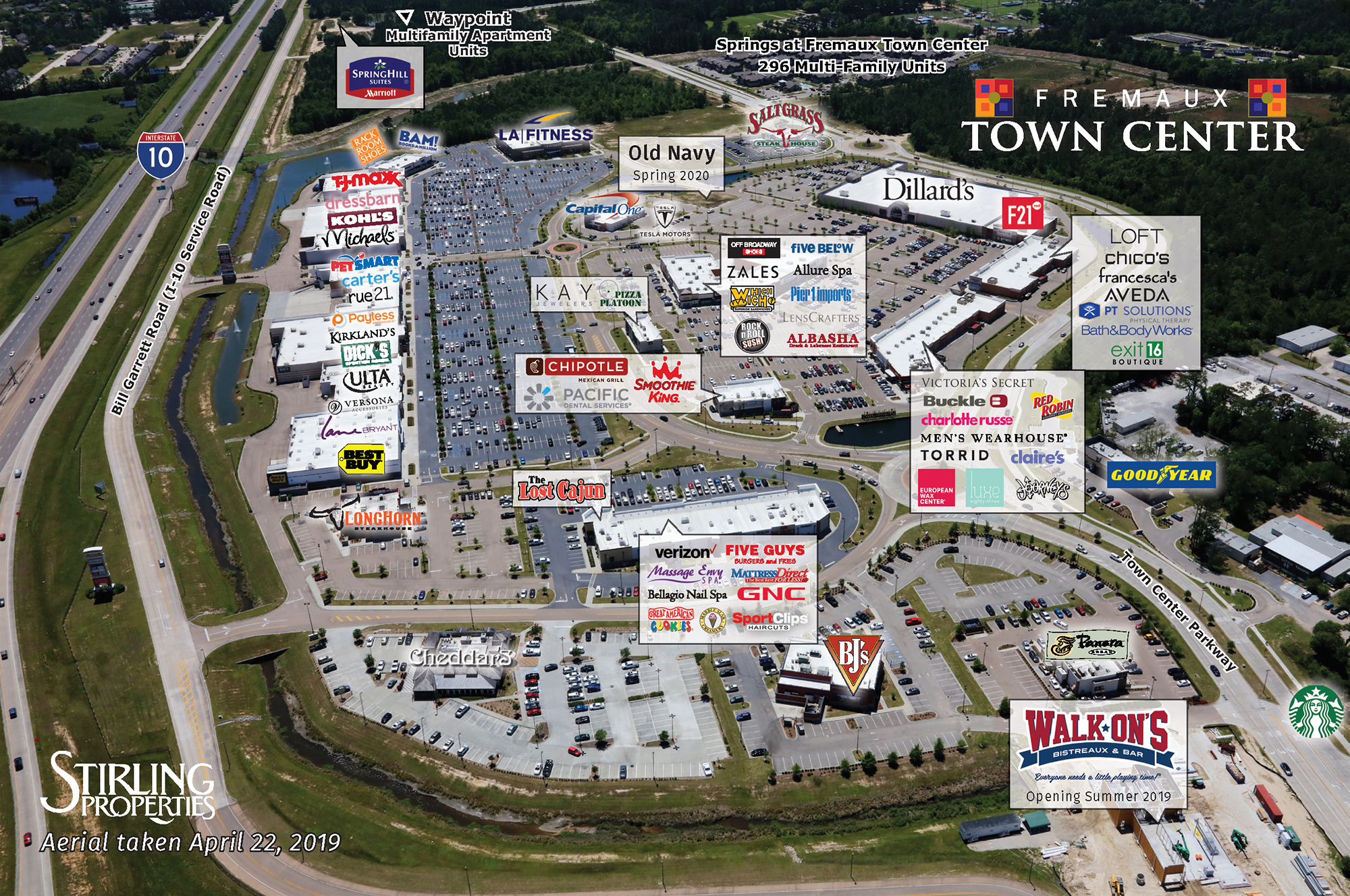 Stirling Properties is pleased to announce new tenants and development updates at Fremaux Town Center and the surrounding Fremaux Park mixed-use project in Slidell, Louisiana.
Old Navy is coming to Fremaux Town Center. The fashion retailer will occupy 12,500 square feet of store space on Levis Lane between Dillard's and Capital One Bank. Construction of the building will commence this week, with plans to open in the spring of 2020. Old Navy provides the latest fashions at great prices for the whole family, including men's, women's, women's plus, kids', baby and maternity wear.
This marks the 3rd Old Navy location for the Northshore region, with other retail stores operating at Stirling Properties' Premier Center development in Mandeville and Hammond Square development in Hammond.
PT Solutions physical therapy provider is also leasing 2,617 square feet of retail space in Fremaux Town Center located on Town Center Parkway between Aveda and Bath & Body Works. Buildout of the space began recently, with plans to open in mid-July.
Ryan Pécot, Senior Retail Leasing & Development Executive with Stirling Properties, handled the lease transactions for both retailers.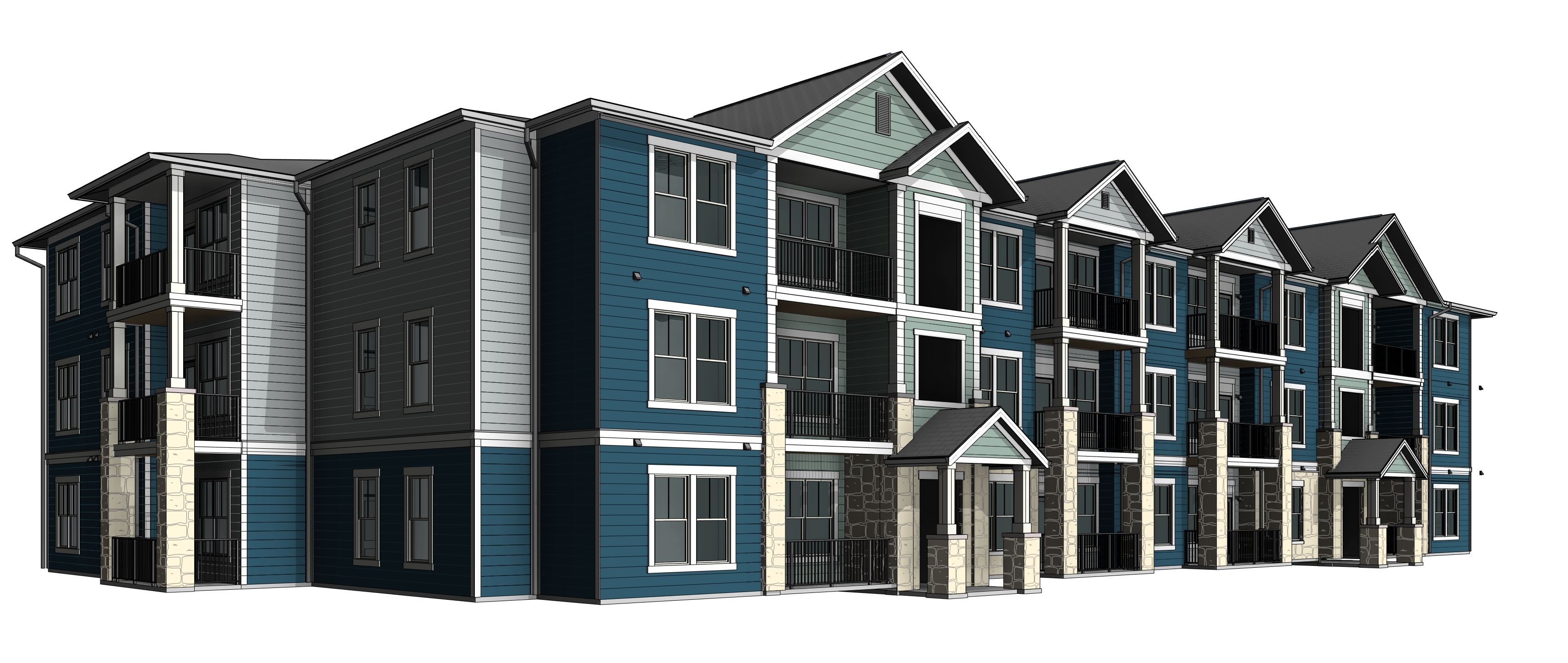 Stirling Properties recently closed on the sale of a 20-acre site to multifamily developer, Waypoint, for a luxury apartment community in Fremaux Park. The 276-unit multifamily development will consist of eight detached buildings that will be located along Town Center Parkway on the south side of the W-14 canal. Construction is scheduled to begin in the next couple of weeks.
The developer for the Marriott Springhill Suites has started construction this month with site clearing and site work now underway. The hotel is expected to open in 2020.
Fremaux Town Center, anchored by Dillard's, Dick's Sporting Goods, Kohl's, and Best Buy, is part of the roughly 350-acre regional mixed-use development located at the southwest corner of Interstate 10 and Fremaux Avenue in Slidell, Louisiana. The retail center includes more than 640,000 square feet of shopping and restaurant options and is jointly owned and operated by CBL Properties and Stirling Properties.
Tenants include Albasha Greek & Lebanese Restaurant, Allure Spa, Aveda, Bath & Body Works, Bellagio Nail Spa, Best Buy, BJ's Restaurant & Brewhouse, Books-A-Million, Buckle, Capital One, Carter's, Cheddar's, Chico's, Chipotle Mexican Grill, Claire's, Dentists of Slidell, Dick's Sporting Goods, Dillard's, dressbarn, Exit 16 Boutique, European Wax Center, Five Below, Five Guys Burgers & Fries, Forever 21 Red, Francesca's, GNC, Goodyear, Great American Cookie Company, Journeys, Kay Jewelers, Kirkland's, Kohl's, LA Fitness, Lane Bryant, LensCrafters, LOFT, Longhorn Steakhouse, The Lost Cajun, Luxe 83, Marble Slab, Massage Envy, Mattress Direct, Men's Wearhouse, Michaels, Off Broadway Shoe Warehouse, Old Navy (coming soon), Panera Bread, Payless Shoes, PetSmart, Pier 1 Imports, Pizza Platoon, PT Solutions (coming soon), Rack Room Shoes, Red Robin, Rock N Roll Sushi, rue21, Saltgrass Steak House, Smoothie King, Sports Clips, Starbucks, Tesla (charging stations), T.J.Maxx, Torrid, ULTA Beauty, Verizon Wireless, Versona, Victoria's Secret, Walk-On's Bistreaux & Bar (coming soon), Which Wich, and Zales.
The adjoining Fremaux Park includes Retreat at Fremaux Town Center luxury residential apartment units, Springhill Suites by Marriott (coming soon), Waypoint apartment community (coming soon), Saltgrass Steak House, and Dana Inc. Service & Assembly Center (coming soon). Additional phases are forthcoming with added residential, retail, industrial and office park. Fremaux Park is a Stirling Properties mixed-use development.
For leasing information, contact Ryan Pécot at 337.572.0246 / rpecot@stirlingprop.com or Michael Oswald at 423.490.8272 / mike.oswald@cblproperties.com.