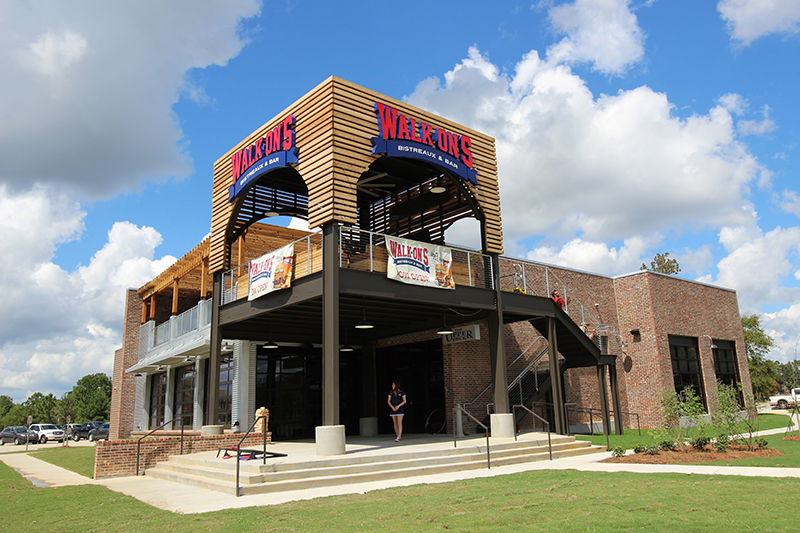 Stirling Properties and CBL Properties are pleased to announce that Walk-On's Bistreaux & Bar is coming to Fremaux Town Center mixed-use development in Slidell, Louisiana. This marks the 2nd Northshore location for the award-winning, family-friendly restaurant and bar.
DBMC Restaurants, dba Walk-On's Bistreaux & Bar, recently closed on the purchase of 1.5 acres of property located at the corner of Fremaux Avenue and Town Center Parkway, near the entrance to the retail center. Construction on the site began last month. The restaurant will occupy approximately 8,000 square feet of space and is expected to open in June of 2019. DBMC Restaurants is a veteran restaurant group that currently operates three restaurant brands across six states. It is one of the largest franchisees of Walk-On's with growth plans to add four more restaurant locations this year.
"Although we have a broad reach across the South, we strive to keep a small company culture—and being based out of Baton Rouge, we are very excited to open this Walk-On's in our backyard," said Jason Gisclair, President of DBMC Restaurants. "Walk-On's Bistreaux & Bar is a great brand with Louisiana roots and a Louisiana inspired menu, making it a perfect fit for the Slidell area. We look forward to becoming part of Fremaux Town Center and the local community."
Stirling Properties' Senior Sales & Leasing Executive, Ryan Pecot, represented the property owners in the sale. Tommy Vervaeke of Carlton & Associates Real Estate worked with Walk-On's to secure the location.
The popular sports-themed restaurant started by two LSU students in Baton Rouge has thrived over the years and expanded into multiple locations with another 100 locations in the works across 15 states. Currently, there are 17 Walk-On's franchises operating in Louisiana. This marks the 2nd location for the Northshore area, with the first opening at Stirling Properties' River Chase development in Covington.
"Stirling Properties is excited to welcome Walk-On's Bistreaux & Bar to Fremaux Town Center and the Slidell community," said Townsend Underhill, President of Development with Stirling Properties. "We have worked with this operator in the past, and we know what a great group of community-oriented people they are. Walk On's will be a great addition to our Fremaux Town Center development and will further enhance the dynamic restaurant and retail assortment for our area."
Fremaux Town Center, anchored by Dillard's, Dick's Sporting Goods, Kohl's, and Best Buy, is part of the roughly 350-acre regional mixed-use development located at the southwest corner of Interstate 10 and Fremaux Avenue in Slidell, Louisiana. The retail center includes more than 640,000 square feet of shopping and restaurant options, and is jointly owned and operated by CBL and Stirling Properties. The adjoining Fremaux Park includes Retreat at Fremaux Town Center luxury residential apartment units, Springhill Suites by Marriott (soon under construction), Saltgrass Steak House (coming soon), and the recently announced Dana Inc. Service & Assembly Center. Additional phases are coming soon with added residential, retail, industrial and office park.
For leasing information, contact Ryan Pécot at 337.572.0246 / rpecot@stirlingprop.com or Michael Oswald at 423.490.8272 / mike.oswald@cblproperties.com.