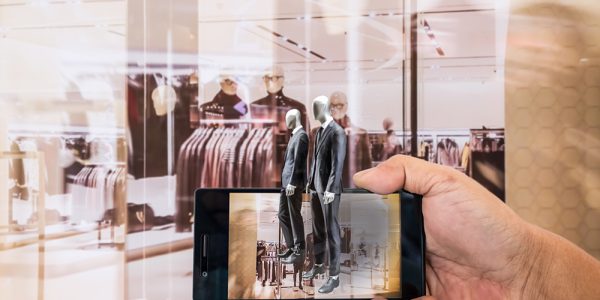 Brick-and-mortar stores have a bright future in the retail industry, and now we have data to prove it. We've heard the widely drawn-out debate of clicks vs. bricks—or the speculations that e-commerce will cause the demise of physical stores. However, according to a recent report by ICSC, "The Halo Effect: How Bricks Impact Clicks," brick-and-mortar stores are essential to the success of retailers.
The "halo effect" is defined as the tendency for an impression created in one area to influence another. ICSC's study, the largest of its kind, explores and quantifies how physical store locations impact a brand's digital presence. Here are a few of its key findings:
Opening one new physical store in a market results in an average 37% increase in overall traffic to that retailer's website and increases its share of web traffic within that market by an average of 27%.
The opposite is also true as web traffic tends to fall when stores close. In one case, the share of web traffic across the markets where a store closed declined up to 77%.
For emerging brands, defined as those less than 10 years old, new store openings drive an average 45% increase in web traffic following a store opening. For comparison, established retailers experience an average 36% boost in web traffic.
These findings confirm the direct correlation between a retailers' physical and digital presence. When retailers invest in brick-and-mortar stores, their online presence thrives. The opposite is also true: closing stores causes a drop in the share of web traffic.
Furthermore, the study shows that not only do physical retail locations drive digital engagement, but also positively impact brand perception and help to attract new customers. Markets where retailers have a physical presence perform better on brand health metrics (including awareness, consumer perceptions, and willingness to recommend) compared with national benchmarks.
Today's digitally empowered, high-maintenance consumer expects convenience and choices in how, when, and where they shop. They want an assortment of options to make purchases—aka omnichannel buying. However, physical stores remain the dominant method for building, growing, and sustaining brands.
Physical stores allow shoppers the ability to see, feel, taste, and truly experience a brand or product that they're buying. Engagement and social connection in a physical store also play a vital role in the satisfaction level of the consumer and overall experience. Most importantly, physical stores allow retailers the unrivaled opportunity to interact with consumers and gain in-depth data and insight far beyond what online shopping could ever allow.
In the retail game, successful stores are marrying e-commerce and physical components, giving consumers purchasing options like click-and-collect, click-and-ship, and showroom models, enhancing the brick-and-mortar shopping experience and boosting sales at physical stores.
So much so that many once pure-play online retailers are moving into brick-and-mortar stores. E-commerce retailers plan to open 850 physical stores across the U.S. in the next five years. Many online brands have already started a push for physical stores, including Warby Parker, Rent The Runway, Glossier, Adore Me, Allbirds, even giants like Amazon and Wayfair are realizing the importance of a brick-and-mortar retail strategy. Both new and established brands are investing in stores and transforming clicks into bricks.
Brick-and-mortar stores should be a part of any retail strategy because they drive web traffic, improve brand health, and encourage in-store shopping. Still, retailers must continue to evolve to be successful and stay relevant in today's fast-paced landscape. Retailers that provide more in their stores than the opportunity to make purchases will likely flourish—from the home improvement store that offers DIY workshops to the athletic store that offers simulated sporting games.
So, physical stores do matter—and the findings of this report confirm that. As e-commerce sales continue to grow year over year, those retailers that adapt and create a true multi-channel experience, leveraging both the assets of physical and digital, will come out on top.
Thank you to ICSC for compiling this insightful report. Hardcore data can't be disputed. The retail apocalypse is over; let's move on to the Renaissance!
To read the entire report, click here.