More than 6,000 contiguous acres primed for development in St. Tammany Parish.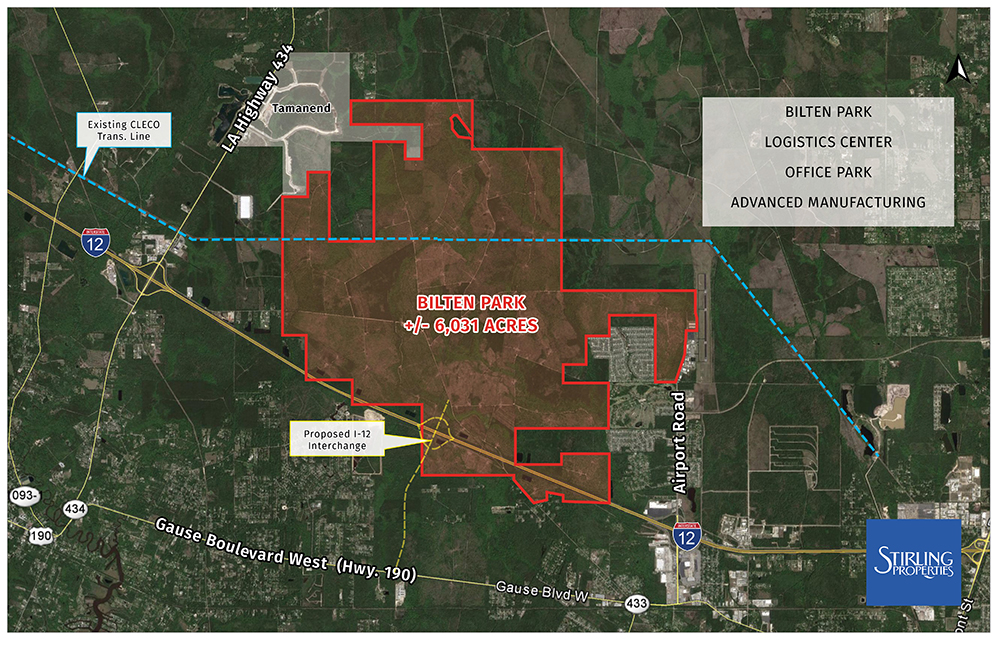 Stirling Properties announces that Bilten Park has been named Louisiana's #1 megasite for future advanced manufacturing and logistics. Strategically located at the intersection of Interstate 12 and LA Hwy. 434 on the Northshore of the greater New Orleans area, this 6,031-acre site was recently opened for sale/lease and development opportunities. Stirling Properties and CBRE are co-listing the property.
Bilten Park is a premier location for local and national business relocation and growth and is primed to support a diversity of future users. The development-ready site offers unsurpassed amenities such as intermodal accessibility—including 3.5-linear miles of frontage along Interstate 12, proximity to numerous major markets, a regionally unmatched labor force, quality employer base, and superior quality of life. Future infrastructure additions are planned for the site.
As part of the greater New Orleans region, St. Tammany Parish boasts a healthy and cost-effective climate for conducting business. Additionally, the area's nationally recognized school system, first-rate medical facilities, large population density, and high median income make the community an attractive destination for companies of every size.
Louisiana Economic Development Secretary, Don Pierson, said, "At Louisiana Economic Development, our goal is to secure quality jobs for our citizens, retain and grow companies with existing Louisiana operations, and attract new investments to our state. As we engage in recruitment efforts, development-ready sites are a critical component of success. Today, investors make decisions quickly, and communities must have construction-ready sites. The Bilten Park site is strategically located to provide ready access to logistical infrastructure assets. From highways and railways to pipelines, ports, and airports, Louisiana's infrastructure advantages are second to none. The Bilten Park site location can also count on the impressive workforce capacity available in St. Tammany Parish and the surrounding area. We are confident it will yield a significant new regional investment."
Bradley Cook, Sales & Leasing Executive with Stirling Properties, said, "Our local amenities and culture enhance the appeal of this future developments' success. The quality of life in the New Orleans area is incomparable. We enjoy a year-round calendar of events along with a vibrant art, music, and recreational scene. This site offers much more than a place to do business; it is truly a place to call home! We anticipate ample interest in this unique development opportunity in the usage of office parks, logistics centers, manufacturing facilities, healthcare services, etc. in the near future—from both local and national industries."
For sales and leasing information, contact Bradley Cook at (985) 246-3720 / bcook@stirlingprop.com, Darin Gosda at (713) 577-1819 / darin.gosda@cbre.com, or Bill Boyer at (713) 881-0919 / bill.boyer@cbre.com.