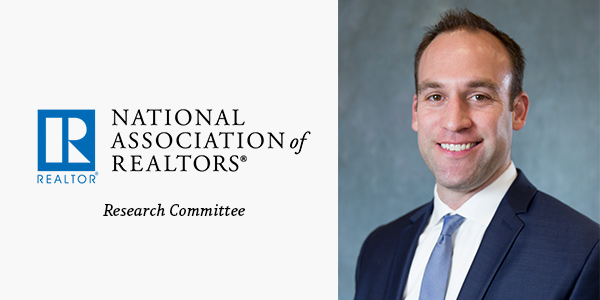 Stirling Properties' Sales and Leasing Executive, Bradley Cook, has been selected by the National Association of REALTORS® (NAR) as a Member at Large on its Research Committee. He will assume the position on December 1st of this year and serve through November 30th of 2018.
The NAR Research Committee focuses on market conditions in the real estate industry as well as developments in the general economy. It identifies topics on which research and information are needed in order to improve the productivity and profitability of REALTOR® firms, state associations, and local boards, and determines how that data can best be utilized.
The committee holds multiple meetings throughout the year and garners national and regional market data from its respective members to determine industry activity, trends, or topics that need to be the focus for legislative and/or lobbying efforts.
The goals of the 2018 Research Committee include the completion of an in-depth review of current major research reports and advise on needed changes or adjustments; identify new trends/issues related to the real estate industry and provide research support; and explore and develop improved methods of dissemination of, and ease the access to, research for members and stakeholders.
"I am excited to gain the insight that this committee will provide," said Cook. "The opportunity to receive national and regional industry data, and to help the committee make critical decisions on the proper path forward for our industry is a tremendous responsibility."
Cook is a member of Stirling Properties' Commercial Brokerage Division and works from the company's Northshore office located in Covington, Louisiana. His primary focus includes industrial, urban core, and land development as well as tenant representation in the retail and office markets. He has worked with numerous landlord and tenant clients from multiple industries including fitness, film, a micro-brewery start-up in the Baton Rouge market, and is the lead broker for Louisiana's premier future industrial mega-site development.
He is a member of both the East and West St. Tammany Chambers of Commerce, the Louisiana CCIM Chapter, the Commercial Investment Division of the New Orleans Metropolitan Association of Realtors, and the National Association of REALTORS®. Cook holds a commercial real estate license in Missouri, Kansas, and Louisiana and is a CCIM candidate.
The National Association of Realtors is America's largest trade association, representing over 1.2 million members, including NAR's institutes, societies, and councils, involved in all aspects of the residential and commercial real estate industries. Membership is composed of residential and commercial realtors who are brokers, salespeople, property managers, appraisers, counselors, and others engaged in the real estate industry.
Bradley Cook can be reached at (985) 246-3720 or bcook@stirlingprop.com.