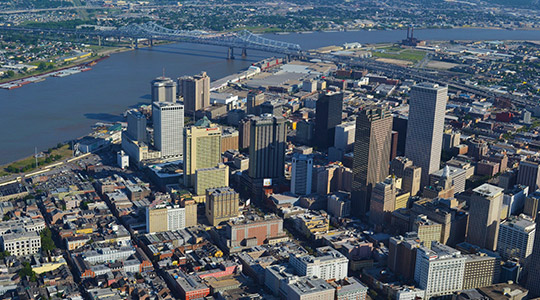 The "Big Three" cities for entrepreneurship—San Francisco/San Jose, Boston and New York—all have a high cost of living, which can be difficult on a startup budget. Resultantly, entrepreneurs are starting to look elsewhere.
Enter post-Katrina New Orleans. Hurricanes Katrina and Rita allowed one of America's most historic places to reimage itself as a startup city and business destination. The Crescent City's renaissance has attracted new entrepreneurial talent, boasting a business startup rate 64% higher than the national average.
Not only does New Orleans offer an affordable cost of living, it proposes attractive culture, world renowned food, and a vibrant art, music and entertainment scene. This fun-loving and diversity-embracing ethos attracts people from all over the world.
Furthermore, housing in San Francisco is 227% higher than in New Orleans, groceries cost 25% more, and transportation costs are 33% greater. Likewise, housing in New York is 368% higher, and Boston up 95%. It's easy to see why New Orleans consistently ranks at the top for cities attracting college graduates in flocks.
New Orleans also recently made the ranks among '20 Hottest Startup Hubs in America,' according to a report from Ewing Marion Kauffman Foundation. You can bet over the next few years, our resilient city will continue to top the lists of thriving marketplaces offering economic opportunities for entrepreneurs.
I could not agree more! We have already witnessed numerous companies—big and small—choosing New Orleans as home. The demand for office and industrial property has surged over the last few years. The city is ripe for opportunity and remains one of Stirling Properties' most profitable areas for commercial real estate management, development and investment. We look forward to serving the growing commercial real estate needs of New Orleans for many years to come!
Read the entire article, What Makes New Orleans a Startup City to Rival the "Big Three", by Harvard Business Review.