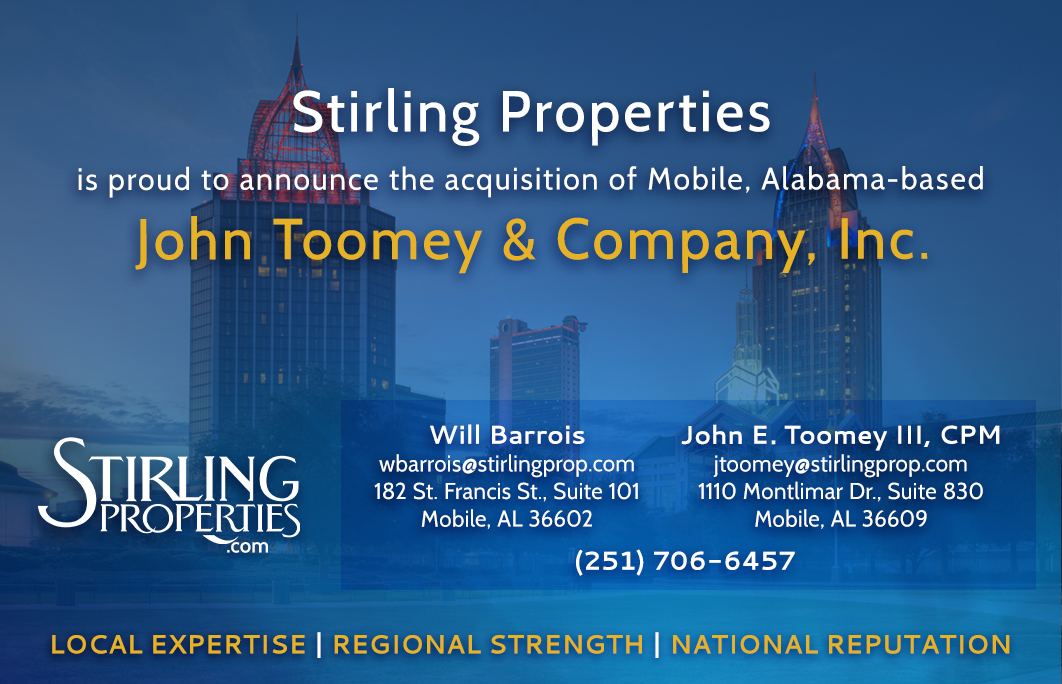 COVINGTON, LOUISIANA (MAY 13, 2014) – Stirling Properties announces the acquisition of John Toomey & Company, Inc., a commercial real estate company based in Mobile, Alabama. The acquisition of John Toomey & Company, Inc. further strengthens Stirling Properties' presence in the Gulf South and is a critical step in Stirling's long-term strategic growth plans.
Toomey's current portfolio of 1.8 million square feet will be integrated into Stirling Properties' portfolio bringing the total to 15.5 million square feet. John Toomey and his team will join Stirling Properties, with Mr. Toomey to serve as Broker/New Business Development Coordinator for the Mobile Area.
Marty Mayer, President and CEO of Stirling Properties, said, "The incredible resurgence of the Gulf Coast as the country's Third Coast has provided growth and opportunities all along the Gulf South. We feel as though Mobile is a key component in this resurgence. To increase our regional presence, we are excited to collaborate with a company that has over 20 years' experience and deep roots in Mobile."
The founder of John Toomey & Company, Inc., John Toomey, believes that aligning with Stirling Properties will provide a higher caliber of service to existing and future clients.  "Stirling Properties is a very strategic and forward-thinking company.  The resources they offer our brokers and property owners will enable us to take our client services to a new level.  I am so proud of my team and find it very gratifying that our work was noticed and appreciated by Stirling Properties."
"This alignment reinforces Stirling Properties' commitment to personally invest in the markets we serve and provides a strong foundation for continued growth in all facets of our company that include the development, management, brokerage and acquisition of commercial properties throughout Alabama and the Gulf South"," stated Will Barrois, Stirling Properties Vice President/Regional Manager of Alabama and Florida.
For commercial real estate needs in Alabama, contact Stirling Properties at their Mobile office located at 182 St. Francis Street, Suite 101, or call (251) 706-6457.