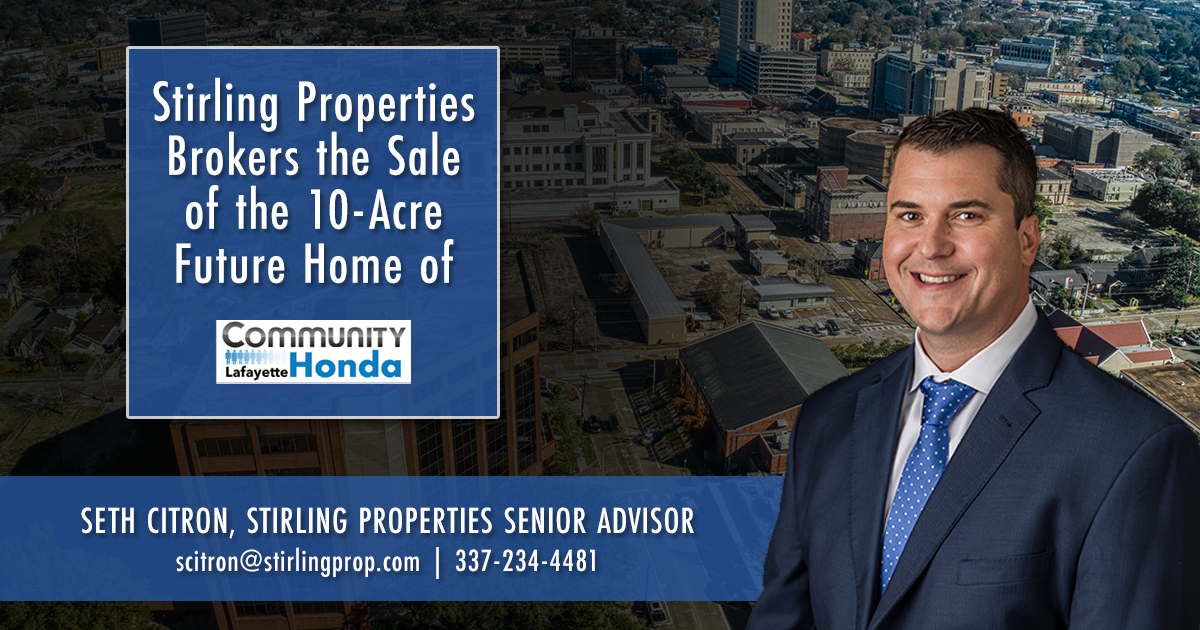 Stirling Properties brokered sale of 10-acres for new facility.
Community Honda recently announced plans for an all-new state-of-the-art facility in Lafayette, Louisiana.
The 10-acre future home of Community Honda is located along Highway 90 near the airport. It will include a 50,000-square-foot facility with over 30 service bays, a children's play area, a café, and many more amenities.
"After three years in Lafayette, we are excited to expand our presence to better serve the community," said Roger Elswick, Community Honda owner.
Seth Citron, Stirling Properties senior advisor, brokered the transaction and worked with Community Honda to secure the new location. "This was a great project to work on, and I'm excited for Roger and Kim Elswick's entire Community team. This will be a remarkable new development that will service their loyal employees and customers for the next generation of Honda products in and around the Acadiana area. I'm eager to see this property returned to commerce and provide an enhanced economic boost for the market," said Citron.
With construction set to begin in 2022, the new facility is expected to open in 2023 and will be the first in Louisiana to use Honda's newest designs.
For leasing information in southwest Louisiana, contact Seth Citron at scitron@stirlingprop.com / 337-572-0273.