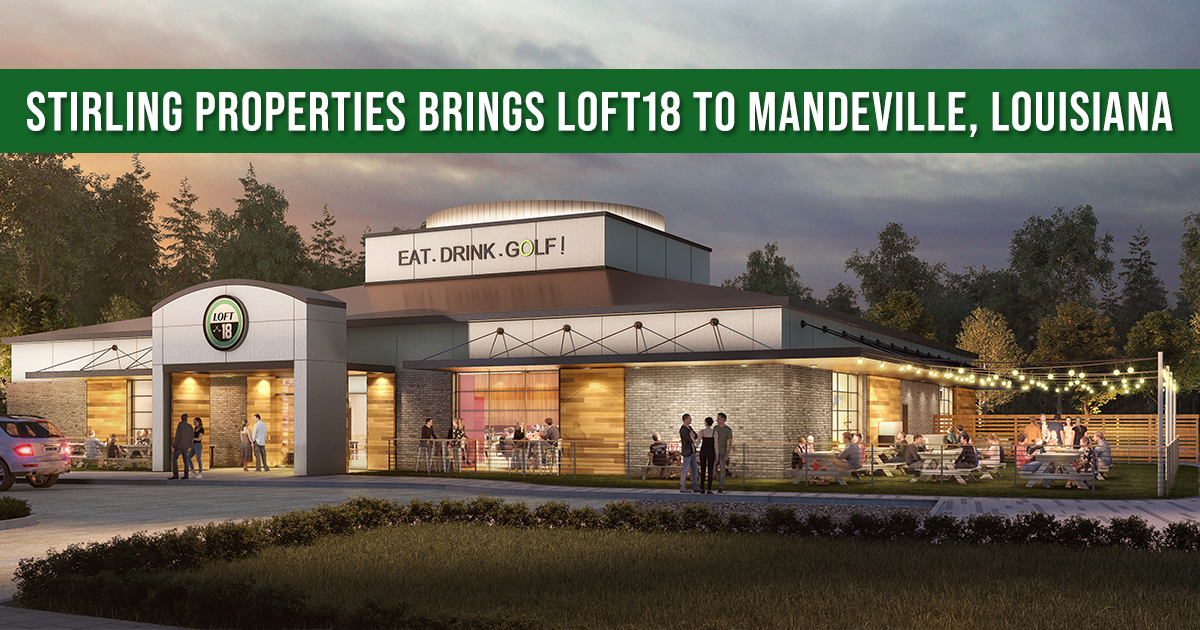 Stirling Properties serving as brokerage tenant rep in company expansion.
Stirling Properties announces LOFT18, an interactive sports bar and lounge, is coming to Mandeville, Louisiana. Stirling Properties is serving as the brokerage representative for LOFT18 in its regional expansion efforts.
LOFT18, founded in New Orleans, Louisiana, is an innovative, interactive golf and multi-sport concept featuring custom-built, state-of-the-art Full Swing Golf simulators. It showcases games & championship courses to deliver precision play at its finest to golfers of all experience levels. And for non-golfers, LOFT18's full-service bar and restaurant offers gastro-pub fare, craft beer and cocktails, and New Orleans' famous service and hospitality.
This marks the third retail location for LOFT18. The company recently closed on the purchase of property located at the corner of St. Ann Drive and N. Causeway Blvd. (Hwy. 190 Frontage Road) in Mandeville to construct a ground-up 10,000-square-foot restaurant and bar with outdoor dining space. The new location will feature five simulators and one VIP room with a private simulator for parties of 20-30 people. The contractor on the development is Cassesi Scully Commercial Construction and the architect is Sizeler, Thompson & Brown Architects. Construction is expected to begin soon, with an anticipated opening in September-November 2022.
"We are thrilled to announce our newest LOFT18 location in Mandeville and to deliver the ultimate indoor golf, entertainment, and hospitality experience for the entire Northshore community," said Greg Whitman, president/owner of LOFT18. "Mandeville's vibrant, high-growth market is a perfect fit for LOFT18. We look forward to being a part of this community and serving its families, foodies, and, of course, golfers."
Thomas Bryan and Lauren Ryan, commercial real estate advisors with Stirling Properties, represented LOFT18 in securing the location. "Lauren and I are very proud to represent Loft18 in their expansion efforts and are excited about their new location coming to the Northshore," said Bryan. "LOFT18 was the first locally-owned golf simulation and entertainment concept in the New Orleans area, and they are setting the course for a unique entertainment and restaurant experience that will be highly successful in this market."
The LOFT18 concept was dreamt-up by three long-time friends with backgrounds in entertainment, sales and hospitality and a fervent love for the game of golf. Seeing a niche in the hospitality industry, the group opened its first "flagship" location in Metairie in 2017 and its second location in Houston, Texas, in 2019. LOFT18 is currently working on expansion efforts in other major markets.
For leasing information, contact Lauren Ryan at lryan@stirlingprop.com / (504) 620-8124 or Thomas Bryan at tbryan@stirlingprop.com / (504) 620-8138.