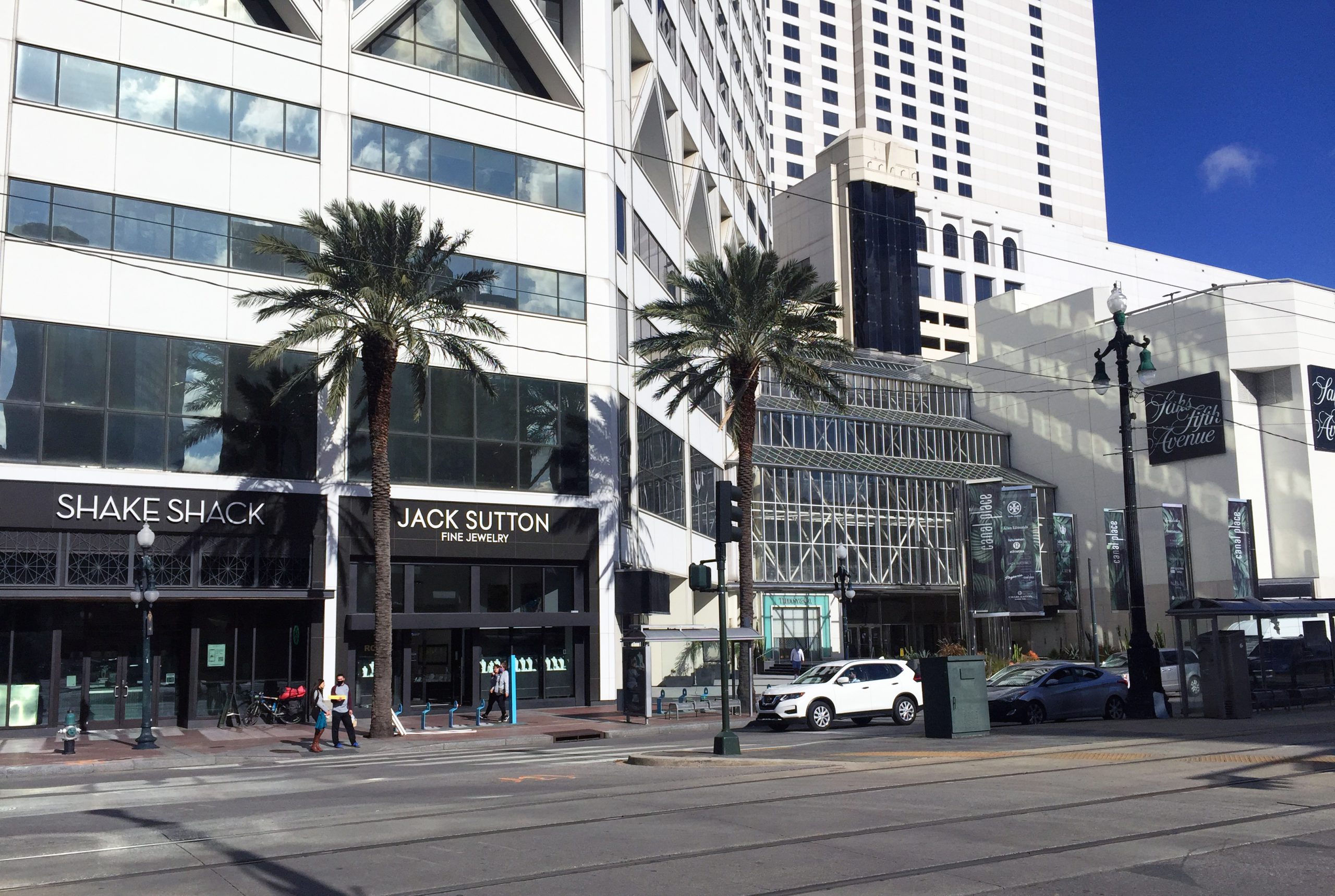 O'Connor Capital Partners Signs Deal with PJ's Coffee for 2021 Opening.
O'Connor Capital Partners today announced that PJ's Coffee would open a new location this year at Canal Place, New Orleans' premier luxury retail destination.
PJ's Coffee will open their Canal Place location this Summer in a 527-square-foot space on the first level of the center fronting Iberville Street.
"We are very excited to welcome local favorite, PJ's Coffee, to Canal Place," said Winter Warren, Marketing Director of Canal Place. "Both institutions have a long-standing heritage of serving New Orleans residents and visitors, and we are thrilled to now have PJ's Coffee as part of the Canal Place family."
Stirling Properties' commercial advisors Carly Plotkin and Lauren Ryan serve as the leasing agents for the property and worked with the team at O'Connor Capital Partners to secure the location for PJ's Coffee at Canal Place.
"Our goal is to target best-in-class local and regional tenants to complement the strong national tenancy already present at Canal Place—and there is no better brand to represent the local culture than PJ's Coffee, a New Orleans original," said Plotkin. "Stirling Properties is proud to continue our partnership with O'Connor Capital Partners, and we look forward to welcoming even more great retailers to the tenant mix at Canal Place soon."
PJ's Coffee delivers a unique coffee experience by sourcing the top 1% of Arabica beans from over 14 origins around the world. Their Southern hospitality, superior roasting techniques, and passion for making coffee are what make PJ's Coffee so special. PJ's Coffee at Canal Place will serve a wide variety of hot, iced and frozen coffee beverages, as well as organic tea and fresh breakfast pastries, including its new beignet program.
"PJ's Coffee of New Orleans is excited to open at Canal Place as we extend our reach within our community. Providing New Orleans food, beverage and hospitality at the most preeminent shopping venue in the city is something we are absolutely looking forward to," said David Mesa, Chief Development Officer.
Canal Place is Downtown New Orleans' premier destination for luxury fashion and beauty brands, boutique clothing stores, home goods and much more. Canal Place is home to the notable WITH LOVE FROM nola moss wall, one of New Orleans' most Instagrammable spots. Additionally, the lush landscaping and modern renovations have begun to evolve the experience that distinguishes shopping at Canal Place from the rest of the city.
About Canal Place
Situated on the edge of the historic French Quarter, Canal Place is home to many notable, exclusive designer boutiques. An on-site, four-star hotel, The Westin New Orleans, and a convenient covered parking facility add to Canal Place's unique offerings. Anchored by Saks Fifth Avenue, this world-class shopping center boasts a superb mix of stores including Louis Vuitton, Tory Burch, MCM, Anne Fontaine, Brooks Brothers, Tiffany & Co., lululemon, and vineyard vines, to name a few. For more information, visit www.canalplacestyle.com. Connect with Canal Place on Facebook, Twitter and Instagram (@canalplacestyle).
About O'Connor Capital Partners
Founded in 1983, O'Connor Capital Partners www.oconnorcp.com is an institutional real estate investment, management, and development firm based in New York City and run by CEO Bill O'Connor. The firm pursues acquisitions, developments and residential conversions on behalf of its institutional funds, separate accounts, and own account. O'Connor primarily targets retail and residential opportunities throughout the United States and Mexico. Since inception, O'Connor has acquired or developed over $30 billion of property, including over 55 million square feet of retail space and over 30,000 residential units globally.
About Stirling Properties
Stirling Properties is one of the most diversified full-service commercial real estate companies in the country. Regionally focused and nationally acclaimed, we specialize in Advisory Services, Commercial Brokerage, Development & Redevelopment, Asset & Property Management and Investments over a wide array of property types across the Gulf South. Connect with Stirling Properties on the web at www.stirlingproperties.com, "like" us on facebook.com/stirlingproperties, follow us @StirlingProp on twitter.com/StirlingProp or subscribe to our Stirling Insights blog.
About PJ's Coffee of New Orleans
PJ's Coffee of New Orleans was founded in 1978 by Phyllis Jordan, a pioneer in the coffee industry that demonstrated that better beans, superior roasting techniques, and pure passion for the art of coffeemaking mattered. In 2008, the company was purchased by New Orleans natives and brothers, Paul, Steven, and Scott Ballard. PJ's Coffee serves a wide variety of hot, iced and frozen coffee beverages using only the top 1% of Arabica beans, as well as organic tea and fresh breakfast pastries. PJ's Original Cold Brew™ Ice Coffee is brewed daily using a special cold-drip process that protects the flavor and strength of the beans, while producing a coffee that is 2/3 less acidic – a process and technique pioneered by our founder and used for more than 30 years at all PJ's locations. Bags of whole bean coffee, single serve cups of PJ's Coffee and PJ's Iced Coffee Concentrate are available for sale in-store and online. With over 126 operating stores, including four international locations, PJ's Coffee continues to expand across the U.S. and abroad and is slated to open 45 more stores throughout 2021.