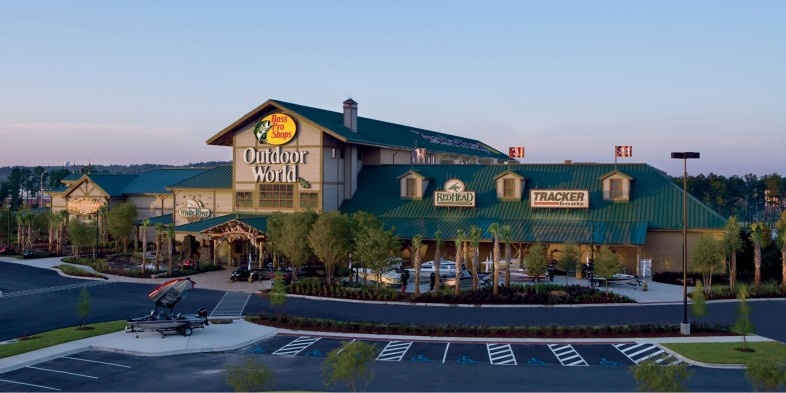 Stirling Properties, in partnership with Cypress Equities, announces New-Orleans-based Mandina's Restaurant will be joining the tenant lineup at Spanish Fort Town Center mixed-use development in South Alabama.
Mandina's Restaurant has been a New Orleans institution since 1932, serving Italian and Cajun-Creole seafood, steaks and pasta. This marks the third location for Mandina's Restaurant and the first outside of Louisiana. The original restaurant is located on Canal Street in New Orleans. A local franchisee opened the second Mandina's on the Northshore of Lake Pontchartrain in Mandeville, Louisiana, and is now venturing into Alabama. The newest Spanish Fort location will occupy 3,997 square feet of space located on Bass Pro Drive across from "The Fort" Container Park. Menu items and operation will closely resemble that of the Mandeville restaurant.
Angie McArthur, Broker Associate, and Jeff Barnes, Senior Investment Advisor/Broker Associate with Stirling Properties, serve as the leasing team for the property owners, Dallas-based Cypress Equities, and helped to secure the new restaurant for the center. The duo has worked with the overall Spanish Fort Town Center project since 2015.
"Stirling Properties is thrilled to welcome Mandina's Restaurant to Spanish Fort Town Center and be a part of the evolution and growth of this dynamic community center. The addition of more great restaurants and retailers continues to attract patrons and diners to the development and benefits the surrounding retailers—this is a true destination location for everyone," said McArthur. "We are proud of the great strides made to move this project forward—from Cypress Equities' investment in the Pavilion and park to the revitalization of the small shops and the latest addition of The Fort. We look forward to welcoming more great tenants and amenities to Spanish Fort Town Center soon!"
Spanish Fort Town Center, anchored by Bass Pro Shops, Kohl's, Cavender's, La-Z-Boy, Urban Air Trampoline & Adventure Park and The Fort Container Park, is a 230-acre premier master-planned development located at the intersection of Interstate 10 and U.S. Highway 98 in Baldwin County. The center includes 450,000 square feet of retail and restaurant space, a residential apartment community, office space, hotels, banks and entertainment options.
Over the last two years, Stirling Properties has helped to successfully secure more than 44,000 square feet of new leases for the retail center, adding Urban Air Trampoline and Adventure Park, Direct Furniture, Oishi Japanese Bar & Grill, Dixie Dental, The Fort restaurants and Cavender's to the diverse tenant lineup. McArthur and Barnes are also currently in negotiations with various businesses that will add another 140,000 square feet of hotel and other uses.
For Spanish Fort Town Center leasing & sales information, contact Angie McArthur at (251) 375-2481 / amcarthur@stirlingprop.com or Jeff Barnes, CCIM, at (251) 375-2496 / jbarnes@stirlingprop.com.