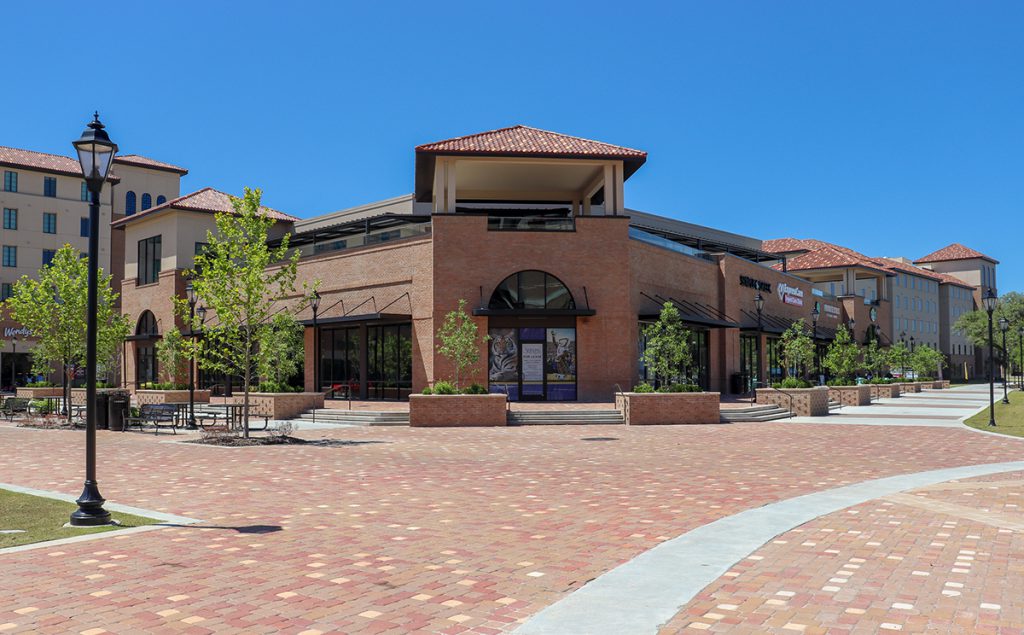 LSU and Stirling Properties announced today that Torchy's Tacos and AT&T will fill two more retail spaces in the university's Nicholson Gateway Development, a mixed-use project located on a 28-acre site of the Nicholson Drive Corridor, between West Chimes Street and Skip Bertman Drive.
The two new tenants join anchor retailer Matherne's Market, Wendy's, Starbucks, Private Stock, Frutta Bowls, The Simple Greek and Baton Rouge General Express Care in the roughly 50,000-square-foot retail component of Nicholson Gateway. With the addition of these two tenants, all the first-floor retail space in the project is now fully leased.
Torchy's Tacos, a popular Austin, TX-based taco chain, will open its first location in Louisiana in early 2020, occupying more than 4,000 square feet of space on the end cap facing Nicholson Drive. The fast-casual restaurant is known for its Tex-Mex-inspired menu, including a variety of unique tacos and signature cocktails. Torchy's started in 2006 as a food truck and has since grown to more than 60 locations across Texas, Oklahoma, Colorado and Arkansas.
AT&T will fill 1,675 square feet of retail space next to The Simple Greek, facing Nicholson Drive. The mobile phone sales, service and accessories provider plans to open in January of 2020.
Stirling Properties' commercial real estate advisors Rhonda Sharkawy and Dottie Tarleton worked with both tenants to secure locations in the retail development. An additional 11,000+ square feet of rooftop space is available for lease.
The LSU Property Foundation, an affiliate of the LSU Foundation, is facilitating Nicholson Gateway. Stirling Properties is serving as the retail developer and leasing broker on the project, working with the prime developer, Georgia-based RISE Real Estate, which specializes in student housing. Stirling Properties will also handle ongoing retail property management.
Opening last fall, Nicholson Gateway includes 763 units of apartment-style housing for more than 1,500 students, with associated residential support spaces, such as lounge spaces, study areas, community gathering places. The project turned what has traditionally been the back of the campus into an exciting new gateway district while responding to demands for on-campus housing and supporting student success, improving the campus living experience for both undergraduate and graduate students.
For retail leasing information, please contact Dottie Tarleton at dtarleton@stirlingprop.com or 225-922-4253 or Rhonda Sharkawy at rsharkawy@stirlingprop.com or 504-620-8145.
For student leasing information, visit lsu.edu/nicholson.