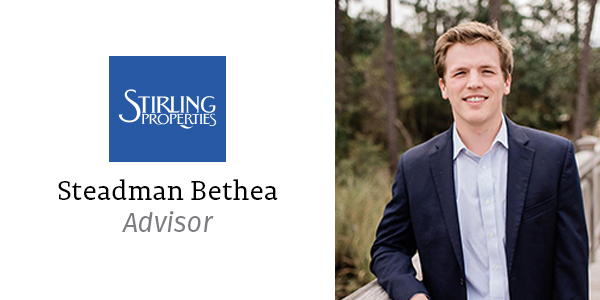 Stirling Properties is pleased to announce that Steadman Bethea has joined its commercial real estate team as an Advisor. He will work from the company's Mobile, Alabama, office located at 1 St. Louis Street, Suite 4100.
Before joining Stirling Properties, Steadman worked as a Real Estate Advisor with 30A Realty located on the Gulf Coast of the Florida Panhandle, where he was a member of one of the top-performing teams in the market.
He has also held the roles of analyst and account executive with Walton Funding, a private mortgage company. Here he garnered knowledge and experience with lending on investment properties and commercial loans, a skillset he uses to help guide his clients in making smart real estate decisions.
A native of Montgomery, AL, Steadman graduated from Samford University with a Bachelor of Science degree in Business Administration and Finance. He holds commercial real estate licenses in both Florida and Alabama.
He and his wife reside in Fairhope, AL, where he is a member of the Baldwin Commercial Exchange Club and an active volunteer as a YoungLife Leader.
Steadman Bethea can be reached at (850) 467-1047 or sbethea@stirlingprop.com.