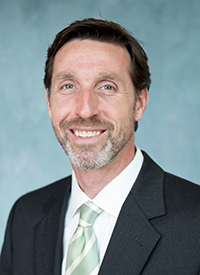 The Greater Baton Rouge Association of REALTORS® (GBRAR) has named Scott Macdonald, Stirling Properties' Senior Sales & Leasing Executive, as 2018 President of its Commercial Investment Division (CID). Scott will hold the position for a one-year term.
The GBRAR CID is the oldest local commercial real estate organization in Louisiana. The CID exists to unite those involved in the commercial and investment real estate business; to foster knowledge, education, integrity, professionalism and quality workmanship in this field of real estate; and to encourage the exchange of specialized information among the members.
As president, Macdonald will be responsible for providing leadership, fiduciary oversight, and strategic planning for the CID. He will act as a representative in the community, speak on behalf of, and advocate for the organization, as well as work to create opportunities for CID leaders to be connected to their work and committed to the organizations' mission, values, and goals.
Macdonald's priority focus for 2018 is to increase the CID membership through offering informative educational courses geared to the commercial real estate sector. Macdonald commented, "We currently have over 200 real estate professionals involved, but I would like to see that number increase this year by focusing on events for members that incorporate a mixture of continuing education with social events."
"It's an honor to have been elected as president of the CID this year. One thing I have learned is that leadership is a relationship. When you have a good relationship with others, you work more effectively—you share a common goal and a consistent purpose," said Macdonald. "I hope to build upon the relationships I have developed to advance the interests of our members and our industry as a whole."
Macdonald is a member of Stirling Properties' Commercial Brokerage Division for the Baton Rouge office. His focus is on office and industrial leasing and sales. He has more than 18 years of commercial real estate experience and a background that includes the negotiation and successful closing of over $550 million in leasing/sale transactions. Macdonald is an active member of GBRAR and previously served on the Board of Directors as CID President-Elect in 2017.
The Greater Baton Rouge Association of REALTORS® serves more than 2,200 REALTOR® and Affiliate members. GBRAR is affiliated with the Louisiana Association of REALTORS® and the National Association of REALTORS®, and works to provide its members with the tools they need to remain successful. GBRAR serves East Baton Rouge, West Baton Rouge, Livingston, Iberville, East Feliciana, West Feliciana, Ascension, Point Coupee, and St. Helena Parishes.
Scott Macdonald can be reached at smacdonald@stirlingprop.com or (225) 201-0142.