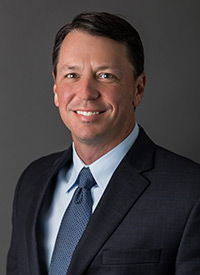 The Retail Brokers Network (RBN), one of the nation's largest retail real estate networking groups, has selected Chris Abadie, Stirling Properties' Vice President & Manager of Commercial Brokerage, as its 2018 President. He assumed office on January 1, 2018 and will serve for a one-year term.
As President, Abadie will be responsible for helping grow the RBN brand, representing RBN at industry related events, recruiting new RBN brokerage offices, and facilitating education, networking, and sharing of brokerage "Best Practices" between the 65+ RBN member offices.
This year, RBN plans to expand the organization by adding affiliated members in major metropolitan markets, as well as in underserved markets across North America. Also, it plans to increase business for members through the coast to coast platform.
"I am honored to have been chosen to serve as RBN President for 2018 and to support our mission of growth for the organization," said Abadie. "With the dynamic changes to retail real estate across the country, it is more important than ever to have trusted advisors who are the experts in their fields and the geography in which they operate. At RBN, we are fortunate to have a powerful network of independent brokerage companies to rely on. Through that network, our members can offer adept guidance on the real estate needs of clients locally, regionally, and nationally."
Abadie manages Stirling Properties' Commercial Brokerage Division and is responsible for overseeing all aspects of commercial operations throughout each of the company's brokerage offices. His focus includes directing sales efforts, new business development, and recruitment and training of new agents.
Abadie is affiliated with ICSC (International Council of Shopping Centers) and holds the designations of Certified Retail Property Executive (CRX), Certified Leasing Specialist (CLS), and Certified Commercial Investment Member (CCIM). He is a member of the Louisiana CCIM Chapter, the Commercial Investment Division (CID) of the New Orleans Metropolitan Association of Realtors (NOMAR), and RBN.
He served as the 2017 President-Elect of RBN and as a member of the National Executive Committee, Tenant Council, Investment Sales Council, and Southeast Regional Council. Abadie also serves on the East St. Tammany Chamber of Commerce Board of Directors, as well as the Workforce Development Board serving St. Tammany, St. Bernard, and Plaquemines Parishes.