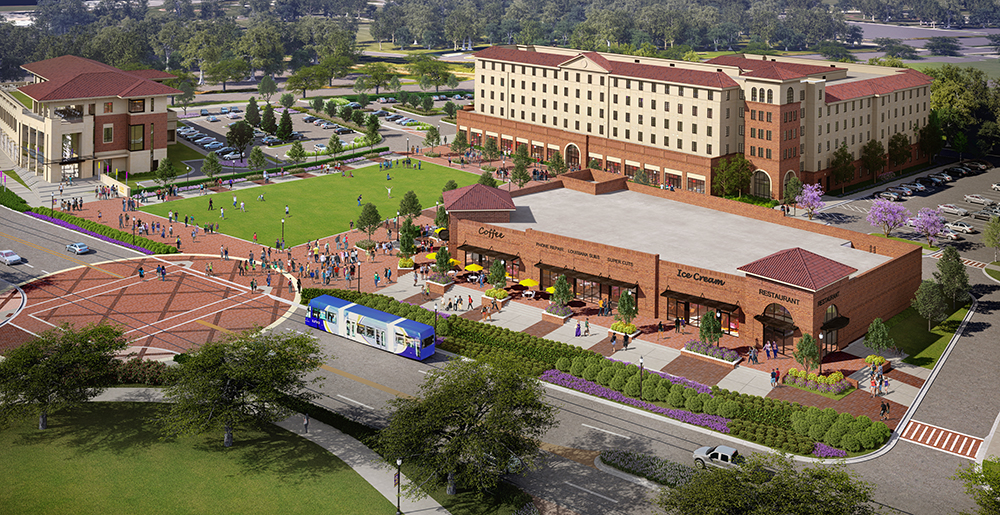 LSU announced today that Matherne's Market will be the retail anchor tenant in the university's new Nicholson Gateway Development Project, currently under construction on a 28-acre site of the Nicholson Drive Corridor, between West Chimes Street and Skip Bertman Drive.
Matherne's Market will occupy 17,063 square feet of the roughly 50,000-square-foot retail component of Nicholson Gateway, which will primarily serve residents of the project, the LSU community and visitors.
"Matherne's Market is an ideal addition to Nicholson Gateway," said Steve Waller, LSU assistant vice president of residential life and housing. "We are excited to offer our new student residents access to a well-established local grocery store, just steps from their apartment doors. An on-site grocer is an amenity that will enhance the Nicholson Gateway living experience for the more than 1,500 students who will call this new space home."
Tony Matherne, co-owner of Matherne's Market, said, "We are very excited to bring our new Matherne's Market concept to the Nicholson Gateway project at LSU! This Market will have the same offerings and 'feel' as our downtown location. We believe that our new store format, with a focus on fresh, specialty and prepared foods, catering and online shopping, with pickup and delivery options, highlights our company strengths and delivers the products and services that our customers want and need. Although our new format is smaller in size than our previous Baton Rouge supermarkets, this will be a full-service market that will provide the residents, students, faculty and staff, and visitors to LSU, as well as the residents and businesses of the surrounding area, with a clean, friendly and inviting shopping experience."
Matherne said, "Our over 35 years of retailing experience gave us the confidence to downsize the footprint of the store while improving the customer's experience. Our carefully selected product assortments provide great variety in all product categories, while also allowing us to improve upon the shopping experience for customers. Our new format is efficient for customers to shop for the items they want with the convenience they demand."
The LSU Property Foundation, an affiliate of the LSU Foundation, is facilitating Nicholson Gateway. Stirling Properties is serving as the retail developer and leasing broker on the project, working with the prime developer, Georgia-based RISE, which specializes in student housing. Stirling Properties will also handle ongoing retail property management.
Slated for completion by this fall, Nicholson Gateway will include 763 units of apartment-style housing for over 1,500 students, with associated residential support spaces, such as lounge spaces, study areas, community gathering places and retail food service. The project, focused on the largest underdeveloped tract of university-owned property that is adjacent to the campus core, will turn what has traditionally been the back of the campus into an exciting new gateway district.
For retail leasing information, please contact Dottie Tarleton at dtarleton@stirlingprop.com or 225-922-4253 or Rhonda Sharkawy at rsharkawy@stirlingprop.com or 504-620-8145.
For student leasing information, visit lsu.edu/nicholson. Information about the overall project is available at nicholsongateway.com.