Stirling Properties and CBL Properties are pleased to announce and welcome new tenants to Fremaux Town Center in Slidell, Louisiana.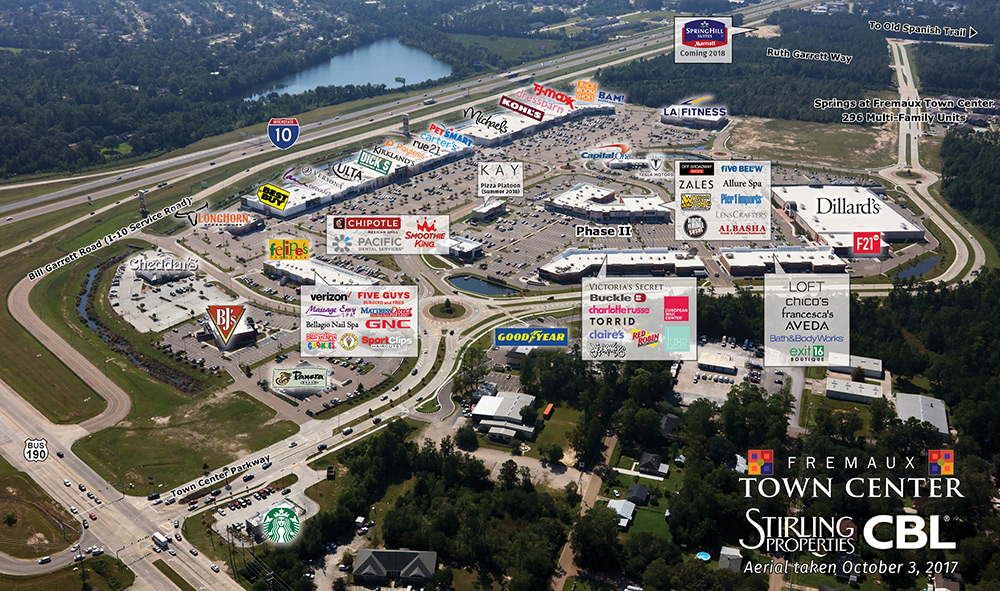 Pizza Platoon has leased 2,500 square feet of restaurant space as part of a new building suite that was recently constructed on the east side of Levis Lane, across from LensCrafters. Build out is underway for the space and the eatery plans to open in the summer of 2018. Kay Jewelers occupies the additional 2,000 square feet and opened this past Wednesday.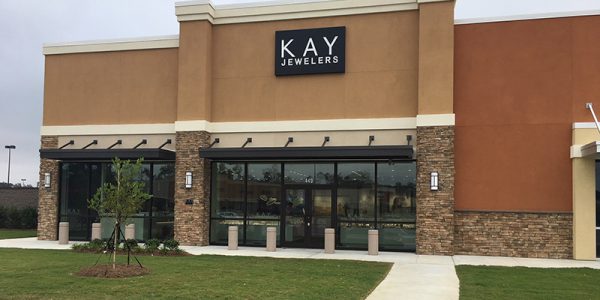 Previously announced, Rock N Roll Sushi will celebrate its grand opening soon. European Wax Center is now open.
Ruth Garrett Way, a new road that connects Town Center Parkway and Bill Garrett Road (I-10 Service Road), opened for public access late this summer. This new infrastructure will provide access and utilities to open up another 50+ acres for development including the upcoming Springhill Suites.
Springhill Suites by Marriott is still on track to begin construction early next year and plans to open in the fourth quarter of 2018. The four-story hotel will have 88 rooms and will be located on the south side of the shopping center at the corner of Ruth Garrett Way and Bill Garrett Road.
Fremaux Town Center, anchored by Dillard's, Dick's Sporting Goods, Kohl's, and Best Buy, is a roughly 350-acre regional mixed-use development located at the southwest corner of Interstate 10 and Fremaux Avenue in Slidell, Louisiana. The center includes approximately 635,000 square feet of retail and restaurant options, as well as Springs at Fremaux Town Center's 296 luxury residential apartment units, and Springhill Suites by Marriott soon under construction. Additional phases are coming soon with added residential, retail, and office park.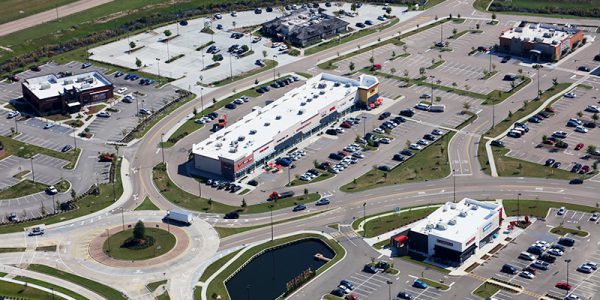 Tenants include Albasha Greek & Lebanese Restaurant, Allure Spa, Aveda, Bath & Body Works, Bellagio Nail Spa, Best Buy, BJ's Restaurant & Brewhouse, Books-A-Million, Buckle, Capital One, Carter's, Charlotte Russe, Cheddar's, Chico's, Chipotle Mexican Grill, Claire's, Dentists of Slidell, Dick's Sporting Goods, Dillard's, dressbarn, European Wax Center, Five Below, Five Guys Burgers & Fries, Forever 21 Red, Francesca's, GNC, Goodyear, Great American Cookie Company, Journeys, Kay Jewelers, Kirkland's, Kohl's, LA Fitness, Lane Bryant, LensCrafters, LOFT, Longhorn Steakhouse, Luxe 83, Marble Slab, Massage Envy, Mattress Direct, Michaels, Off Broadway Shoe Warehouse, Panera Bread, Payless Shoes, PetSmart, Pier 1 Imports, Pizza Platoon (coming 2018), Rack Room Shoes, Red Robin, Rock N Roll Sushi, rue21, Smoothie King, Sports Clips, Springhill Suites by Marriott (coming 2018), Starbucks, Tesla (charging stations), T.J.Maxx, Torrid, Ulta Beauty, Verizon Wireless, Versona, Victoria's Secret, Which Wich and Zales.
Fremaux Town Center is currently 97% leased, and jointly owned by affiliates of CBL Properties and Stirling Properties. Stirling and CBL manage and lease the property.
For leasing information, contact Ryan Pécot at 337.572.0246 / rpecot@stirlingprop.com or Tim Gilmore at 423.490.8358 / Tim.Gilmore@cblproperties.com