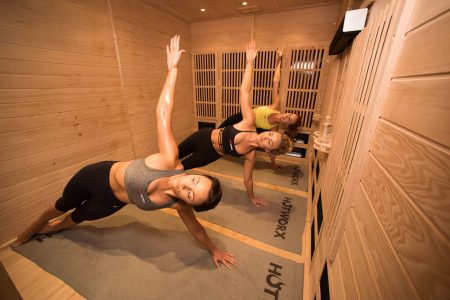 Stirling Properties commercial real estate company is excited to announce that it will exclusively represent HOTWORX, a new-to-market fitness concept across the United States.
HOTWORX is revolutionizing the fitness industry by providing the ultimate hot exercise experience and is the first to launch a 24/7 business franchise model through the use of its proprietary patent pending technology. It is the original fusion of infrared heat and isometrics through a virtually instructed exercise program designed for users to experience the many benefits of infrared absorption while completing a 30-minute workout session.
Joe Gardner, CCIM, and Thomas Bryan, Stirling Properties' Sales and Leasing Executives, are the exclusive tenant representatives for HOTWORX and are working to secure national retail locations for the new fitness concept.
Currently, select Planet Beach spas are debuting the hot exercise experience. But HOTWORX plans to grow to 500 official HOTWORX Studio locations across the US in the next five years. The company presently has one HOTWORX Studio located in Oxford, Mississippi, with another planned to open in Palm Beach, Florida, within the next month. Future studio sites also include locations in the greater New Orleans area and surrounding Gulf Coast region.
"Our HOTWORX fitness concept is ready to expand, and we are thrilled to be working with Stirling Properties, a true leader in the real estate industry, to grow our business across the nation. We are seeking franchisees for various business opportunities and will be announcing new HOTWORX locations soon," said Stephen Smith, HOTWORX CEO.
"HOTWORX has aggressive expansion and franchise plans in the works for our region and across the country. We are excited to be able to help them meet and exceed their real estate goals—and introduce a new fitness concept that was founded right here in New Orleans," said Gardner. "We look forward to announcing new retail locations and storefronts within the coming months."
For more information on HOTWORX and franchise opportunities, visit www.hotworx.net.