Earlier this week, The Miracle League Northshore broke ground on its new playing field and facility located at Coquille Parks and Recreation in Covington, Louisiana!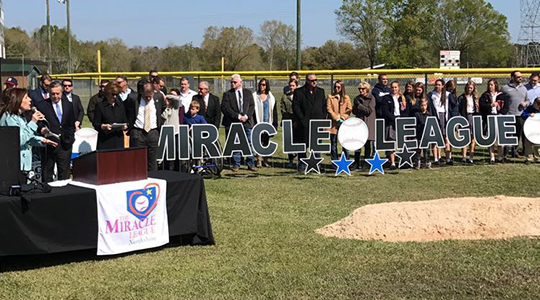 The Miracle League works with mentally and physically disabled children so they can participate in everyday sports. The Northshore division was founded in 2014 to bring The Miracle League to serve the children of St. Tammany, Tangipahoa, and Washington Parishes. Coquille Parks and Recreation donated the land, and after a years-long fundraising campaign, the group is finally ready to start construction of the field.
[wpvideo 55HcnFMe]
Currently, the children play on a natural-grass field, but the dirt and grass design of a baseball or soccer field found in a typical youth sports program can be challenging and unsafe to maneuver from a wheelchair or with crutches used by many Miracle League participants.
The new Miracle Field will be a specially constructed surface that uses a cushioned, synthetic turf to accommodate wheelchairs and other walking-assistance devices that, along with appropriate support facilities, is designed specifically for use by children with disabilities.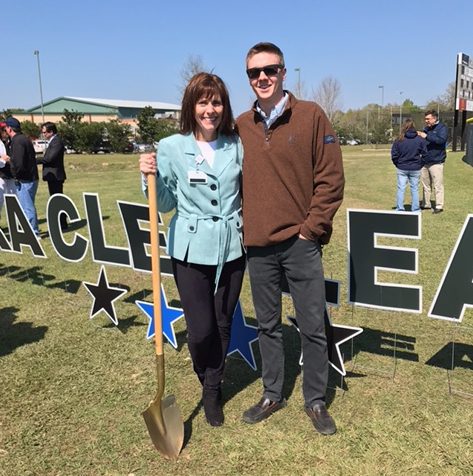 Stirling Properties selected The Miracle League as the beneficiary of our annual Stirling Olympics fundraiser last year. We were able to raise $28,000 to help fund the new playing field and provide local children with access to a safe playing environment! Stirling Properties' Investment Sales Analyst, Griffin Lennox, is also an active volunteer with The Miracle League and serves as a "buddy" for participating children to help encourage learning and fun in sports.
The mission of Miracle League of Greater New Orleans and The Miracle League North Shore is to promote the health and well-being of children with disabilities, provide opportunities for non-disabled children to learn about and interact with children with disabilities, and develop community awareness and support for the child athlete with disabilities through organized sports leagues. The vision of the program is to provide any disabled child, regardless of their level of disability, the opportunity to play league games and enjoy the emotional and physical benefits of being part of a team.
#StirlingProud