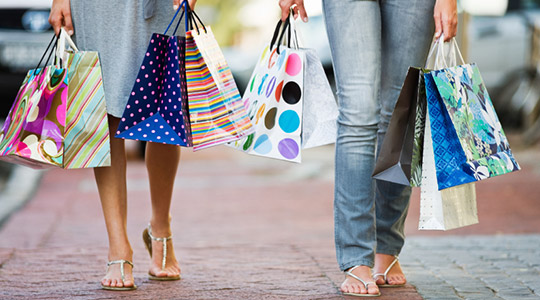 We've recently heard of fake news stories, hoaxes, and fabricated plots that have permeated headlines lately—and, unfortunately, the negative consequences that some have caused.
One such fictitious headline that's running rampant is "the death of the shopping mall" and countless more tales of online sales putting brick-and-mortar stores out of business. But the reality is that the in-store vs. online struggle is not quite the battle that you probably think it is. In fact, physical stores continue to dominate retail sales.
So with the proliferation of fake news stories, here are a few facts to debunk these e-commerce myths and demonstrate the strength of the shopping center industry.
In-store retail sales accounts for $4.2 trillion or 90.7% of the market. A common perception is that online giants, such as Amazon, dwarf brick-and-mortar competition, but the reality is that Amazon is still a small percentage of the overall market. Online-only retailers represent merely about 3.5% of all U.S. retail sales.
Research also shows that 78% of consumers prefer to shop in-store, and spend significantly more per month in a physical store than online. We're also seeing that omni-channel retailing is actually an enhancement to brick-and-mortar stores. E-commerce and other technological advances are improving the brick-and-mortar shopping experience and boosting sales at physical stores. 93.4% of all retail sales owe all or part of sales to a brick-and-mortar presence.
These are all encouraging statistics that confirm the shopping center industry is thriving, and the rise of technology and e-commerce is not going to change that. But we do need to change our thought process. Industry professionals and supporters need to advocate for our shopping centers and educate the consumer. According to one of my industry colleagues, "The consumer needs to be told that bricks and mortar is here to stay because if you keep telling the consumer it's dead, the consumer will think it's dead and start shopping online."
Our friends at ICSC (International Council of Shopping Centers) have recently drafted several editorial pieces that have appeared in national news publications such as The Wall Street Journal. We are grateful for the leadership of Tom McGee and his team to help this business create our own sources of credible information, and to educate consumers on how vital the shopping center industry is, to both them and our entire country. Read the full articles "A Talk With Tom McGee" and "E-Commerce and Physical Stores Are Friends with a Common Purpose."
-Marty