In honor of Independence Day, Hammond city officials, residents and community leaders met at Hammond Square yesterday morning for a ceremony and dedication of a new American flag that representatives hope will act as a beacon for the area.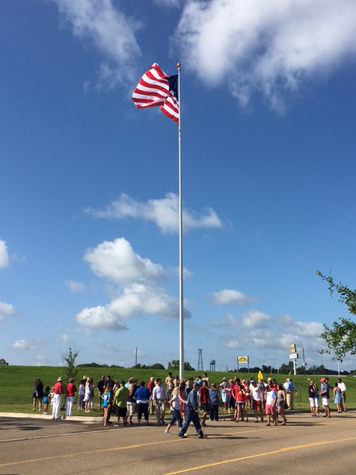 The 80' flagpole will fly a 15' X 20' American flag that will be part of the new gateway project at Interstate 12, leading to both the Hammond and Ponchatoula communities at exit 40. The flag will be visible to all that travel I-12, calling attention to the area by both locals and tourists. The flag is located at the northwest corner of I-12 and Highway 51 near Olive Garden Italian Restaurant.
Tangipahoa Parish President Robbie Miller, Hammond Mayer Pete Panepinto, Ponchatoula Mayor Bob Zabbia, Stan Dameron with Home Mortgage Authority, and Grady Brame with Stirling Properties were in attendance for the ceremonial flag-raising festivities. Boy Scout Troop 170 was on hand to recite the Pledge of Allegiance and Phillip Monteleone performed a flyover in his Vietnam Era '68-70 Bell OH-58 Kiowa helicopter.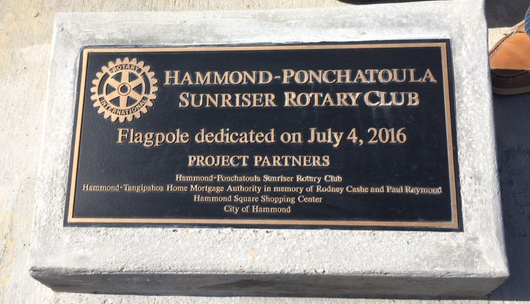 The Hammond-Ponchatoula Sunrise Rotary Club worked with the City of Hammond, Hammond Square, Stirling Properties and the Hammond-Tangipahoa Home Mortgage Authority for more than a year to bring this project to fruition.
Stirling Properties is proud to have been a part of this development at Hammond Square. Thanks to the tremendous efforts of The Hammond-Ponchatoula Sunrise Rotary Club, city officials, supporters and everyone that came out for the celebration.
We salute all the men and women of the United States armed forces on Independence Day, and every day! #StirlingProud