[vimeo 171151996 w=640 h=360]
Stirling Properties is pleased to announce the completion of Retreat at Acadian Point in Lafayette, Louisiana, after an extensive remodeling project. A ceremonial ribbon cutting was held last week to celebrate the grand re-opening of the property.
Stirling Properties acquired the 2-story, 384-unit multi-family complex in August of 2015, and work began on a $4 million renovation. Interior upgrades include brushed nickel hardware, faucets and fans, full-size washer and dryers in all units, new GE appliance packages, new flooring, electronic access gates, new roofs, and more. Exterior upgrades include new swimming pool area, outdoor gas grills, outdoor lounge area and fireplace, updated landscaping, a new state-of-the-art fitness center and large dog park.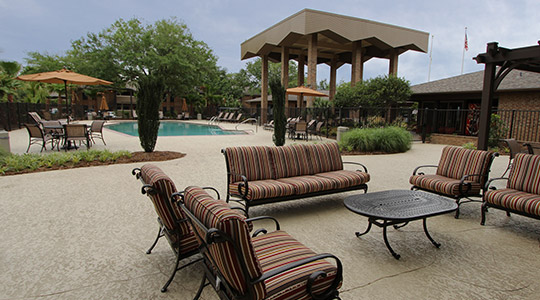 "Retreat at Acadian Point is updated with new features and finishes, both inside and out, that will enhance the quality living experience," said Justin Landry, Asset/Finance Manager for Stirling Properties. "The property looks better than ever, and Stirling Properties is excited to provide Lafayette residents with affordable luxury at a time when the local economy faces some challenges."
Retreat at Acadian Point is located at 221 Verot School Road in Lafayette, and is currently 92% occupied. Stirling Properties fulfills the role of Asset Manager for the property, while BH Management Services serves as the primary property management firm.
Stirling Properties continues to increase our company reach and footprint. In 2010, we strategically focused our attention toward commercial property acquisition, and creating opportunities for return-driven investors seeking to put capital into real, tangible property across the Gulf South. Earlier this year, we purchased Turtle Creek Crossing shopping center in Hattiesburg, Mississippi, marking the largest retail acquisition in our 40-year history! Since 2010, we have acquired over $200 million in property, totaling 2.1 million square feet—including the Pan American Life Center, which has become the hub of our New Orleans commerce.
The acquisition of Retreat at Acadian Point is part of our on-going growth strategy, bringing Stirling Properties' multi-family portfolio to 1,293 units!