Recently, I attended a seminar at New Orleans Entrepreneur Week titled CEO Disrupt Breakfast featuring Steve Case, founder of AOL and one of America's best-known and most accomplished entrepreneurs, and (New Orleans native) Walter Isaacson, president & CEO of the Aspen Institute and national writer and journalist.
The rudimentary theme was that companies must disrupt themselves from time to time, or they will be disrupted by external forces, and eventually decline or fail. I considered how this applies to Stirling Properties and the commercial real estate industry as a whole.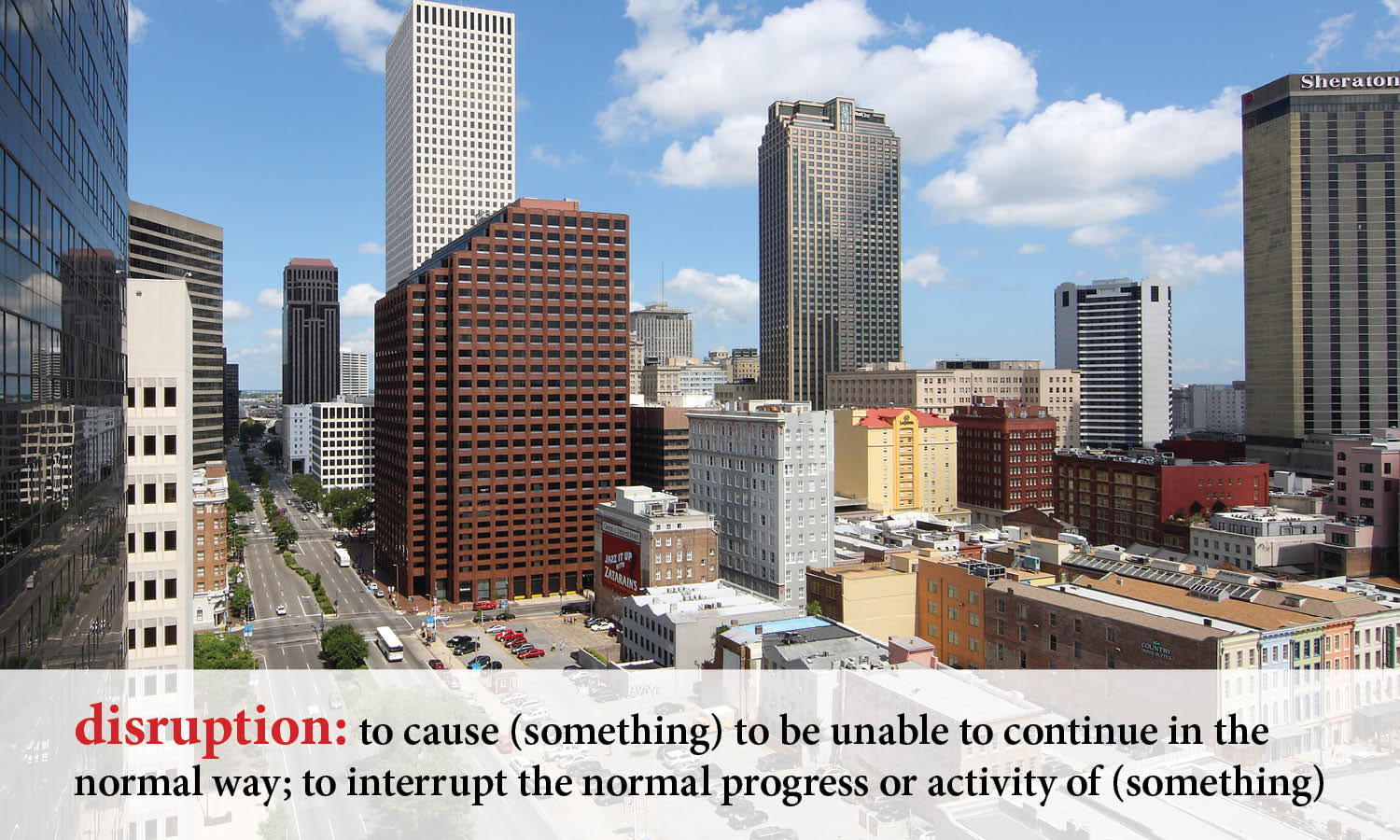 Business disruption is a reality that companies face on a regular basis. The largest cause of disruption is the rapid progression of technology and globalization, which allows new business models to be introduced at an ever-increasing rate. Companies must disrupt or be disrupted—we must shake up the status quo—and deviate from the normal way of doing things.
But business disruption is nothing new. We see multitudes of instances throughout history. For example, plastic disrupted the production of metal and wood, typewriters were disrupted by word processing software, electric cars disrupted the automobile industry, Wikipedia displaced traditional encyclopedias, iTunes disrupted the music industry, Uber disrupted the transportation industry, Airbnb is disrupting hoteliers, and the list goes on and on. Companies like Apple, Google, Amazon, and Starbucks are constantly finding new ways of disrupting themselves to stay relevant and remain a crucial part of our daily lives.
So how do we survive in a world of disruption, continually improve our position, and seize opportunities? We must be proactive and adaptive. Disruption is necessary to create opportunity. Many leaders agree, "If you are not growing, you are dying." Change is inevitable, and businesses must be willing to adapt in order to prosper.
According to Disrupt author, Luke Williams, "In a business world of nonstop change, there's only one way to win the game: transform it entirely. This requires a revolution in thinking—a steady stream of disruptive strategies and unexpected solutions."
There are many factors that threaten to disrupt us locally. The economy and state budget shortfalls, the oil & gas industry, and even politics, all have the ability to considerably change our environment.
Additionally, the commercial real estate industry is evolving at lightning speed. E-commerce and Internet shopping have already significantly disrupted the retail industry! Many companies are quickly adapting to new trends, such as embracing technology, incorporating omnichannel marketing strategies, integrating mixed-use developments, and engaging millennials. In order to get ahead, we have to move away from traditional real estate models. We have to transform the market landscape.
I am proud to say that Stirling Properties has done this throughout its history, most notably over the last five years. Our leadership recognized that in order to thrive in this market, we had to identify new and unique opportunities to grow and diversify.
We expanded our business model and strategically focused our attention toward property acquisition and creating opportunities for investors to put capital into real, tangible property across the Gulf South. Earlier this year, we purchased Turtle Creek Crossing shopping center in Hattiesburg, Mississippi, marking the largest retail acquisition in our 40-year history! Since 2010, we have acquired over $200 million in property, totaling 2.1 million square feet—including the Pan American Life Center, which has become the hub of our New Orleans commerce.
We are continuing to invest in multi-family housing. We're increasing our company reach and footprint by expanding into new geographical areas throughout the Gulf South, as well as new industries, such as healthcare. These are all examples of projects and strategies that differ from our normal. Consider the results of this since 2010:
Total gross revenue has increased by 140%
Management fees are up 67%
Square footage under management has grown by 50%
Development fees have increased by 145%
We can be certain there's going to be more change in the next five, ten and twenty years. But the potential for improvement is all around us, and it's a truly exciting time for Stirling Properties, our community, and our industry.
Stirling Properties will continue to explore new ways to disrupt ourselves, and we look forward to reaping the opportunities that are produced!