With all the various ranking and awards Alabama received throughout 2015, it's no surprise Mobile, Alabama had an amazing year!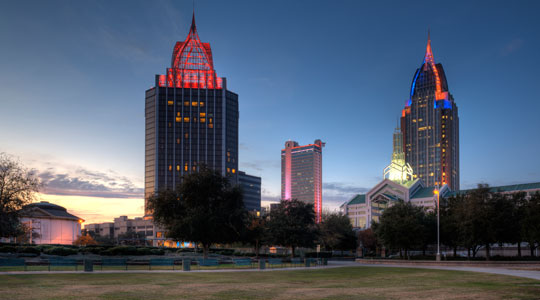 As Stirling Properties' Vice President & Regional Manager for Alabama/Florida, a member of the Mobile Area Chamber of Commerce and a member of the Chamber's Board of Advisors, I was thrilled with all that Mobile accomplished this past year. Here are just a few of the more notable moments from 2015.
Airbus's U.S. Manufacturing Facility at Mobile Aeroplex opened its first U.S. manufacturing facility on September 14, 2015. By 2018, the facility will produce between 40 and 50 single-aisle aircrafts per year.
GulfQuest National Maritime Museum of the Gulf of Mexico opened on September 26, 2015 and provided a huge impact to the area's tourism economy.
The Alabama Department of Transportation awarded the I-10 Mobile River Bridge design/engineering contract to Thompson Engineering. This will increase the capacity of I-10 and meet the existing and predicted future traffic volumes.
The Manufacturing Communities Grant was implemented and Mobile was named one of only 12 federally-designated manufacturing communities in 2015. Over the past 5 years, manufacturing jobs in Mobile have increased by 38%, with a 22.9% increase in manufacturing wages.
1702, a group of chief executive officers and business leaders, was established to create an entrepreneurial community that showcases Mobile as one of the best cities for groundbreaking companies. The St. Louis street innovative corridor for tech savvy startups is becoming a reality.
The city executed a 13 month contract for the return of Carnival Cruise Lines starting in November 2016. This promises a huge economic impact to the city.
Mobile Chamber of Commerce surveyed their Partners for Growth Investors. The results showed that between January 2014 and June 2015 2,148 new jobs were created and during that time $936 million was invested in capital.
Stirling Properties is committed to serving Alabama and the Gulf South and we are proud to be one of Mobile's top commercial real estate firms. We are excited about the great things to come in 2016 to Mobile!