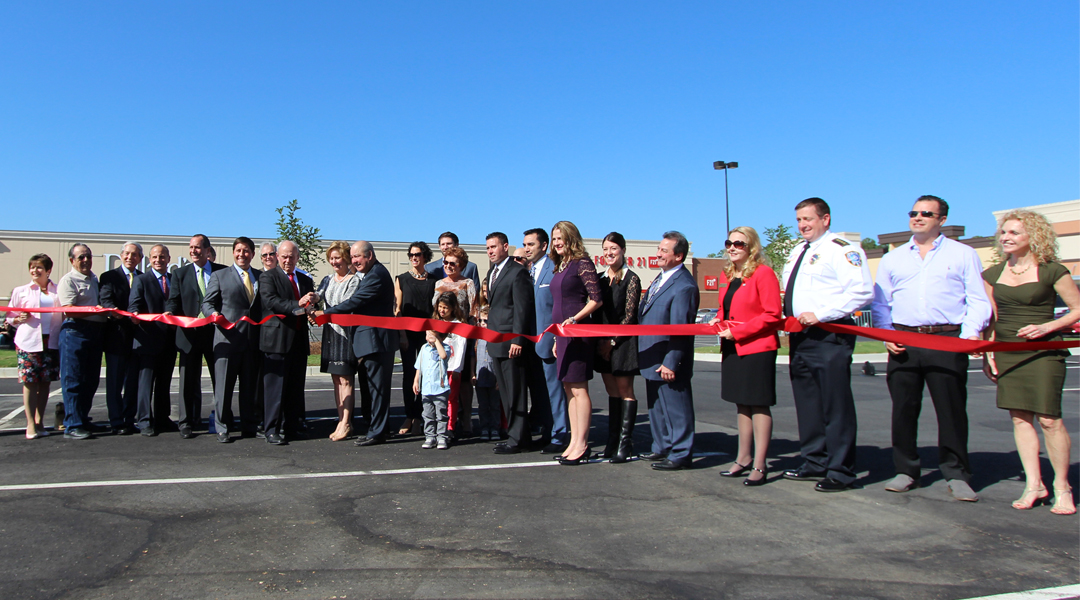 Today, Stirling Properties and CBL & Associates Properties, Inc. (NYSE: CBL) celebrated the Grand Opening of Phase II of Fremaux Town Center in Slidell, Louisiana. This second phase of construction adds 283,000 square feet to the existing shopping center and is anchored by Dillard's. The rest of Phase II expansion is already 86% leased.
"We are thrilled to celebrate the opening of this second phase of Fremaux Town Center.  Phase II complements the existing tenants in the first phase and is another big part of growing the overall development," stated Stirling Properties' Senior Vice President of Development Townsend Underhill. "Fremaux Town Center offers a one-of-a-kind retail experience in the City of Slidell and Eastern St. Tammany Parish, with many of the retailers and restaurants to date that are new to the Northshore."
"We're excited to join Stirling Properties to celebrate the opening of phase two of Fremaux Town Center," said Michael Lebovitz, Executive Vice President, Development and Administration of CBL & Associates Properties, Inc. "The expansion of this thriving retail complex has allowed us to add even more great retail and restaurant options that will further solidify Fremaux Town Center as the premier regional shopping destination."
Today's festivities included a ceremonial ribbon cutting, the Marine Corps Band of New Orleans and special guests Mayor Freddy Drennan, St. Tammany Parish President Pat Brister, and City of Slidell Council Members. "We are thrilled to have such a beautiful development in our City," said Slidell Mayor Freddy Drennan. "I know our citizens are excited about the opening of Fremaux Town Center. I would like to thank Stirling Properties and CBL & Associates for all their efforts in bringing this development to Slidell and we look forward to developing the remaining 400 acres."
Fremaux Town Center is located on more than 80 acres at the southwest corner of Interstate 10 and Fremaux Avenue in Slidell, LA. Slidell is the largest municipality in St. Tammany Parish on the northern shore of Lake Pontchartrain near the city of New Orleans. The first phase of construction for Fremaux Town Center included 350,000 square feet of retail and is currently 98% leased and thriving. With its interstate location and high-visibility, Fremaux Town Center is expected to become a regional destination. "The expansion of this Town Center, represents many economic opportunities for the citizens of Slidell, and the whole of St. Tammany Parish," Pat Brister, St. Tammany Parish President said. "Just as the first phase offered job opportunities and retail options to the consumer, not just in St. Tammany, but in the surrounding region, this phase will build upon that momentum."
Tenants Opening in October
Dillard's
Off Broadway Shoes
Forever21
Victoria's Secret
Buckle
Charlotte Russe
LOFT
Red Robin
Bath & Body Works
Torrid
Journey's
Zales
Luxe 83
Which Wich
Claire's
Francesca's
Tenants Opening Soon
Pier 1 Imports
Capital One
Chico's
Aveda
Goodyear
Tesla Motors – Charging Stations
AND MORE TO COME!
For leasing information, contact Ryan Pecot at 337.572.0246 or rpecot@stirlingprop.com; Rodney Gordon at 423.553.8704 or Rodney.Gordon@cblproperties.com or Tim Gilmore at 423.490.8358 or Tim.Gilmore@cblproperties.com. For information on land surrounding Fremaux Town Center, please contact Dan Tate at 504.620.8132 or dtate@stirlingprop.com.