Next week, we will pause to commemorate the 10th anniversary of Hurricane Katrina. From the shock, disbelief and uncertainty in the days, weeks and months that followed, Southeast Louisiana and the Gulf Coast have persevered. New Orleans has risen up from the brink of death to emerge, as it once had been, into one of the premier cities in the U.S. and the world. The publisher of Forbes called it "the greatest turnaround of our lifetime."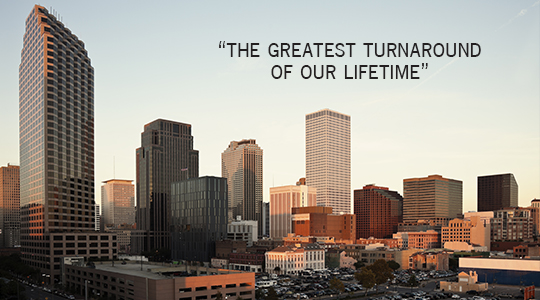 Recently, I found a memo that I sent to our Stirling team on September 13, 2005 (just 2 weeks after Katrina and coincidentally just 11 days before Hurricane Rita devastated western Louisiana and Texas). While still living through the fog of the disaster and the uncertainty about what our future might hold, I marveled back then at the generosity, kindness and out pouring of support from people within Stirling and also from all over the country. It was truly an amazing expression of caring.
I wrote "It is my hope, that somehow someday, from the rubble of those buildings destroyed and the memory of people that were killed that something positive can happen for our future. Maybe, from that beginning, we can find ways to put aside our differences and to come together to achieve even greater heights."
As I reflect back today, I am stunned by what has happened in the last 10 years — truly it is beyond anything I might have dared to imagine.
Our city and region have rebounded economically, culturally and in quality of life issues, with top rankings in tech job growth, brain gain, entrepreneurship, economic development and improved schools. GNO, Inc. sums it up in their K10 Top 10. The region is now positioned as a hub for science and technology, for water management and emerging environmental industries. The city's medical corridor, called the BioDistrict, is anchored by the new, world-class $2 billion University Medical Center and VA Hospital. A new, world-class airport terminal will also open in 2018.
My hopes about putting aside our differences have similarly exceeded my dreams with our Super Region consisting of the 22 parishes of Greater New Orleans, Houma-Thibodaux and Greater Baton Rouge working together in an unprecedented manner for the common good.
Equally impressive has been what has happened within our company in those last 10 years. We have grown in size and strength. Amazingly, almost 150 new people have joined our team since then. Consider the projects we have undertaken just in the Greater New Orleans area since Katrina:
Acquisition of Pan American Life Center
Fremaux Town Center
Mid-City Market
Fresh Market Redevelopment on St. Charles Avenue
Multiple Walgreens, including the Walgreens on Magazine Street
River Chase Expansion
Magnolia Marketplace
Offices at Mid-City Market (under construction)
Since 2010, the investments just within the City of New Orleans totaled over $156 Million. In many ways, our latest development to have its grand opening, Magnolia Marketplace on South Claiborne Avenue in New Orleans, is a fitting story of the 10th Anniversary of Katrina. From literally an abandoned, blighted, crime-ridden housing project rose a center of business, jobs, revitalization and rebirth of a previously downtrodden area.
While we have come a long way and have much to be proud of, ten years is not the end of the race. We must and will work together to continue to build on the progress of the last decade.
But before we begin the work of the next ten years, I would like to take a moment to pause and reflect, to thank all of you who were so caring during the dark days and to those of you who have come together to help create the success we have achieved together.