Inaugural Stirling Fest raises $60,000 for local nonprofits!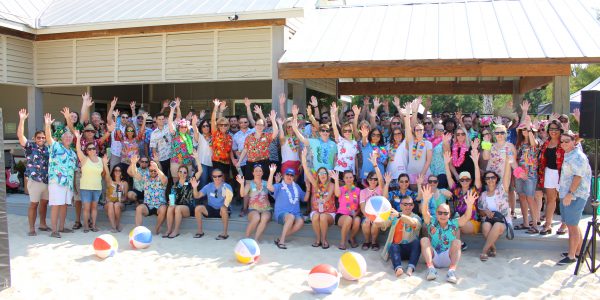 Aloha. Stirling Properties celebrated our inaugural Stirling Fest last Friday, a day of Hawaiian-style fun and philanthropy to raise money for charitable causes throughout the Gulf South region. The event, hosted by the Stirling Stewardship Committee, was a HUGE SUCCESS, raising over $60,000 for local nonprofit organizations!
Representing our motto of #BeTheChange: Helping others is a work of heart, every year, Stirling Properties selects charitable organizations to become the recipients of our annual company-wide fundraising efforts. Nonprofit groups are nominated and then voted on by Team Stirling members. This year, we are proud to have expanded our recipients to four worthy organizations—Special Olympics Louisiana, Camp N.O.R.A., Safe Harbor Northshore and Ronald McDonald House Charities Mobile! Representatives from each organization were in attendance to celebrate with us and receive a check for $15,000.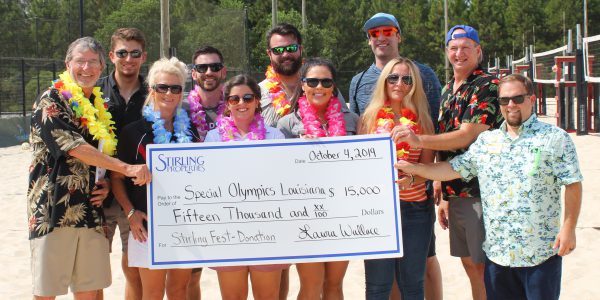 Celebrating our 7th year, the fundraising event was changed from an Olympics-style to more of a festival with music, games and tons of great prizes. Held at Digs Volleyball Complex in Covington, the Luau-themed day featured delicious food and beverages along with live music by in-house band Craig Marks the Spot and DJ El Camino (aka Michael Hecht of GNO, Inc.). Games and activities were held throughout the day including Beach Volleyball, Simon Says, Hula Hooping and Checkers.
The main event was a 4-team Cajun Huki Pull relay representing each of the designated nonprofits. Congratulations to Team Special Olympics, they took home the trophy for Beach Volleyball and the Huki Pull!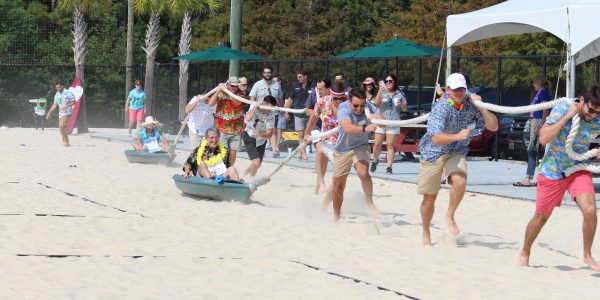 Mahalo. A special thanks to all of our sponsors, supporters, and Team Stirling for your generosity. Major sponsors include BXS Insurance, Berkadia Commercial Mortgage, Brasfield & Gorrie, Fishman Haygood LLP, IBERIABANK, Richard Price Contracting Co., BH Management, Hancock Whitney Bank, Capital One, Duplantis Design Group PC, Rotolo Consultants, Walker & Dunlop, Wells Fargo, Louisiana Landscape, Ogden Painting, Zito∙Russell Architects PC, Acadia Land Surveyor, Baker Donelson, Kent Design, Regal Construction, Robert Refrigeration, Stratum Engineering LLC, Armstrong Property Services, Associated Building Services LLC, Bellingrath Wealth Management, Champion Security, Cleco, Construction South Inc., Donahue Favret, E. Cornell Malone Corp., Eustis Mortgage, First Bank & Trust, First Guaranty, Gallo Mechanical, Greenleaf Lawson Architects, Jimmy Maurin, Jones Walker, Jones Swanson Huddell & Garrison LLC, Lemoine Company, Malone Roofing Services LLC, Metro Mechanical Inc., Newmark Grubb Knight Frank, PGIM Real Estate Finance, Pinnacle Elevators, Precision Metal Inc., Precision Waste Solutions LLC, Real Estate Tax Group, Resource Management LLC, Roger Ogden, SCS Electric Inc., Sun Interiors, Trimark Constructors LLC, VergesRome Architects, Vinson Guard Service Inc., WLS Lighting Solutions and Fidelity Bank.
And a big shout-out to the Stirling Stewardship Committee and the Stirling Fest Committee for all their hard work organizing the event and making it happen!
A hui hou (until we meet again)! #StirlingProud
Thank you to Big Easy Parking Lot Maintenance, Cosmich Simmons & Brown PLLC, Gulf South Electric, River Parish Disposal, Chris' Paving, Coastal Environmental Services, Connelly Construction Group, Cost Segregation Services, Covington Electric Services Inc., Geiger Heating & Air, ITS Fire Alarm Security LLC, Jefferson Sprinkler, Larry Loyd Construction Co., Moran Construction Consultants LLC, Mullin Landscape Associates, PMAT Real Estate Investments, Premier Service Team LLC, Premium Parking, Professional Maintenance Services, Southeastern Waterproofing, Southern Farm Bureau Life Insurance Company, Upchurch Services, CMC, Moradel Cleaning Services Inc., Angelos Landscaping, B&G Lawn Maintenance LLC, Cook Moore & Associates, Dale's Paving Inc., NcNeer Electrical Contracting Inc., Unit Design Inc., CertaPro Painters of Lafayette, Delta Flooring, Dixie Office Products, Floor Trader, Huseman & Associates LLC, Mele Printing, Pat Brister, ACA Mechanical/Industrial LLC, Susan Bonnett, T.L. Construction LLC, Grass Unlimited, Acadiana Lighting & Signs, CJ Ladner Insurance Agency Inc., Multitech Office Machines and Sign Lite.