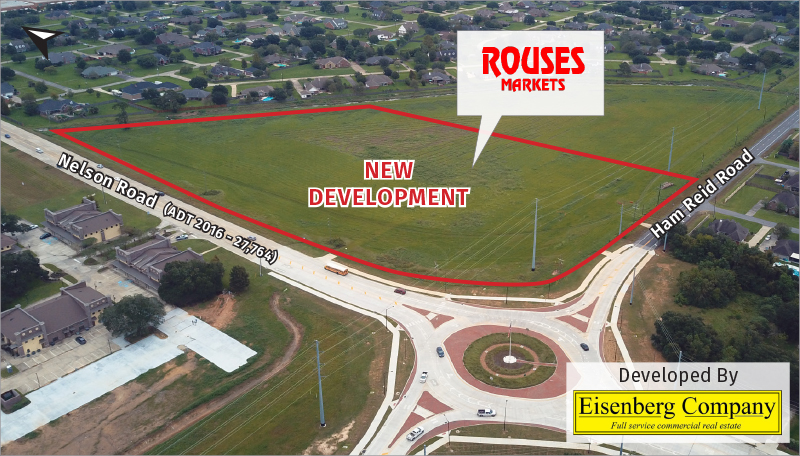 Anticipated construction completion in the spring of 2020.
Stirling Properties commercial real estate company is pleased to announce that a new Rouses Market-anchored retail development is coming to Lake Charles, Louisiana. Developed by the Eisenberg Company, the roughly 90,000-square-foot development will be located on 10.25 acres on Nelson Road at Ham Reid Road in South Lake Charles. Eisenberg Company recently completed construction of its first Rouses Market-anchored shopping center, Arlington Marketplace, in Baton Rouge on the corner of Lee and Burbank.
Anchor-tenant Rouses Market will occupy approximately 44,000 square feet of retail space. Construction of the state-of-the-art, ground-up grocery store commenced last week, and it is expected to open in the fall of 2020. This marks the 3rd Rouses Market location for the Lake Charles area.

Stirling Properties' commercial advisors are serving as the listing agents for the retail project. Justin Langlois, CCIM, Ben Graham, CCIM and Seth Citron are working diligently to fill the remainder of the property and bring new tenants to the market. Additional pad sites and shop space is available for sale, lease or build to suit.
"This exciting new Rouses Market-anchored retail development is centrally located within the fastest growing area in the region. Some of our ideal tenants for the space include quick-serve establishments, soft goods and service providers, and restaurant options," said Citron. "Lake Charles is in the midst of an economic boom resulting in new job growth and subsequently population growth. We expect to see new companies and major retailers entering and expanding in this market—and we look forward to welcoming them very soon."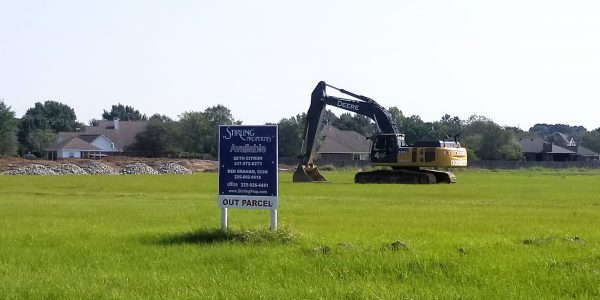 Stirling Properties is located at 1400 Ryan Street, Suite B in Lake Charles, La. For sales and leasing information, contact Justin Langlois, CCIM at (225) 329-0287 / jlanglois@stirlingprop.com, Ben Graham, CCIM at (225) 329-0268 / bgraham@stirlingprop.com or Seth Citron at (337) 572-0273 / scitron@stirlingprop.com.