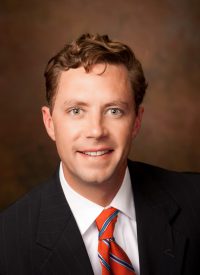 Stirling Properties announces that veteran real estate broker Austin Earhart has joined its commercial team as Senior Advisor. He will work from the company's Baton Rouge office located at 6160 Perkins Road, Suite 200.
With over 20 years of experience in commercial real estate, Earhart has become one of the region's foremost retail experts specializing in tenant and landlord representation, lease negotiation, site selection, and dispositions for local and national retailers. He has been a multi-million-dollar producer in Louisiana, and regularly closes deals in all aspects of commercial properties including industrial, office, land, and investment sales.
Earhart's landlord representation includes institutional and local owners with retail portfolios ranging from 5,000 square feet up to major power centers. He has worked with many of the nation's leading retailers including Walmart, Lowe's, Whitney National Bank, AmSouth Bank, MidSouth Bank, FedEx Kinko's, Starbucks, Xerox, Best Buy, Eatel, Rally's/Checkers, Walgreens, Papa John's, Nextel, and Hobby Lobby.
Before joining Stirling Properties, Earhart was an agent with Beau Box Commercial Real Estate company, where he served the Baton Rouge, Louisiana, community for 12 years.
Earhart attended the University of Mississippi and is a Certified Commercial Investment Member (CCIM) candidate. He is affiliated with ICSC (International Council of Shopping Centers) and the National Association of Realtors (NAR). He is also an active member of the Greater Baton Rouge Association of Realtors (GBRAR), where he serves on the Trends Retail Board Committee and is a past board member of the Commercial Investment Division (CID). He is a regularly published writer as a retail expert in national trade magazines.
"I'm excited to join Stirling Properties. Their excellent reputation, national reach, and comprehensive industry knowledge are attractive—and evident in the more than $1.64 billion worth of third-party transactions they have closed in the last five years alone," said Earhart. "I look forward to better serving the real estate needs of my clients—not only in brokerage but by utilizing the full gamut of commercial services available through Stirling Properties."
"Stirling Properties is thrilled to welcome Austin Earhart to our team of commercial advisors. His extensive experience and market insight will help us continue to grow our services in the Greater Baton Rouge region and across the Gulf South, and further position us as a leader in the market," said Chris Abadie, Vice President and Manager of Commercial Brokerage with Stirling Properties.
Austin Earhart can be reached at aearhart@stirlingprop.com or (225) 926-4481.