Stirling Properties Raises $54,000 For Local Nonprofits!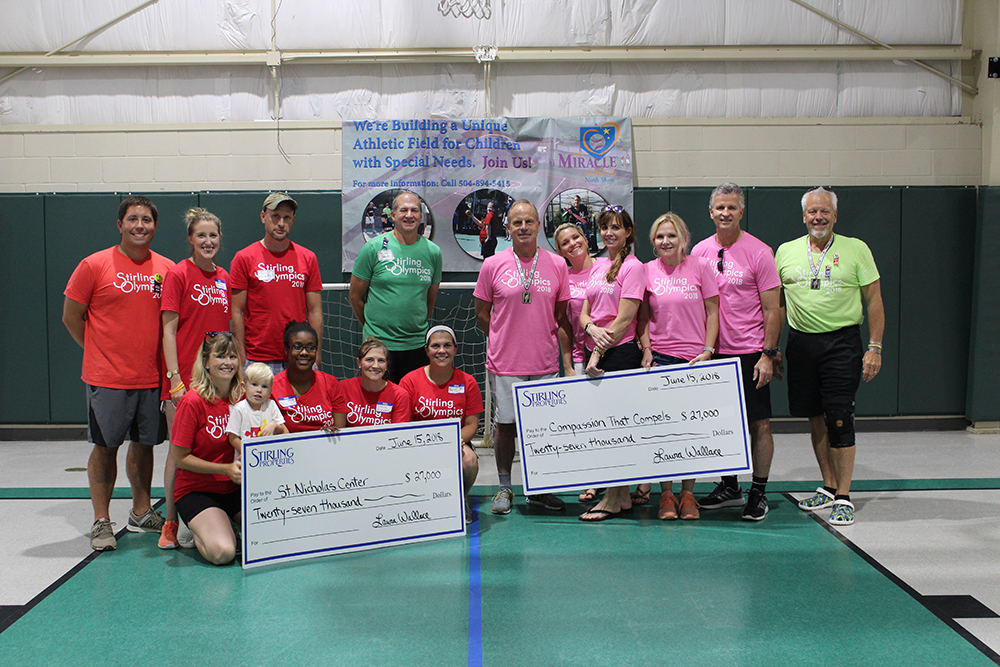 Stirling Properties has its own version of the Olympic Games! Employees recently celebrated the 6th Annual Stirling Olympics, an event hosted by the Stirling Stewardship Committee to raise money for charitable causes throughout the Gulf South region. The games were a HUGE SUCCESS, raising $54,000 for local nonprofit organizations!
Funds raised from the event benefited Compassion That Compels, a nonprofit organization that provides spiritual, emotional, and tangible resources for individuals battling cancer through the distribution of Compassion Bags both nationally and internationally, as well as St. Nicholas Center for Children, a nonprofit center that works to transform the lives of children diagnosed with autism, developmental delays, and neurological disorders by seeking to meet their educational and therapeutic needs. Representatives from each organization were on hand to accept a check for $27,000 each.
Throughout the day, Stirling Properties' team members battled one another in quirky competitions and relay races such as Musical Chairs, Skornhole, Stirling Ball, Word Search Relay, Backyard Sling, and Stirling's Dirty Laundry. Scores were tallied, and individual medals were awarded for each event.
The games were judged by Christi Zito, Steve Zito, and Tommy Chisholm (Zito∙Russell Architects), Tyler Marquette (Fishman Haygood), Tommy Buckel (Duplantis Design Group), Misty Labat (IBERIABANK) and Kasey Dorr (RCI). Dick Cyr served as the event emcee. Fidelity Bank, Smoothie King, Captain's Tasty Treats, and Standard Coffee provided participants with food and beverages throughout the day.
The Gold Medal overall went to the Raspberry Berets. Congratulations to Beezie Landry, Charles Barclay, Cyndie Quave, Gena Randall, Lynn Blanchard, Marty Mayer, Rebecca Pritchard, Sonia Shoemaker, Kelly Wellmeyer, and Saban Sellers! The Pistachios took home the Silver Medal—Ellen McCain, Jaime Burchfield, Jeanne Taravella, Jeff Marshall, Lesia Richardson, Morgan Lera, Susan Maher, Mark Salvetti, and Griffin Lennox. Splash Money secured the Bronze Medal—Carly Plotkin, Craig Oser, Johnny Tolson, Justin Toomey, Valda Butler, Cheri Magee, Patrick Malik, Jan Kinard, Peggy Foots, and Jill Meeks.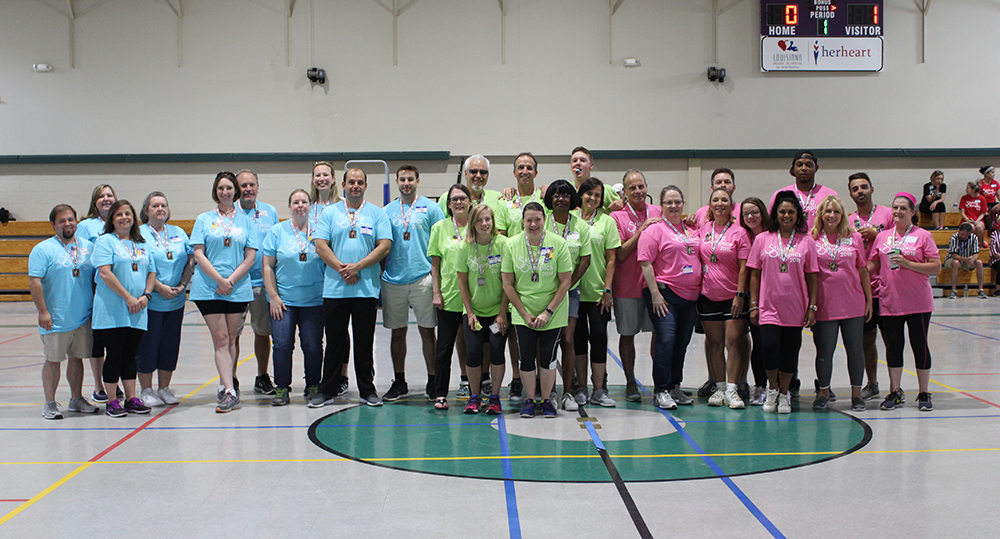 A special thanks to all of our sponsors, supporters, and Team Stirling for your generosity. Major sponsors include BXS Insurance, Brasfield & Gorrie, Fishman Haygood LLP, Richard Price Contracting Co., Duplantis Design Group PC, Zito∙Russell Architects PC, Capital One, Hancock Whitney Bank, IBERIABANK, Walker & Dunlop, RCI, Acadia Land Surveyor, Louisiana Landscape, Berkadia Commercial Mortgage, BH Management, Vinson Guard Service Inc., Associated Building Services LLC, Kent Design, Regal Construction, Red River Bank, VergesRome Architects, Stratum Engineering LLC, Baker Donelson, and Fidelity Bank.
And a big shout-out to the Stirling Stewardship Committee and the Olympics Committee for all their hard work organizing the event and making it happen! You all deserve a gold medal.
#StirlingProud

Thank you to Precision Metal Inc., Jones Walker, CSRS Inc., Eustis Mortgage, First Bank & Trust, Gallo Mechanical, Jimmy Maurin, PGIM Real Estate Finance, Bellingrath Wealth Management LLC, Armstrong Property Services, Ogden Painting, Robert Refrigeration, James Hudson, Jones Swanson Huddell & Garrison LLC, Roger Ogden, Acadiana Lighting & Signs, Construction South Inc., SCS Electric Inc., Sun Interiors, E. Cornell Malone Corp., Postlethwaite & Netterville, Yardi Systems Inc., Precision Waste Solutions LLC, CBL, Cleco, The Lemoine Company, Tudor Inc., Newmark Knight Frank, Netchex, Real Estate Tax Group LLC, Metairie Bank, River Parish Disposal, Certified Air Conditioning, Dixie Office Products, Big Easy Parking Lot Maintenance, Gulf South Electric, Covington Electric Services Inc., Metro Mechanical Inc., Geiger Heating & Air, CSSI, Roth Law Firm LLC, Ryan Gootee General Contractors LLC, Jones Fussell LLP, Larry Loyd Construction Co. Inc., Trimark, ITS Fire Alarm Security, Premium Parking, Champion Security, Southeastern Waterproofing, PMAT Real Estate Investments LLC, Palmisano Group, Robert Levis Development LLC, Mullin Landscape Associates, Premier Service Team LLC, Calcasieu Mechanical Contractors Inc., Codaray Construction LLC, Precision Concrete Cutting of Louisiana, Professional Maintenance Services, Cook Moore & Associates, Jeffrey Lipp Parking Lot Services, Angelo's Landscaping, Unit Design Inc., Chrestia & Staub Inc., B&G Lawn Maintenance LLC, Dale's Paving Inc., Gene Nims Builders, McNeer Electrical Contracting Inc., CertaPro Painters, Huseman, Thermal Products Inc., Just Chillin, Crystal Clean Sweeping, Landry's Lawn, ACA Mechanical Industrial Inc., T.L. Construction LLC, Grass Unlimited, C J Ladner – State Farm Insurance Agent, and Sign Lite.