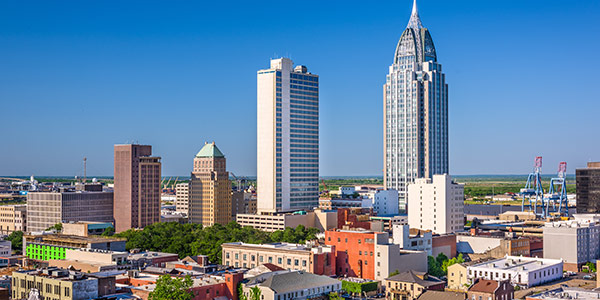 Mobile Aeroplex at Brookley establishes surrounding area as prime position for sustained growth in the commercial real estate industry.
Mobile, Alabama, and its surrounding region are experiencing unprecedented growth due to a low cost of doing business, diverse commerce base, intermodal transportation options, and quality lifestyle. Businesses and corporations are flocking to the area, bringing with them an increased workforce and a plethora of new economic opportunities.
One specific area of note is the positive trend in the market surrounding Brookley field. Economic activity is thriving in this area, and an influx of significant commercial real estate development is expected within the next few years. With the advent of numerous new businesses and the resulting inflow of employees and their families, this is a natural site for the emergence of convenience stores, gas stations, hotels, restaurants, and much more in the near future.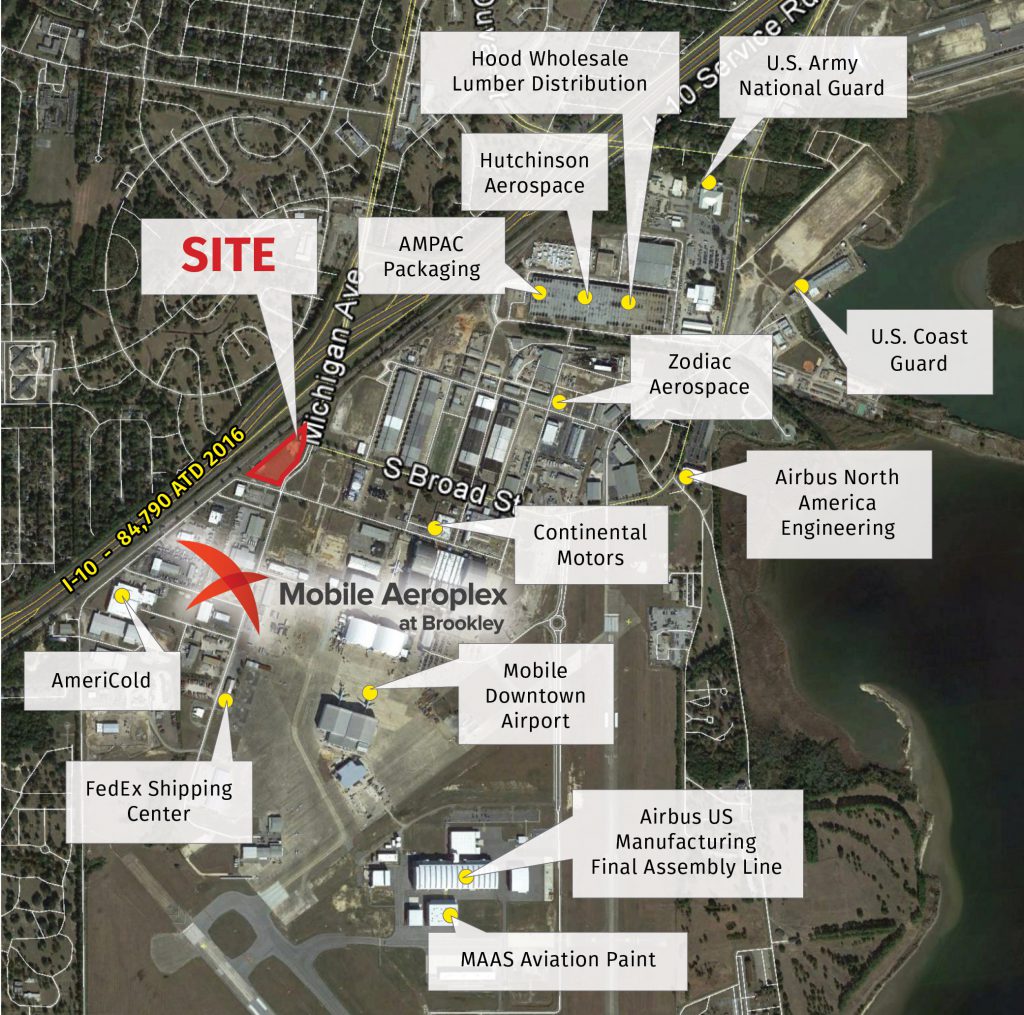 Most of the area growth is spearheaded by the recent expansion of Mobile Aeroplex at Brookley. Spread over 1,650 acres in southwest Mobile, the Aeroplex is now the largest industrial and transportation complex in the region, combining rail, road, and water along with a state-of-the-art airport. Currently, more than 75 companies employing some 3,600 people are housed in the complex, including Airbus U.S. Manufacturing Facility, Airbus Engineering, FedEx, Signature Air Support, Safran USA, Continental Motors, VT MAE, MAAS Aviation, among many others—and it's growing daily.
Late last year, Airbus announced its largest single deal to build aircraft for Indigo Partners, whose airline portfolio includes Frontier, JetSMART, Volaris, and Wizz Air. The contract includes 430 aircraft and is valued at $49.5 billion. Airbus was also selected by Delta Air Lines to manufacture as many as 200 jetliners, with delivery of the first 100 beginning in 2020.
Airbus and Bombardier also announced an agreement to form a partnership to build Bombardier's C Series passenger jets. This deal could result in the addition of a second aircraft assembly line at Mobile Aeroplex, creating a proposed 400 to 500 more direct jobs in the area, and would represent an investment of hundreds of millions of dollars. Reports also estimate that establishing "the necessary C Series facilities" would create 1,900 direct jobs, 1,000 indirect jobs, and 3,000 induced jobs during construction.
In December, the Mobile County Commission approved its share of incentive packages for Safran USA and Continental Motors. This process will move forward plans for Safran—a new tenant at Brookley—to open a new manufacturing operation. The company plans to invest $1 million in starting the operation and will hire approximately 20 employees. Continental Motors is planning a $60 million investment to build an entirely new facility to house its existing operations at the Aeroplex.
Furthermore, this thriving industrial park has the potential of becoming Mobile's new international airport—a proposal to move Mobile Regional Airport from west Mobile to Brookley field is gaining steam. This move would completely change the landscape of the area by placing the airport at the center of our region's economic activity. With the recent support of Congressman Bradley Byrne and many other local community leaders, a feasibility study could be underway soon. "If we undergo a feasibility study and the study shows that Brookley is a viable airport for commercial activity, then there is no reason why we should not entertain that," said Chris Curry, Executive Director of the Mobile Airport Authority, which oversees the Mobile Downtown Airport, Mobile Regional, and the Aeroplex at Brookley Field.
The Mobile Aeroplex at Brookley is already home to many of the world's leading aerospace suppliers, and major transportation companies, and it continues to expand every day. It is serving as a major catalyst for surrounding area growth and investment in the region. But people living and working here currently have limited options for eating, shopping, and other needed services. Because of this, we will undoubtedly see an increase in the demand for commercial amenities and new developments such as retail and restaurants.
The time is right for commercial growth in the area surrounding Mobile Aeroplex at Brookley. Anyone with interest in getting in on the front end of a burgeoning market should pay close attention to this space. The growth is starting small, but it will certainly progress quickly over the next few years. I look forward to being a part of the historical evolution of Mobile!