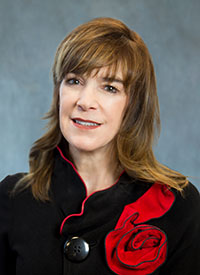 Stirling Properties' Senior Broker Associate, Beth Cristina, ALC, has been selected as the 2018 Commercial Committee Chair for the National Association of REALTORS® (NAR). She assumed the role on January 1, 2018, and will serve for a one-year term.
The Commercial Committee's purpose is to identify, monitor, review, analyze, and recommend policies addressing commercial real estate industry issues and trends, with a focus on affecting business solutions that help members achieve their business goals more effectively.
"Beth's role on the committee will help to bring value and benefit to the association's 1.3 million members, the nation's 75 million real estate property owners, and the numerous individuals striving to achieve homeownership," said Elizabeth Mendenhall, 2018 NAR President, who made the appointment. "I know Beth cares deeply about our profession, our industry, and the clients we serve, and she will help to guide us forward; I am proud to have her serve as Commercial Committee Chair."
As Committee Chair, Cristina will help to advance the organization's 2018 goals, which include involving committee members in outreach with large brokerage firms to increase brand awareness and membership; developing commercial member testimonials on the value of the REALTORS® Political Action Committee (RPAC); and working with NAR Consumer Communications Committee to increase the amount of advertising relating to commercial brokerage.
"I'm excited and grateful for the opportunity to take on this leadership role. I'm honored to serve on NAR's Commercial Committee and to contribute to the decision-making process and help shape the direction of the association and its policies," said Cristina. "Volunteering is crucial for the future of our business. President Ronald Regan said it best 'The work of volunteer groups throughout our country represents the very heart and soul of America. They have helped make this the most compassionate, generous, and humane society that ever existed on the face of this earth.'"
Cristina has over thirty-eight years of successful experience in commercial real estate sales, leasing, development, and investments. Her qualifications include retail and office market analysis, tenant/landlord and purchaser/seller representation, marketing sales, leasing strategies, and consulting services. She has earned numerous awards and recognition throughout her career, including Outstanding Achievement in Commercial Real Estate, Realtor of the Year, and Woman of the Year.
Most recently, she served as the 2017 NAR Commercial Committee Vice-Chair. She is also affiliated with several business and professional organizations, including Realtor Land Institute (RLI); Louisiana Realtors (LR), where she served as 2015 President; New Orleans Metropolitan Association of Realtors (NOMAR), where she served as 2005 President; and Commercial Investment Division (CID) of NOMAR, where she served as President for 2000 and 2008.
The National Association of REALTORS® is America's largest trade association, representing over 1.3 million members, including NAR's institutes, societies, and councils, involved in all aspects of the residential and commercial real estate industries. Membership is composed of residential and commercial realtors who are brokers, salespeople, property managers, appraisers, counselors, and others engaged in the real estate industry.
Beth Cristina can be reached at (504) 620-8127 or bcristina@stirlingprop.com.