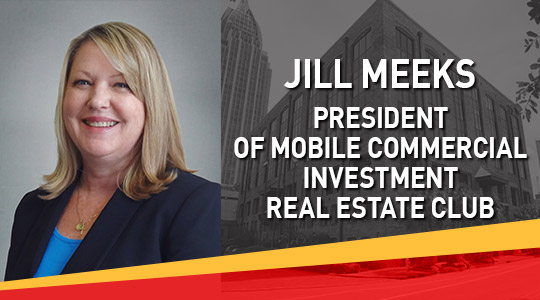 Stirling Properties' Senior Sales and Leasing Executive, Jill Meeks, has been appointed as President of the Mobile Commercial Investment Real Estate Club. She assumed duties in early December and will serve in the position for one year.
The Mobile Commercial Investment Real Estate Club is a networking group for industry professionals to exchange ideas, insight and data on marketing information regarding commercial and investment property among its members. Club goals include promoting professionalism, co-operation and education in commercial, investment and exchange transactions.
As club president, Meeks' responsibilities will include running the weekly meetings and arranging for speakers to attend and present educational opportunities for the members. Meetings occur every Thursday at 7:00 am at the Mobile Area Association of Realtors.
"The Mobile Commercial Investment Real Estate Club provides tremendous resources for both beginning and experienced real estate professionals, and it's a great tool to network and meet others in the industry," said Meeks. "As president of the club, I hope to be able to generate more interest and participation by arranging for various speakers from the community to attend our meetings that will be beneficial to members."
Meeks has been active in the commercial real estate industry for more than 27 years. Her focus areas include office and retail leasing, commercial sales, and landlord and tenant representation. She is responsible for overseeing the property management of over 400,000 square feet of retail and office space in Mobile and Baldwin Counties.
Jill Meeks works out of Stirling Properties' Mobile Office located at One St. Louis Centre, 1 St. Louis Street, Suite 4100 in Mobile. For club membership and information, Meeks can be reached at (251) 375-2499 or jmeeks@stirlingprop.com.