Stirling Properties hits a hole-in-one
with its Annual Stirling Invitational Golf Tournament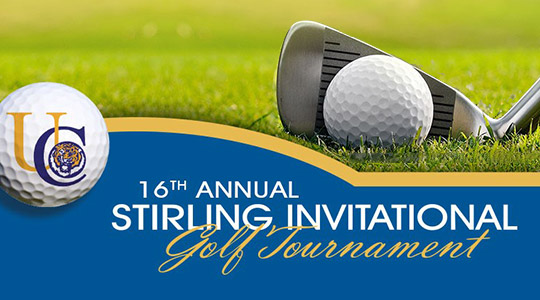 The 16th Annual Stirling Invitational Golf Tournament was held earlier this month at University Club Plantation in Baton Rouge. More than 120 golfers participated in the scramble event and were treated to a great day of food, fun and fellowship—along with a little friendly competition—all for a good cause.
The tournament was a huge success, raising $30,000 for local nonprofit organizations! In support of Breast Cancer Awareness month, Mary Bird Perkins Cancer Center Foundation received $10,000 from the proceeds. The remaining proceeds were distributed to various local charitable causes.
Representatives from Mary Bird Perkins Cancer Center Foundation and LSU Tiger Athletic Foundation were on hand to receive a check for their contributions. Grady Brame, Executive Vice President of Stirling Properties (and resident golf expert!), presented a check to Todd Stevens, President and CEO of Mary Bird Perkins Cancer Center; and to Rick Perry, President and CEO of Tiger Athletic Foundation, during an awards celebration and cocktail reception following the tournament.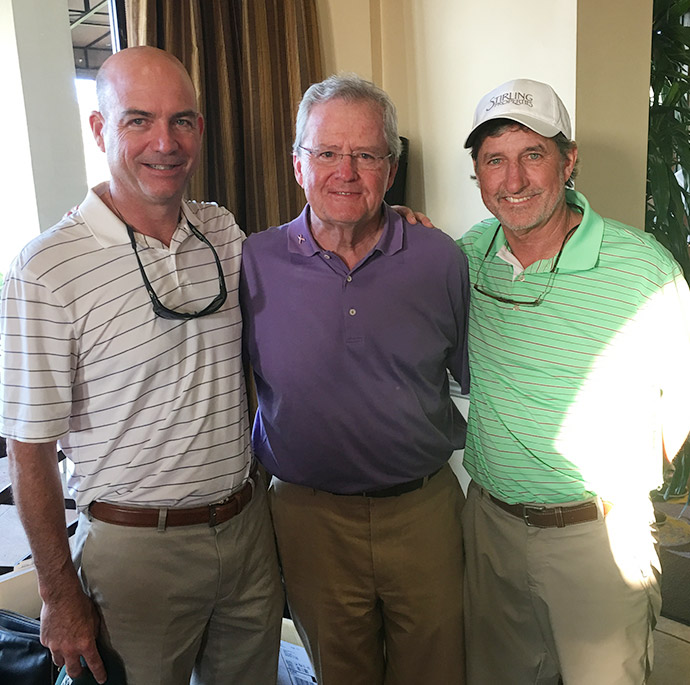 What happens on the golf course does not stay on the golf course—here's a recap of the days' activities. The 1st Place Low Net was won by Steven Serio, Tyler Marquette, Lance McCardle and Colin O'Flynn. The Low Gross winning team included Paul Geyer, Rick Perry, Grady Brame and Jimmy Maurin. Additional awards were presented for 2nd, 3rd and 4th Low Gross and Low Net as well as 4 Closest to the Hole prizes, Longest Drive, and Highest Gross Score (we won't name any names!).
A heartfelt thanks to all of our friends and supporters that participated and contributed to the Stirling Invitational Golf Tournament. This event would not be possible without you.
"The 16th Annual Stirling Invitational Golf Tournament was a tremendous success, and we were once again able to donate to worthy nonprofit organizations that are truly making a difference in our communities. We are grateful for the generosity of our tournament sponsors and thank everyone that came out to support us. We hope to see you again next year!" said Brame.
The Stirling Invitational Golf Tournament has contributed more than $184,000 to numerous organizations over the past 16 years, with Mary Bird Perkins Cancer Center Foundation being the majority beneficiary of proceeds. Since 2004, $117,000 has been donated to the center in support of its cancer research and care-giving efforts.
#StirlingProud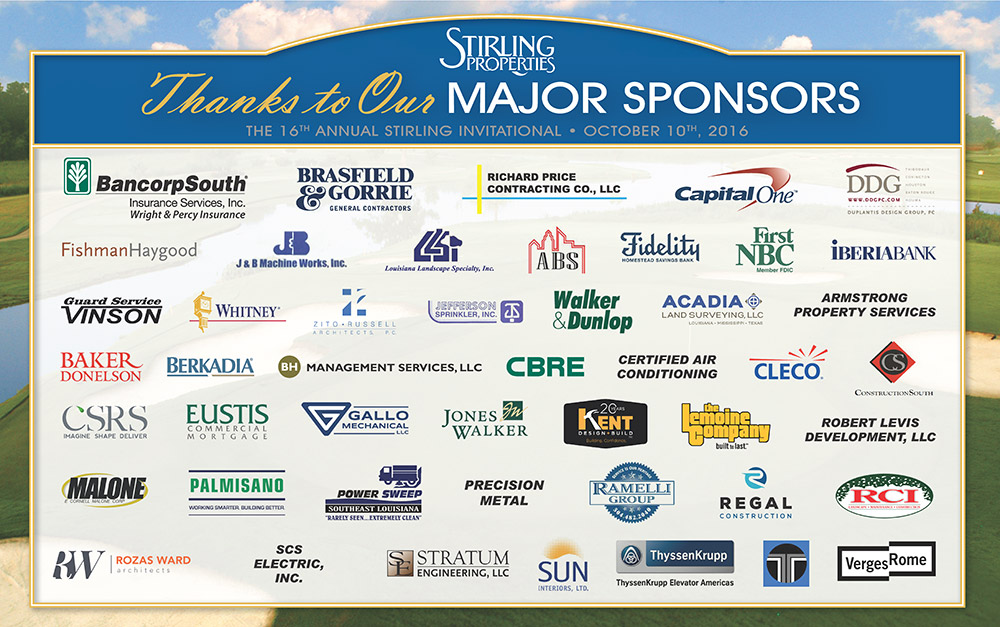 Additional sponsors include Economical Janitorial Supplies, Grass Unlimited, Calcasieu Mechanical Contractors, Robert Refrigeration, Ryan Gootee General Contractors, Thermal Products, Angelos Landscaping, Big Easy Parking Lot Maintenance, Chrestia Staub, Cost Segregation Services, Inc. (CSSI), Gulf South Electric, ITS Fire Alarm Security LLC, Massengale Grounds Management, Netchex Payroll Services, Precision Concrete Cutting of Louisiana, Republic Services, Inc., Star Service Inc., Trimark, Unit Design, Jones Fussell, BH Management Services, CBL & Associates Properties Inc., CSRS, Inc., Malone Roofing, Premier Service Team, Real Estate Tax Group, LLC, River Parish Disposal, LLC, Robert Levis Development, Southeastern Waterproofing, First Bank & Trust, Moran Construction Consultants.
A huge shout out to Fidelity Bank, Brad Jongbloed and his team, for sponsoring lunch.