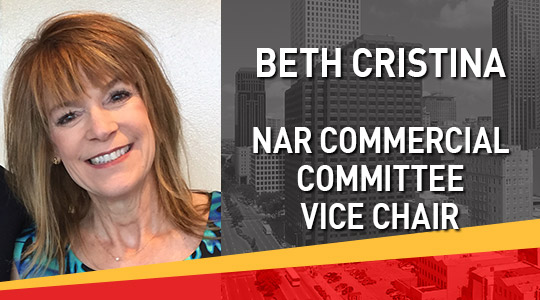 Stirling Properties' Senior Broker Associate, Beth Cristina, ALC, has been selected as the 2017 Commercial Committee Vice Chair for the National Association of Realtors (NAR). She will assume the position on January 1st, 2017.
Each year, the incoming NAR president-elect appoints vice chairs to help lead and guide the 1.2 million-member association. Their role is to navigate issues that matter to realtors and home owners, such as economic forces, demographic shifts, and technological innovations that are reshaping the $3.3 trillion residential and commercial real estate industry.
"I am confident and qualified, and bring the right credentials to the job. Having served on NAR commercial committees since 2004, I'm comfortable in the trenches," said Cristina. "I believe the work of the volunteer leadership team is crucial to the future of our industry. Commercial real estate is consistently changing, and I'm looking forward to leading a committee that will help our members and clients to be successful."
Ms. Cristina has over thirty-six years of successful experience in commercial real estate sales, leasing, development and investments. Her qualifications include retail and office market analysis, tenant/landlord and purchaser/seller representation, marketing sales, leasing strategies, and consulting services. She has earned numerous awards and recognition throughout her career, including Outstanding Achievement in Commercial Real Estate (2011), Realtor of the Year (2010), and Woman of the Year (2005).
She is affiliated with several business and professional organizations, including Realtor Land Institute (RLI); Louisiana Realtors (LR), where she served as 2015 President; New Orleans Metropolitan Association of Realtors (NOMAR), where she served as 2005 President; and Commercial Investment Division (CID) of NOMAR, where she served as President for 2000 and 2008.
The National Association of Realtors is America's largest trade association, representing over 1.2 million members, including NAR's institutes, societies, and councils, involved in all aspects of the residential and commercial real estate industries. Membership is composed of residential and commercial realtors who are brokers, salespeople, property managers, appraisers, counselors, and others engaged in the real estate industry.
Beth Cristina can be reached at (504) 620-8127 or bcristina@stirlingprop.com.