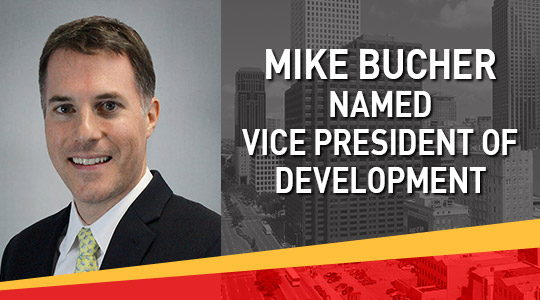 Stirling Properties commercial real estate company is pleased to announce Mike Bucher has been promoted from Development Director to Vice President of Development. Bucher will manage and lead the company's new office location at the Pan American Life Center in New Orleans.
Bucher joined Stirling Properties in 2014 as Development Director, responsible for leading new and ongoing development projects, including ground-up development, redevelopment and joint ventures as part of the company's initiative to expand its services across the Gulf South. In addition to these responsibilities, Bucher will also be tasked with new business development, specifically focused on the New Orleans market. He will assume the role of lead point of contact for all New Orleans commerce.
"New Orleans continues to be one of our most important areas for commercial real estate management, development, brokerage, and investment, and we look forward to expanding our presence in this market," said Bucher. "We are well situated to focus on growing our business by offering our full range of services out of the new Pan Am office, and our central location will make it easier for us to recruit and retain the best talent New Orleans has to offer."
"Mike has been a great leader and an integral part of Stirling Properties' growth, and we are proud to announce his promotion," said Marty Mayer, President & CEO of Stirling Properties. "We recently expanded into a larger space at the Pan American Life Center in New Orleans' CBD, and we are excited to have Mike at the helm of this new venture."
Prior to joining Stirling Properties, Bucher was a Development Associate at Federal Realty Investment Trust in Boston, MA, where he was primarily responsible for the project management and financial analysis for Assembly Row, the Trust's 5-million-square-foot, mixed-use development in Somerville, MA. Bucher managed the planning and underwriting of the project, including 325K square feet of nationally-branded retail, 100K square feet of Class-A office space, and a joint venture partnership that built 450 market-rate apartment units.
Bucher holds a Bachelor of Science in Business Administration from Villanova University, and a Master of Business Administration from the University of Virginia's Darden School of Business, with specializations in corporate finance and investment banking. He is an active member of the National Association of Office and Industrial Properties (NAIOP), the Urban Land Institute (ULI), and the International Council of Shopping Centers (ICSC), for which he was a member of the Centerbuild "20 Under 40" inaugural class of 2013.
Mike Bucher can be reached at (504) 523-4481 or mbucher@stirlingprop.com.