Stirling Properties and CBL & Associates Properties, Inc. announce the Grand Opening of Ambassador Town Center and welcome new tenants. A formal ribbon cutting ceremony will be held next week, with newly elected Parish President Joel Robideaux and other local dignitaries.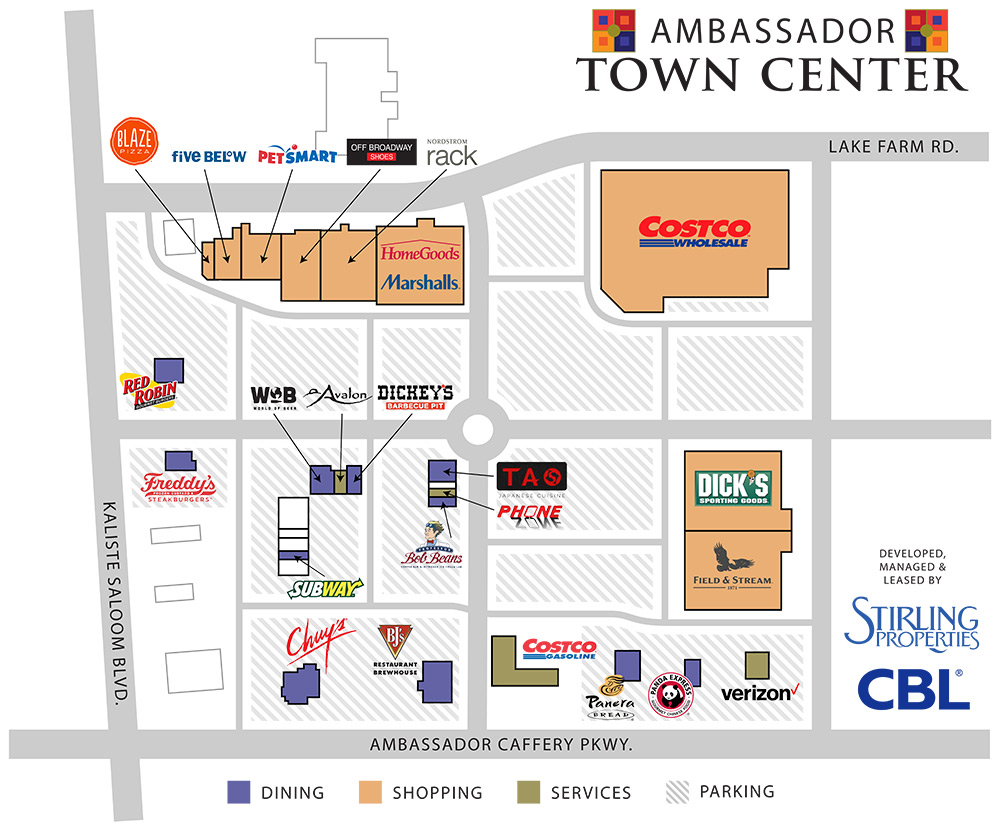 Stirling Properties and CBL & Associates Properties, Inc. formed a joint venture to develop the center, and with less than two years of planning, construction began in January of 2015. Though not initially contracted to develop the highly anticipated retail center, Stirling Properties and CBL were able to adapt and deliver the project in an exceptionally timely manner when previous developers could not. The first tenant, Nordstrom Rack, opened last weekend to significant crowds despite the fierce weather conditions. Costco Wholesale and Marshalls/HomeGoods opened Thursday, March 17th.
Ambassador Town Center has already created approximately 2,200 construction jobs, and is expected to generate roughly 1,700 permanent jobs and nearly $9 million annually in sales taxes for the City of Lafayette, providing a huge boost for the local market.
Stirling Properties has been at the forefront of commercial real estate investment and development in Lafayette and surrounding areas of South Louisiana. At a time when the local economy is fragile, Stirling Properties is bringing quality development and retailers to the area. At completion, Ambassador Town Center is expected to be the premier regional shopping and entertainment destination, as well as a vital economic contributor to the area.
Research shows shoppers are spending more in home supply, clothing, and sporting goods stores, among others. And people are still eating out. Sales at restaurants and bars has jumped from last year. Consumer spending is healthy at many similar retail centers across the region.
"We are excited to celebrate the grand opening of Ambassador Town Center and bring a unique customer experience to the Lafayette market," said Michael Lebovitz, Executive Vice President, Development and Administration, CBL & Associates Properties, Inc. "This development brings a number of exciting retail and restaurant options, most of which are new to the market."
"We are confident in the future and prosperity of this area. Ambassador Town Center is positioned in an excellent location that is experiencing tremendous growth and attracting new retailers," said Townsend Underhill, Stirling Properties Senior Vice President of Development. "We are happy to continue our long and successful development history in the City of Lafayette."
Stirling Properties has developed more than 3.7 million square feet totaling $465 million since 2010, almost exclusively in Louisiana. Other Stirling Properties developments in Lafayette include Ambassador Row, Ambassador Row Courtyards, Stirling Lafayette and Village at Southpark, just to name a few.
Ambassador Town Center is a roughly 60-acre retail project anchored by Costco Wholesale and Dick's Sporting Goods/Field & Stream, consisting of more than 430,000 square feet. Located at Lafayette's 'main-at-main' intersection, Ambassador Caffery Parkway & Kaliste Saloom Road, the development will also include Avalon Salon & Spa, BJ's Restaurant & Brewhouse, Blaze Pizza, Chuy's Mexican Restaurant, Costco Gasoline, Dickey's Barbecue Pit, Five Below, Freddy's Frozen Custard & Steakburgers, Marshalls/HomeGoods, Nordstrom Rack, Off Broadway Shoes, Panda Express, Panera Bread, PetSmart, Phone Zone, Professor Bob Beans, Red Robin, Subway, Tao Japanese Cuisine, World of Beer, Verizon, and more supporting shops and restaurants to come. The retail center is currently 97% leased. Most of the retailers committed to Ambassador Town Center are either first-time locations within Lafayette or Louisiana, or both.
For more information, please visit stirlingprop.com or cblproperties.com.
For leasing information, contact Ryan Pecot at 337.572.0246 or rpecot@stirlingprop.com or Tim Gilmore at 423.490.8358 or Tim.Gilmore@cblproperties.com. For information on Ambassador Town Center, please visit ambassadortowncenter.com.